The NordicTrack Commercial 1750 treadmill is a smooth run (or walk) with plenty of options no matter where you are in your fitness journey. Our team at The Fit House ran it through rigorous testing to pick apart everything from how it operates to its key features to customer service. NordicTrack has a longstanding history of delivering high quality cardio equipment. The brand is consistently one of the top-sellers across the country.
The 1750 is the most affordable of NordicTrack's Commercial line. The name makes it sound like these should be in a gym, but they are actually designed to be home treadmills.
Keep scrolling to read our full NordicTrack Commercial 1750 treadmill review and learn more about other similar NordicTrack models.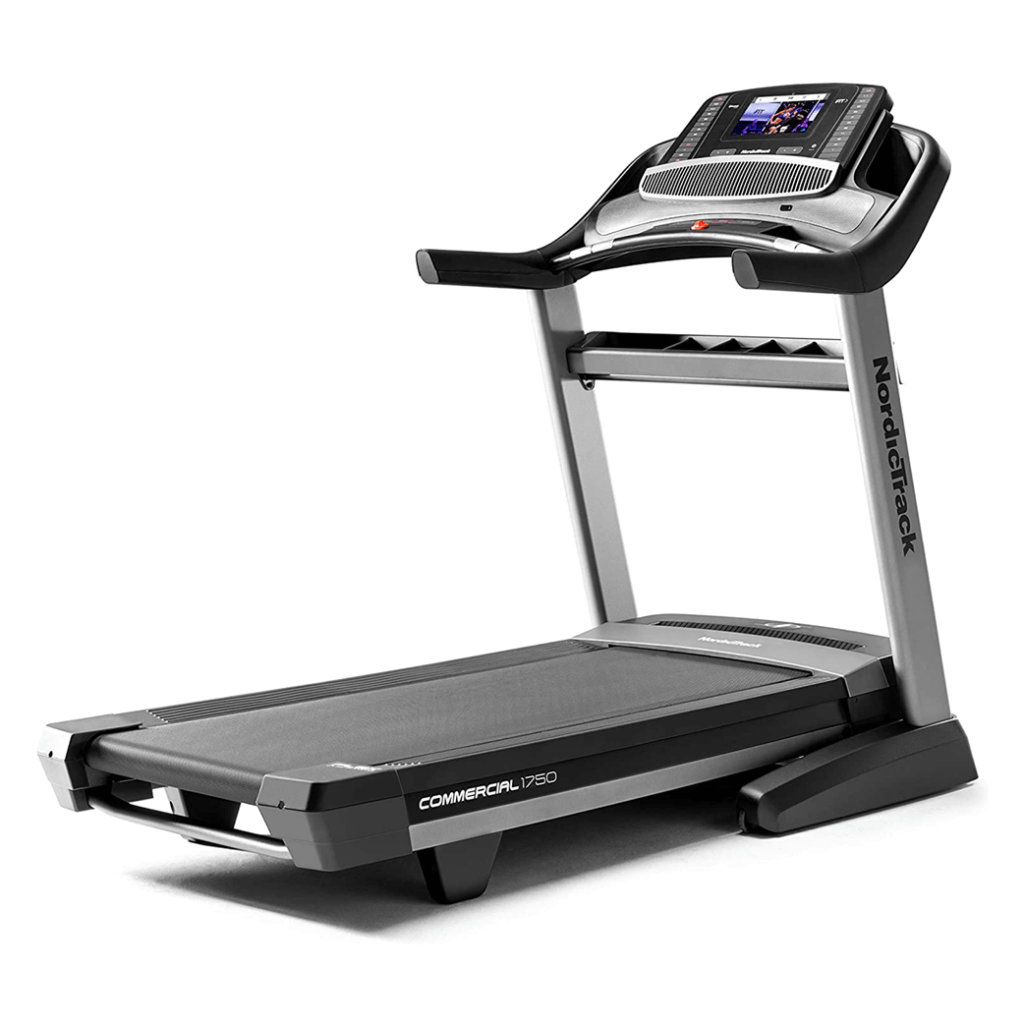 The Fit House rating: 4.5
View our full NordicTrack Commercial 1750 rating
| | |
| --- | --- |
| What We Love | What You Should Know |
| Lots of interactive programming through iFit | Priced under $2,000 |
| Great for incline and decline training | Limited warranty on frame, parts and labor |
| Foldable for space-saving | Other upgraded models available |
We have affiliate relationships through which we may be paid a commission through our links at no cost to you, the reader. Read more here.
Who Should Buy the NordicTrack Commercial 1750?
The NordicTrack Commercial 1750 is great for:
People looking for an interactive workout
Those needing one-on-one training
Working out with a lot of conveniences
We don't recommend this elliptical for:
Small spaces
Budget-conscious people
Walkers or joggers who want a simple treadmill
Our Favorite Things About the NordicTrack 1750 Treadmill
A few things jumped out right away when we started using this treadmill:
You receive a free year of iFit training.
You can track your progress with the machine and with other apps.
The treadmill is loaded with pre-programmed workouts.
Train With iFit
The NordicTrack Commercial 1750 comes with a year of the iFit family membership. iFit is an app that features trainer-led, interactive, immersive programming. There are thousands of workouts for you to choose from. We especially liked getting an iFit coach. It was simple: We plugged in our fitness goals and were immediately set up with customized workouts to do every time we stepped onto the treadmill.
When you use iFit with the 1750, the machine inclines and declines along with whatever is happening on the screen. If the iFit coach says a hill is coming up, the treadmill starts climbing. So if you're running through the mountains, you actually get the feel – and view – of running through the mountains.
We tested walks through guided scenic tours and went running on the beach. We really love all the built-in challenges, like running a mile every day for a month, or trying to complete 100 miles in 30 days. There are programs for power walkers, beginning runners and people ramping up for a race. iFit also has strength training workouts you can do off your treadmill, as well as studio classes you can virtually hop into with other people.
Once your iFit membership of the family plan is up, you have several options based on what kind of membership you want and what your payment frequency would be. A family membership is $396 a year or $39 a month. There is also the yearly individual membership for $180 a year (no monthly payment plan available, but you can cancel at any time).
(Side note: ICON Health & Fitness, which owns brands like NordicTrack and ProForm, owns iFit. So if you have iFit, it will also work with machines from those brands!)
Track Your Progress
We are tech people, so we love the tech compatibility of the 1750. The treadmill saves all your workout data, and the iFit family membership actually tracks up to five different users. You can also export that data to other apps you might use, like My Fitness Pal or Strava. This wasn't exactly a seamless process. We had to log into our iFit account and export the information into a file we then had to upload into My Fitness Pal.
Workout Without iFit
If you don't want to pay for an iFit subscription, don't. You can still get a great workout because the 1750 comes loaded with 50 – yes, 50! – different programs. We experimented with the heart rate control workouts, interval training, speedwork and calorie burn options. These were easy to navigate and just as challenging (though not quite as entertaining) as the iFit options.
Workout Experience
So, what's it like to run on the NordicTrack 1750 treadmill?
Honestly, it's great. A quick overview of what we love:
Runners Flex cushioning gives you options
Standard deck size
Incline and decline training available
High-powered motor
Tablet holder
Water bottle holder
Spacious accessory tray
Speakers with Bluetooth connectivity
Cooling fans
Cushioning Options
Treadmill running can be a real pain in the feet if you're on the wrong one. The 1750 comes with NordicTrack's "Runners Flex" cushioning. You can choose to run with low impact by upping the cushioning, or you can simulate what it feels like to run on the road with less cushioning. The difference between the two is noticeable. While we preferred the low-impact option, we could see how serious runners might prefer the feel of running on the road.
The running surface itself is standard among machines at this price point. The tread belt is commercial-grade and clocks in at 22 inches wide, 60 feet long. All of us who ran on it are between 5'3" and 6 feet and had no problem with the length of the deck.
The Feel of the Run
Have you ever been on a treadmill that jolts with every footstep as you ramp up your speed? That doesn't happen on the 1750, even as the machine is inclining or declining. We tested the full range of motion on different workouts covering 0-12 mph in speed, and a 3 percent decline to 15 percent incline. We all agreed that it's a smooth run.
The powerful motor on the 1750 is 3.75 continued horsepower, which is more than enough to accommodate high-volume runners. NordicTrack's other models – the 2450 and the 2950 – have even stronger CHP motors at 4.0 and 4.25, respectively.
The treadmill also comes with two workout fans built into the handlebar. These came in handy when we were testing the runs! We could turn them on, turn them off and manage their intensity throughout the exercise.
Sights and Sounds
The 1750 has a 10-inch smart touchscreen. (NordicTrack's other versions of this model have larger screens: The 2250 has a 14-inch touchscreen, and the 2950 has a 22-inch touchscreen).
Your workout data is displayed at the top of the screen: speed, time, distance, calories and heart rate. You can monitor your heart rate using the sensors on the bars. There is also an option for a wireless heart rate monitor, but the strap is not included with your purchase of the treadmill.
The Bluetooth connection is incredibly useful. Most of us are used to running with headphones already. We synced up our ear buds with the treadmill and had distraction-free experiences. If you don't like headphones, there are two 3-inch, built-in speakers that we found to work just fine.
No Noise
Lasly, the 1750 comes with NordicTrack's "whisper quiet drive" tech. This means that the treadmill is designed to absorb the sound of your feet hitting the deck.
Spoiler alert: Your workout won't be silent. That's impossible! It may be quieter than what you have experienced before, especially if you have run on cheaper treadmills.
Storage
The 1750 has a pretty typical footprint at 81.25 inches long, 39.25 inches wide and 62.75 tall. It's a heavy machine at 339 pounds. Thankfully there are 2.5-inch wheels along the bottom to help you move it around your home gym.
We love that this is a foldable treadmill. Most of us don't have a ton of room, so a spacesaver is a must. The 1750 has the EasyLift design that practically folds the machine in half when it's not in use. We found it easy to lift and lock the deck into place.
The Specifics
By the numbers, here's some fast facts on the 1750:
| | |
| --- | --- |
| Footprint | 81.25"L x 39.25"W x 62.75"H |
| Weight | 339lbs |
| Speed | 0-12 mph |
| Range | -3% decline to 15% incline |
| Motor | 3.75 CHP |
| Running deck | 22"W x 60"L |
| Workout programs | 50 built-in options |
| User capacity | Up to 300lbs |
| Warranty | 10-year frame, 2-year parts, 1-year labor |
Buying Experience
Let's walk through what you can expect buying and assembling the treadmill.
Ordering, Shipping and Assembly
We ordered the 1750 directly from NordicTrack using the website. Though we paid full price, there is an option for financing at 0% APR for 36 months, which is pretty standard for this manufacturer's products. The shipping cost is $199 for threshold delivery, which means they will drop the treadmill at your door.
We were told it would arrive within a few weeks, and that was true. It's a very big box that weighs a lot! The option for in-home assembly wasn't available due to COVID-19 restrictions, so we rolled up our sleeves and did it ourselves.
At 339 pounds, this is definitely not an easy machine to move around. There are rollers on the machine that help. However, put it together where you want to keep it, because you won't want to move this treadmill very far.
Manufacturer Warranty and Service Plans
To be honest, we are less than impressed with the warranty NordicTrack offers on this – and many – of their machines. For the 1750, there is a 10-year warranty on the frame, a two-year warranty on parts, and just one year on labor. Across the industry, there is a lot of variety here. However, many manufacturers provide lifetime warranties on the frame itself.
NordicTrack offers several maintenance and service plans. For the 1750, a five-year preventative service plan would be $489, which gives you unlimited repairs and annual check-ups. There is also a basic service plan that only extends to three years and includes all repairs. The cost for that is $179.
Return Policy
If, for some reason, you are not happy with your treadmill, you have 30 days to return it to NordicTrack. All returns face a 10 percent restocking fee as well as a shipping fee of $250. While you may be eligible for a refund on the treadmill, NordicTrack notes that they will not refund shipping or delivery charges. They also state that if your machine has damage, you could be charged additional fees.
Final Verdict
Our biggest takeaways were:
Awesome programming options through iFit
Smooth workout with Runners Flex cushioning
Lots of extras, like the fans, Bluetooth, and decline training
Steep price for a consumer treadmill but a worth it for those with the budget
Complicated assembly
Simply put, we really liked our time with the NordicTrack Commercial 1750. Each of us who used it have different fitness goals, and we all felt we could reach those targets with this machine.
The Fit House Scoring
The NordicTrack Commercial 1750 Treadmill rated well in programming and durability. Its overall score is a 4.5.
| Metric | Rating |
| --- | --- |
| Footprint and Portability | 3.5 |
| Delivery and Setup | 4.5 |
| Durability | 5.0 |
| Customizations | 5.0 |
| Adjustability and Ergonomics | 5.0 |
| Tech Capabilities | 5.0 |
| Conveniences | 5.0 |
| Dynamic Programming | 5.0 |
| Customer Reviews | 4.0 |
| Value | 5.0 |
| Warranty, Financing and Returns | 4.5 |
| Customer Service | 3.0 |
Compare the NordicTrack Commercial 1750, 2450 and 2950
NordicTrack has three treadmills in this line. The biggest differences you see will be in price range, size of the motor and size of the smart HD touchscreen display.
Here is a quick glance at how these three machines measure against each other:
The Basics
| | | | |
| --- | --- | --- | --- |
| | Commercial 1750 | Commercial 2450 | Commercial 2950 |
| Price | $1,799 | $2,299 | $2,999 |
| Size | 81.25 x 39.25 x 62.75 | 81.25 x 39.25 x 59.25 | 79.5 x 39.2 x 66.6 |
| Weight | 339lbs | 339lbs | 360lbs |
| Motor | 3.75 CPH | 4.0 CHP | 4.25 CHP |
| Running area | 22in x 60in | 22in x 60in | 22in x 60in |
| User capacity | 300lbs | 300lbs | 300lbs |
| Speed | 0-12mph | 0-12mph | 0-12mph |
| Incline | -3 to 15% | -3 to 15% | -3 to 15% |
| Folding | Yes | Yes | Yes |
Comfort
| | | | |
| --- | --- | --- | --- |
| | Commercial 1750 | Commercial 2450 | Commercial 2950 |
| Cushioned deck | Runners Flex | Runners Flex | Runners Flex |
| Fans | 2 | Dual AutoBreeze | 3 |
| Media holder | Yes | Yes | Yes |
| Water bottle holder | Yes | Yes | Yes |
| Quiet Drive Tech | Yes | Yes | Yes |
| Handsfree workout | Yes | Yes | Yes |
Tech
| | | | |
| --- | --- | --- | --- |
| | Commercial 1750 | Commercial 2450 | Commercial 2950 |
| Display | 10-in touchscreen | 14-inch touchscreen | 22-inch touchscreen |
| Operating system | Android 9 OS | Android 9 OS | Android 9 OS |
| iFit programming | Yes | Yes | Yes |
| Built-in workouts | 50 | 50 | 40 |
| BlueTooth | Yes | Yes | Yes |
| Heart rate monitoring | Chest strap, sensors | Chest strap, sensors | Chest strap, sensors |
| Speakers | 2, 3-inch speakers | 2, 3-inch speakers | 2, 3-inch speakers |
| WiFi | Dual 2.4 and 5 GHz | Dual 2.4 and 5 GHz | Dual 2.4 and 5 GHz |
| Google Maps | Yes | Yes | Yes |
Policies
| | | | |
| --- | --- | --- | --- |
| | Commercial 1750 | Commercial 2450 | Commercial 2950 |
| Financing | Yes, 0% for 36 mos. | Yes, 0% for 36 mos. | Yes, 0% for 39 mos. |
| Frame Warranty | 10 years | 10 years | 10 years |
| Parts Warranty | 2 years | 2 years | 2 years |
| Labor Warranty | 1 year | 1 year | 1 year |
NordicTrack Commercial 1750 FAQs
Some of the most commonly asked questions about the NordicTrack Commercial 1750:
Can you use the NordicTrack 1750 without iFit?
You sure can! In fact, the Commercial 1750 comes with 50 preset workouts.
Does the NordicTrack 1750 fold?
Yes. The NordicTrack 1750 is a folding treadmill. It uses the EasyLift functionality to lift the running belt and lock it into place.
Can I watch TV on the NordicTrack 1750?
No, you cannot. The treadmill has Bluetooth so you can connect your music, but you cannot stream TV shows.
What does the NordicTrack 1750 weigh?
The treadmill itself weighs 339 pounds. It has a weight capacity of 300 pounds.
---
Kate Meier is senior editor at The Fit House, which means she personally tests and reviews equipment featured on our pages. She has more than 20 years of experience in the health and fitness world, ranging from college sports to big box gyms to boutique fitness studios. Outside her work at our House, Kate is co-owner of a gym in North Carolina and spends much of her time coaching and working out. She also loves dogs and being outside.