An in-depth review of the best fitness bikes for at-home workouts
It has never been easier to work out at home, and the best exercise bikes can be found with just a few clicks of your mouse. Fitness bikes offer a number of advantages. You can strengthen your leg muscles, improve your cardiovascular endurance and enjoy low-impact workouts that minimize the stress on your joints.
However, finding a great indoor exercise bike can seem daunting when presented with hundreds of options. Enter The Fit House. Our experts personally tested some of the most popular bikes on the market and are giving you a comprehensive look at the pros and cons of each.
Our 10 Favorite Fitness Bikes
We have affiliate relationships through which we may be paid a commission through our links at no cost to you, the reader. Read more here.

The Fit House Favorite: NordicTrack Commercial S22i Studio Cycle
Good for: People with a higher budget who want interactive training options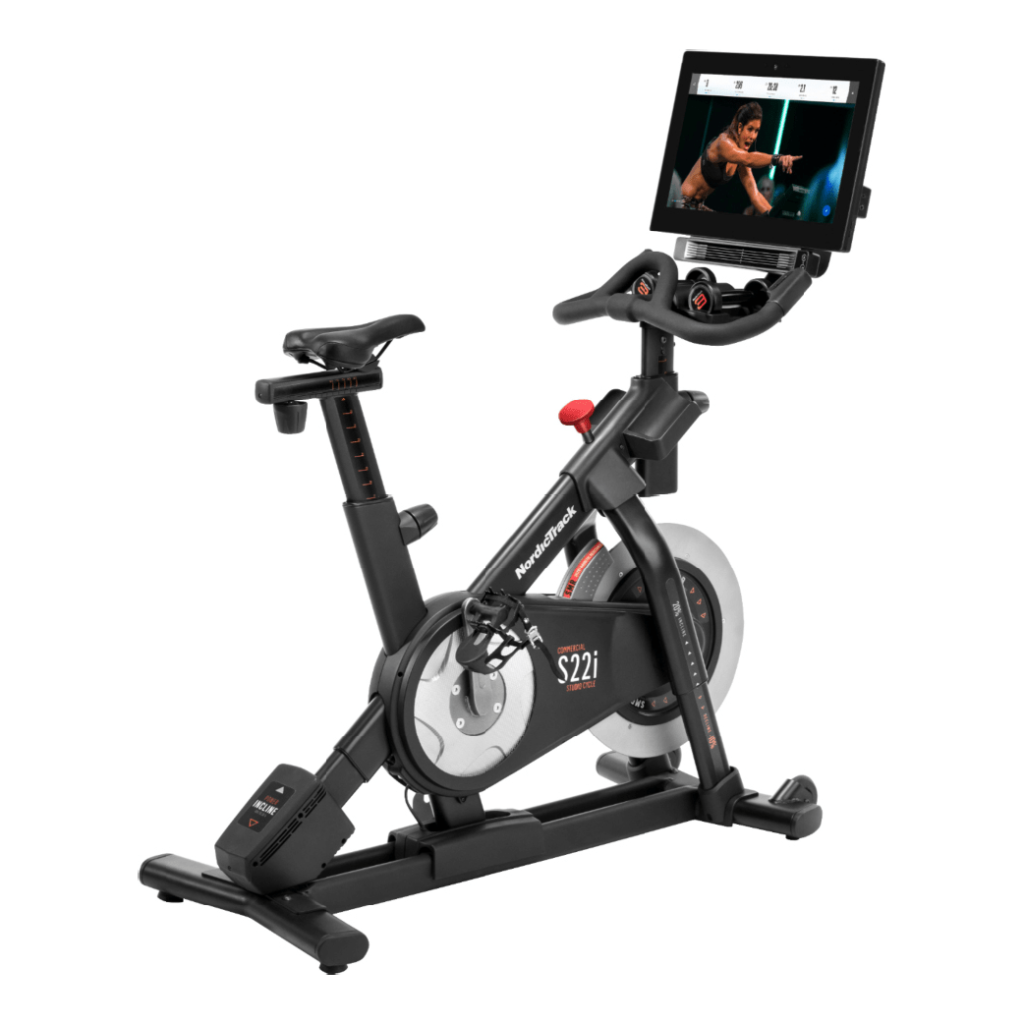 What We Love
1-year iFit family membership included
Large, 22-inch HD touchscreen
Incline and decline training
Rotating display for other training options
Padded, adjustable seat
AutoBreeze fan
What You Should Know
Subscription needed after free trial
High price, but financing available
10 years frame warranty
Very involved assembly
No media shelf
The NordicTrack S22i is our pick for the best overall, and it's easy to see why. The large, 22-inch HD touchscreen projects interactive, gym-like and personalized cardio workouts through the iFit program. As a bonus, you receive a full year of family membership with your purchase. The bike's Bluetooth connectivity allows you to listen to a trainer or iFit music with your own headphones for distraction-free workouts.
From a workout perspective, the bike offers incline and decline training and 24 resistance levels controlled digitally. The seat is padded and can be adjusted both vertically and horizontally. NordicTrack even throws in a pair of 3-pound dumbbells for the strength training programs that iFit provides.
The ride is smooth and incredibly quiet. With iFit, you can roll through scenic views or be involved in a race-type setting. There are two water bottle holders and extras like wireless heart rate monitoring.
The price of the S22i is a little steep at $1,999, but NordicTrack offers financing at 0 percent APR for 39 months. There is also the monthly subscription fee of $39 for the iFit family membership once your free trial runs out. We found the assembly to be fairly involved. NordicTrack offers expert assembly at a price of $250.
Read our full Nordictrack S22i review.
Best Recumbent Bike: XTERRA SB2.5
Good for: Very low-impact exercise on a high-quality machine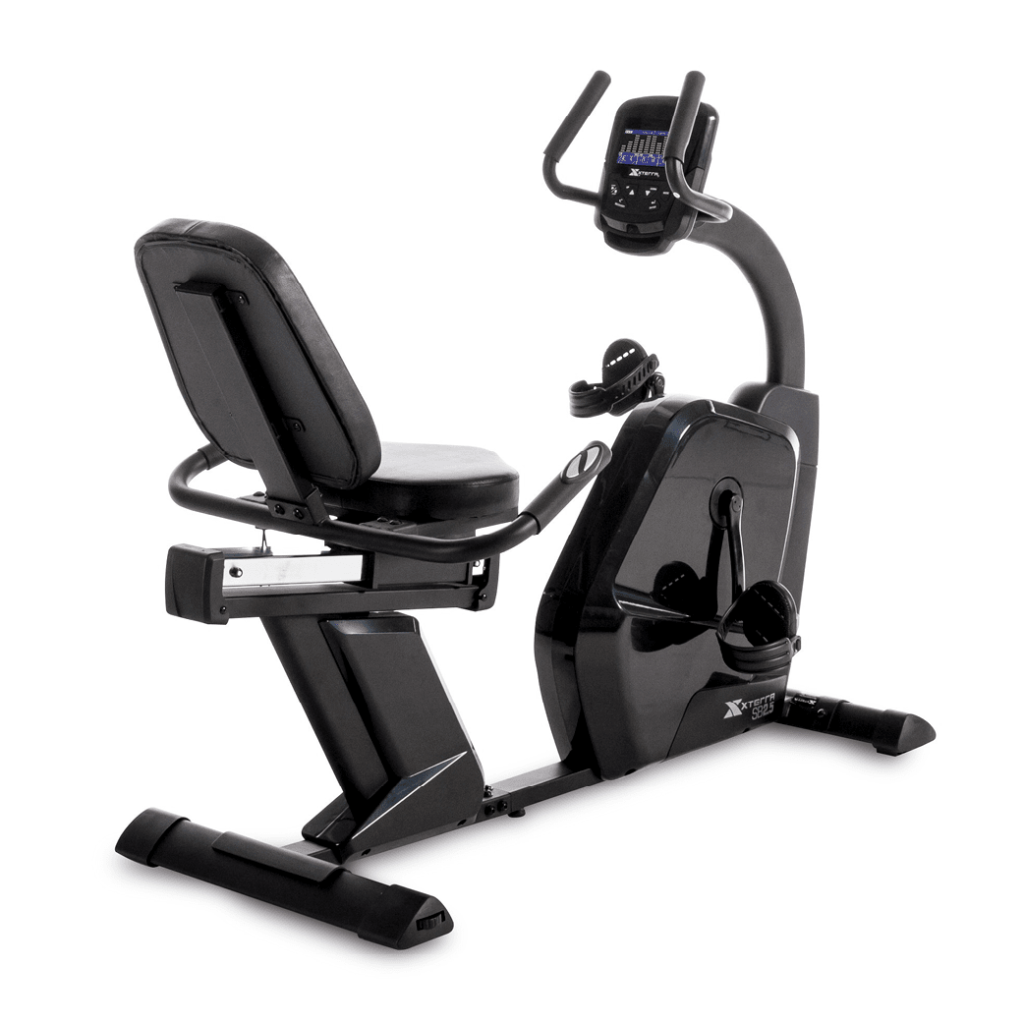 What We Love
Handlebar sensors measure heart rate
Comfortable seat and cushioned pedals
Self-leveling pedals
12 preset workouts
24 resistance levels
Floor stabilizers give a smoother ride
What You Should Know
Very basic, smaller-sized monitor
Few tech capabilities
Belt not included for wireless heart rate
5 years frame warranty
The XTERRA SB2.5 delivers when it comes to giving you comfortable, joint-friendly exercise on a competitively priced machine. This recumbent bike features an adjustable seat that moves forward or backward with a mesh back as well as oversized cushioned pedals. We loved how smooth the ride felt, which is in part due to the 22-pound flywheel.
The dual back-lit LCD screen is small, but still easy to read and measures time, distance, speed and calories. There are also sensors on the handlebars to measure heart rate. The SB2.5 measures heart rate through hand grip sensors. There is a wireless heart rate sensor, but you need to purchase the belt separately in order to use it.
For just $599, the SB2.5 gives you 12 preset workouts as well as 24 resistance levels. The competitive pricing does mean sacrificing some technology capabilities. Additionally, we would have liked to see a longer warranty, as XTERRA only guarantees the frame for five years and the parts for just one year.
Best Upright Bike: Schwinn 130
Good for: Those wanting a more realistic ride at an affordable price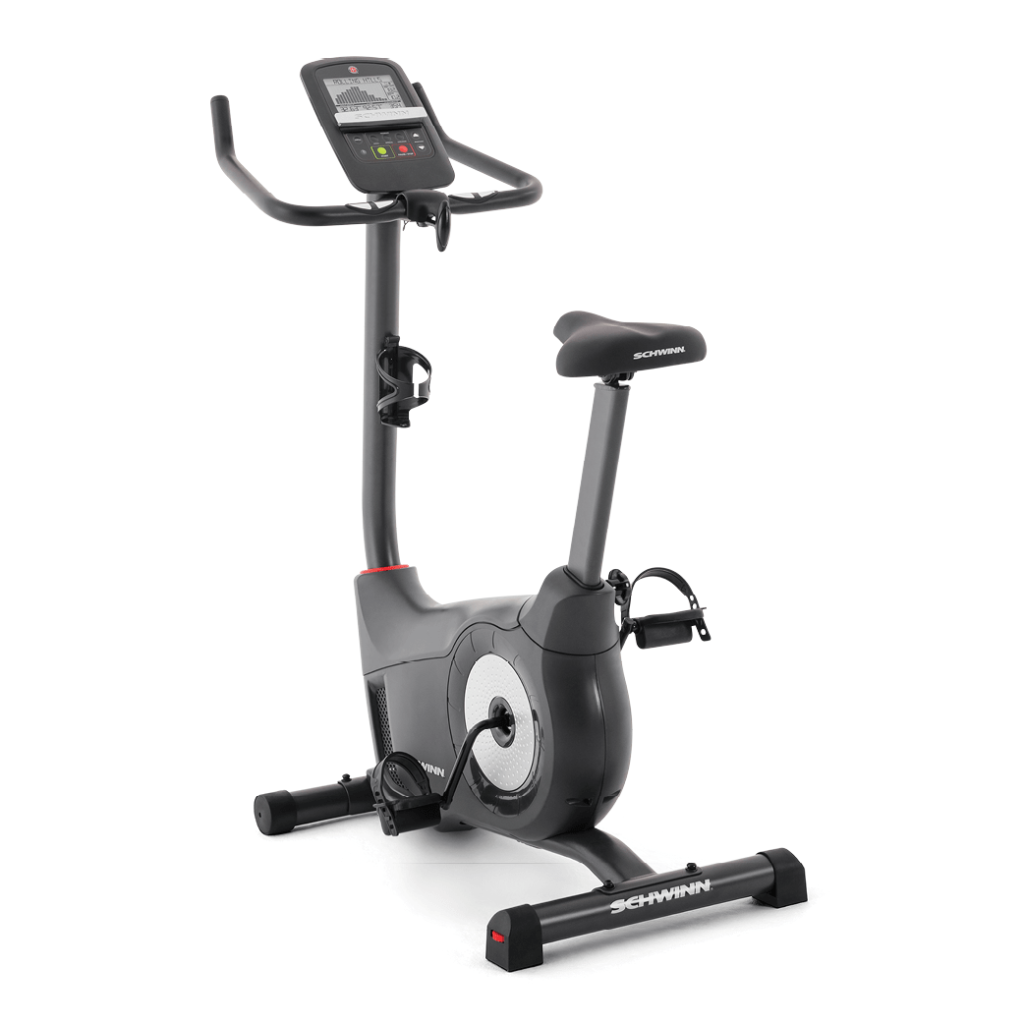 What We Love
Budget-friendly at under $500
Free shipping
Cooling fan
Padded, adjustable seat
16 magnetic, digital resistance levels
Heart rate monitoring
What You Should Know
Complicated assembly
Basic LCD monitor
90-day labor warranty
13 preset workouts
Upright bikes offer a little more life-like experience on a stationary bike than a recumbent bike does, but without the stress on the lower back that some indoor cycling bikes can create. We like the Schwinn 130 for the best upright bike on the market right now. It is extremely reasonably priced at $349 and doesn't sacrifice much.
Though it doesn't come with a fancy monitor to stream classes, you can subscribe to popular apps like Zwift on your own device, which you can connect to the bike.
Additionally, the monitor itself gives you all the feedback you need for an effective workout, like time, distance and speed. There are 13 pre-programmed workouts to choose from.
The warranty on the 130 is mixed: 10 years on the frame, two years on parts, but just 90 days on labor. There are also reports of how complicated the assembly of the bike is.
Best Indoor Cycling Bike: Schwinn IC4
Good for: People who want a high-end bike experience without the high-end price tag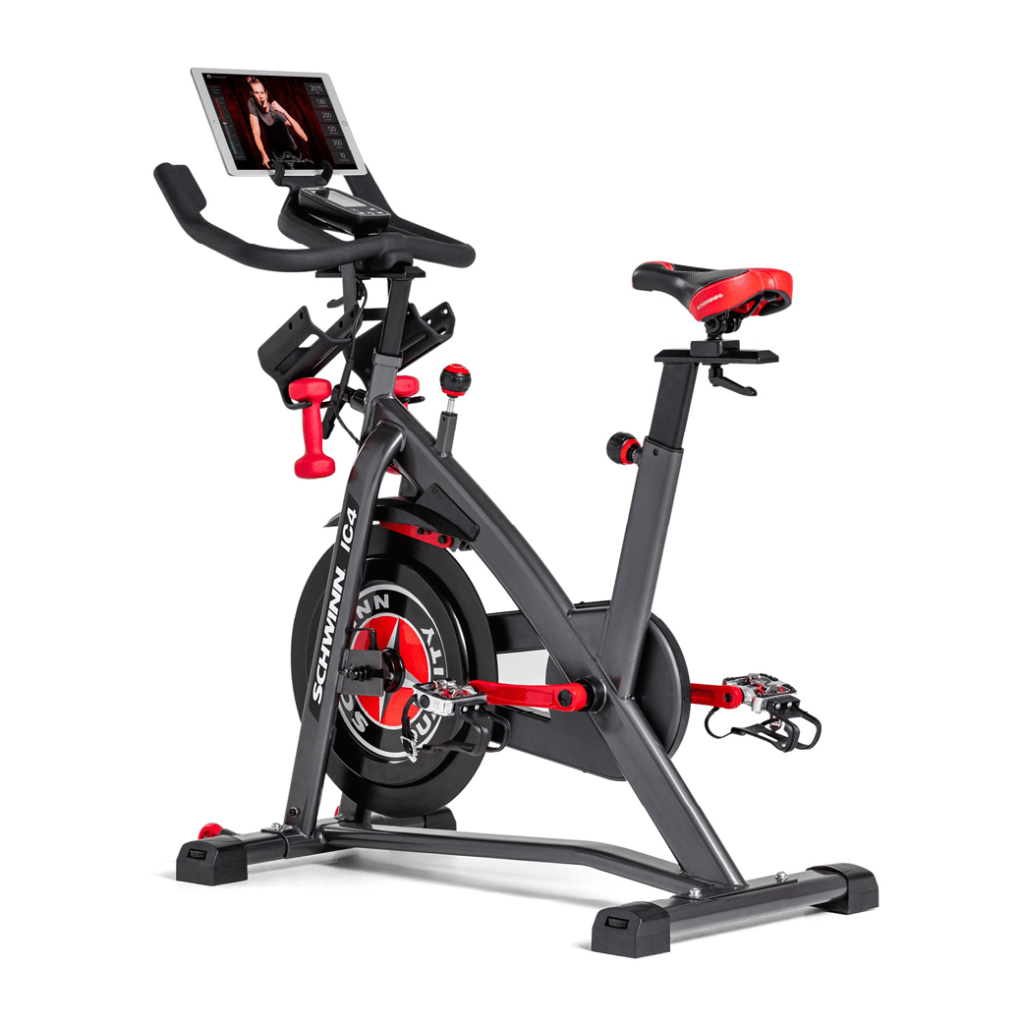 What We Love
Affordable at under $1,000
Customizable pedals
Adjustable seat and handlebars
Very portable
Connectivity to Bluetooth and other apps
Tablet docking station
What You Should Know
"Bring your own" tech
Very basic LCD monitor
No preset workouts
No fan
There is a lot to like about the Schwinn IC4. As the best indoor cycling bike on the market, it offers compatibility with Peloton and Zwift apps but at a fraction of the cost of high-end bikes. It has the sleek design of the studio bikes you may be used to from the gym, and the extras to have that workout experience at home.
For just $899, you get a lot of bang for your buck with the IC4. Both the seat and the handlebars adjust vertically and horizontally to cater to riders of all sizes. The pedals are compatible with clips and also offer toe cages. There are also 100 micro-resistance levels. However, these have to be adjusted manually, unlike more expensive bikes with digital resistance levels.
The bike weighs just 106 pounds, making it easy to move around your home. It also comes with a pair of 3-pound dumbbells for strength training options. The very basic LCD monitor reports your stats, but there are no preset workouts. For those, you will have to bring your own tech to the table, using the bike's docking station.
Best Luxury Bike: Peloton Bike+
Good for: People who want the top-of-the-line exercise bike experience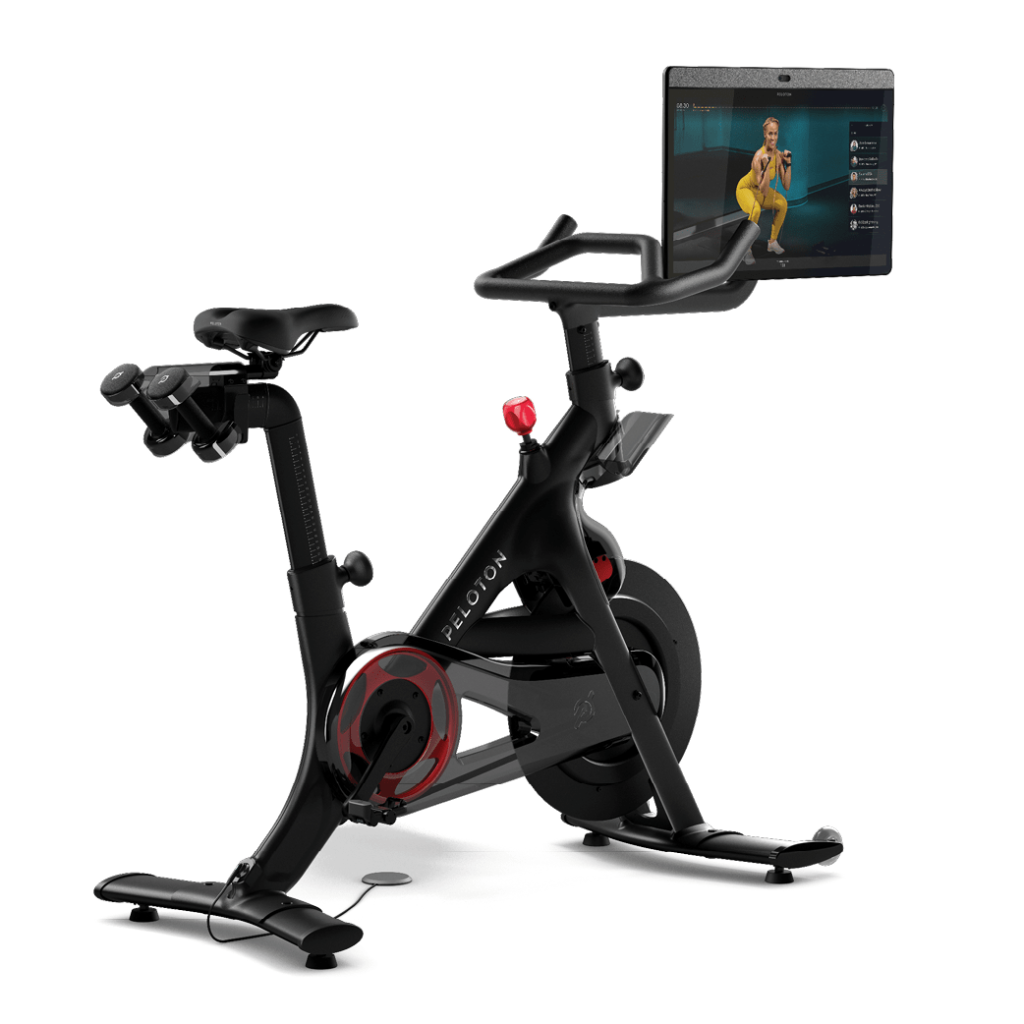 What We Love

24-hour access to live classes
Leaderboards to enhance competition
24" HD touchscreen that pivots
Delivery and assembly included
Adjustable seat and handlebars
Top-of-the-line tech
Leaderboards to enhance competition
24" HD touchscreen that pivots
Delivery and assembly included
Adjustable seat and handlebars
Top-of-the-line tech
What You Should Know
Expensive, but financing available
12-month parts and labor warranty
Monthly membership required
Indoor, 3-bolt cleat mount shoes required
We can't talk about the best home bike without talking about Peloton. Since it came on the market, the Peloton bike has been the gold standard for luxury exercise bikes. Perhaps the most attractive feature is the live, around-the-clock classes you can connect to through membership to the app. The training is immersive, and it's not just bike workouts. We loved that there are classes of varying lengths that include options for strength training.
On the Bike+, there is a 24-inch HD touchscreen that can swivel as you move on and off the bike during your workout. The tech seems endless: four speakers, automatic resistance that adjusts during class, USB port, and integration with Apple GymKit to sync workouts with your Apple Watch.
The Bike+ alone costs around $2,000, with higher priced options for packages that include items like the clip-in cycling shoes that are required and dumbbells. Additionally, membership to the app is $39/month. There is also the Peloton Bike, which is priced at just under $2,000. For both models, delivery and assembly is included in the price.
Without the monthly membership, the bike still works, but your options are limited to mostly self-guided workouts. Also, while Peloton states that the bikes are meant to last, the warranty is just five years on the frame and 12 months on parts and labor. Returns must be done in a 30-day window and will cost an additional $250 with the possibility of additional restocking fees.
Best Peloton Alternative: MYX Fitness The MYX
Good for: People looking for a Peloton bike alternative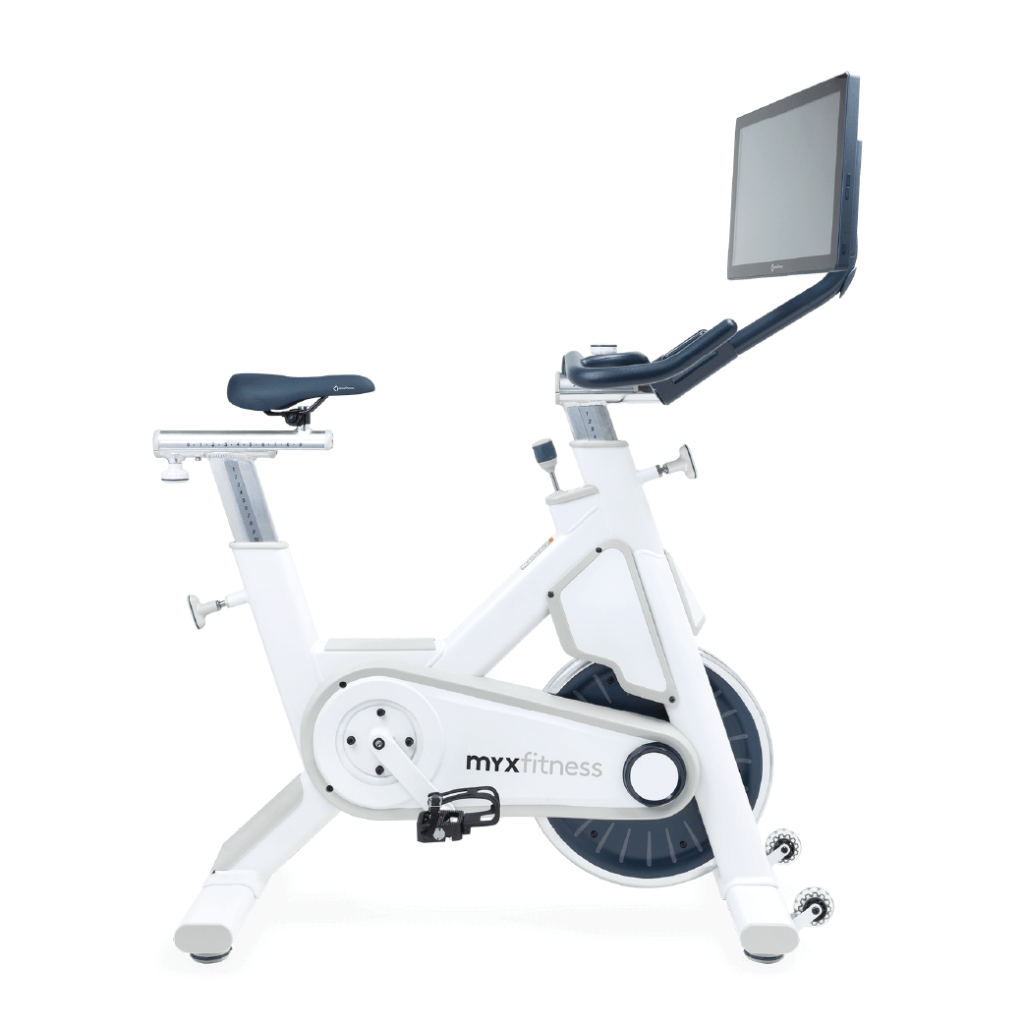 What We Love
Large, interactive touch screen
On-demand coaching, hundreds of workouts
Adjustable seat and handlebars
Total-body fitness through MYX app workouts
Heart rate-zone training available
Fits people 4'11" to 6'8"
What You Should Know
Higher price but financing available

No live classes or leaderboards
Monthly subscription is an additional cost
Short warranty
Strong WiFi needed to work well
Manual adjustments to resistance
The MYX from MYX Fitness is an affordable Peloton bike alternative. It gives you a lot for your money, including comfort, preset workouts, compact design and versatility.
For starters, the MYX syncs with the MYX app, where hundreds of workouts and on-demand interval training is available at your fingertips. Your workout streams on a 21.5-inch touchscreen that make you feel like you are actually in class.
Also, the screen swivels so you can do strength training workouts from the app alongside the bike or elsewhere in the room. The app is an additional cost at $29/month. We love the variety of workouts, especially the targeted heart-rate zone training.
The bike itself is $1,299 (or $1,499 for the MYX Plus), but financing is available. This is still well under the high-end bikes that offer many of the same features.
The warranty leaves much to be desired at just a five-year frame and one-year on parts. MYX does offer free shipping and assembly.
Best to Lose Weight: Bowflex VeloCore
Good for: New to experienced riders looking for a fun, exhausting workout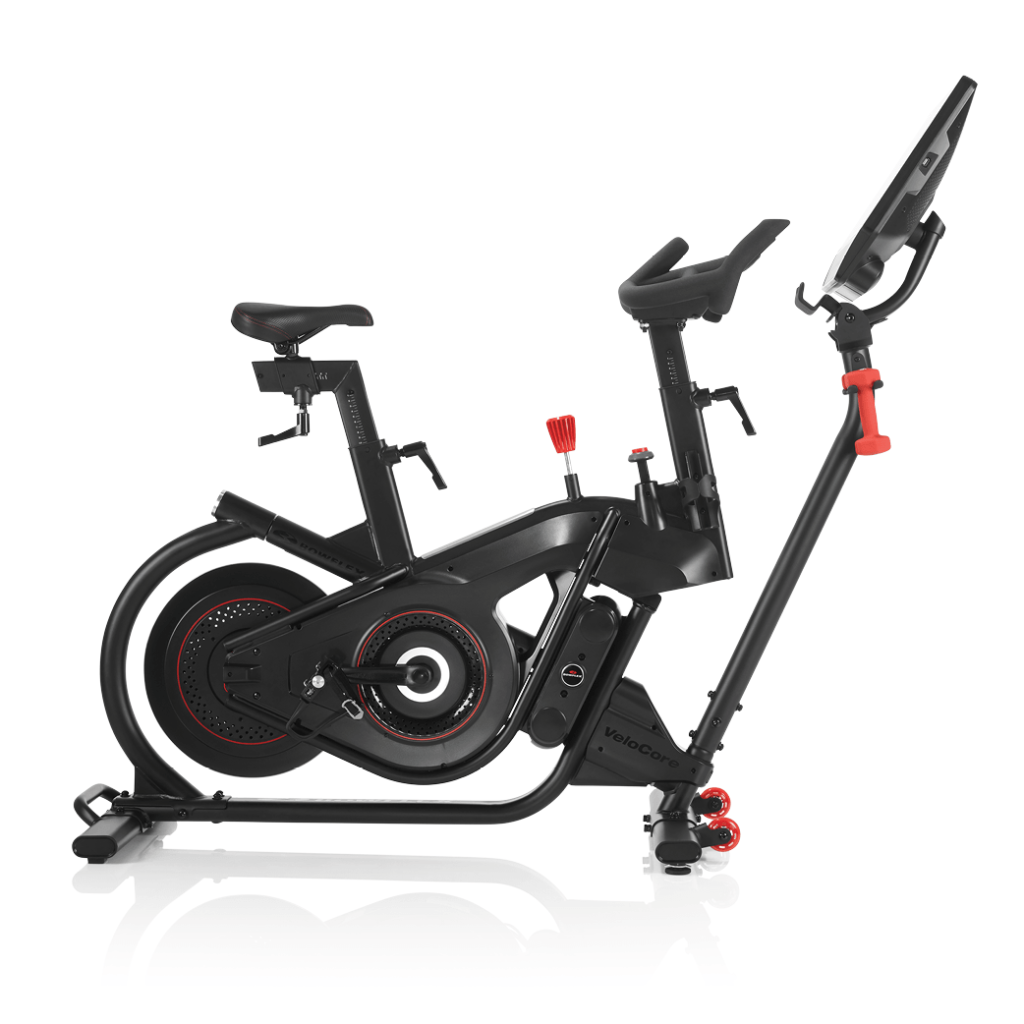 What We Love

Works legs and core with leaning mode
Free, two-month trial of JRNY
16- or 22-inch console options
100 levels of resistance
High weight capacity of 325 pounds
Caged pedals compatible with road pedals
Free, two-month trial of JRNY
16- or 22-inch console options
100 levels of resistance
High weight capacity of 325 pounds
Caged pedals compatible with road pedals
What You Should Know
Subscription required after free trial
WiFi connection required for workouts
Resistance levels adjusted manually
2 years warranty on parts and labor
Heavy at 175 pounds
The Bowflex VeloCore is a stationary bike that is, well, not totally stationary. This is our choice for the best exercise bike to lose weight because you are going to really move on this guy. You are welcome to use it in its stationary mode or put it into leaning mode to imitate what it's like to be on the road. This is fun, exhausting, and gives your core a great workout, too.
We found the leaning mode ride on the VeloCore is incredibly realistic. To boot, using a 16- ($1,699) or 22-inch ($2,199) HD touchscreen to navigate 25 destinations makes the workout actually enjoyable. The bike is designed to hook into JRNY, which features trainer-led videos and virtual coaching. JRNY also has features like streaming video on Netflix, Amazon and Prime Video.
On the upside, you get two months of JRNY free with your purchase. The downside is that the bike requires the subscription after your free trial. The VeloCore can also hook up with Peloton and Zwift subscriptions.
The seat and handlebars are adjustable to fit your body. There is a short, two-year warranty on mechanical and electronics parts, which we wish were longer.
Best Cheap Bike: Sunny Health & Fitness Synergy Magnetic
Good for: People looking for a good, basic exercise bike on a budget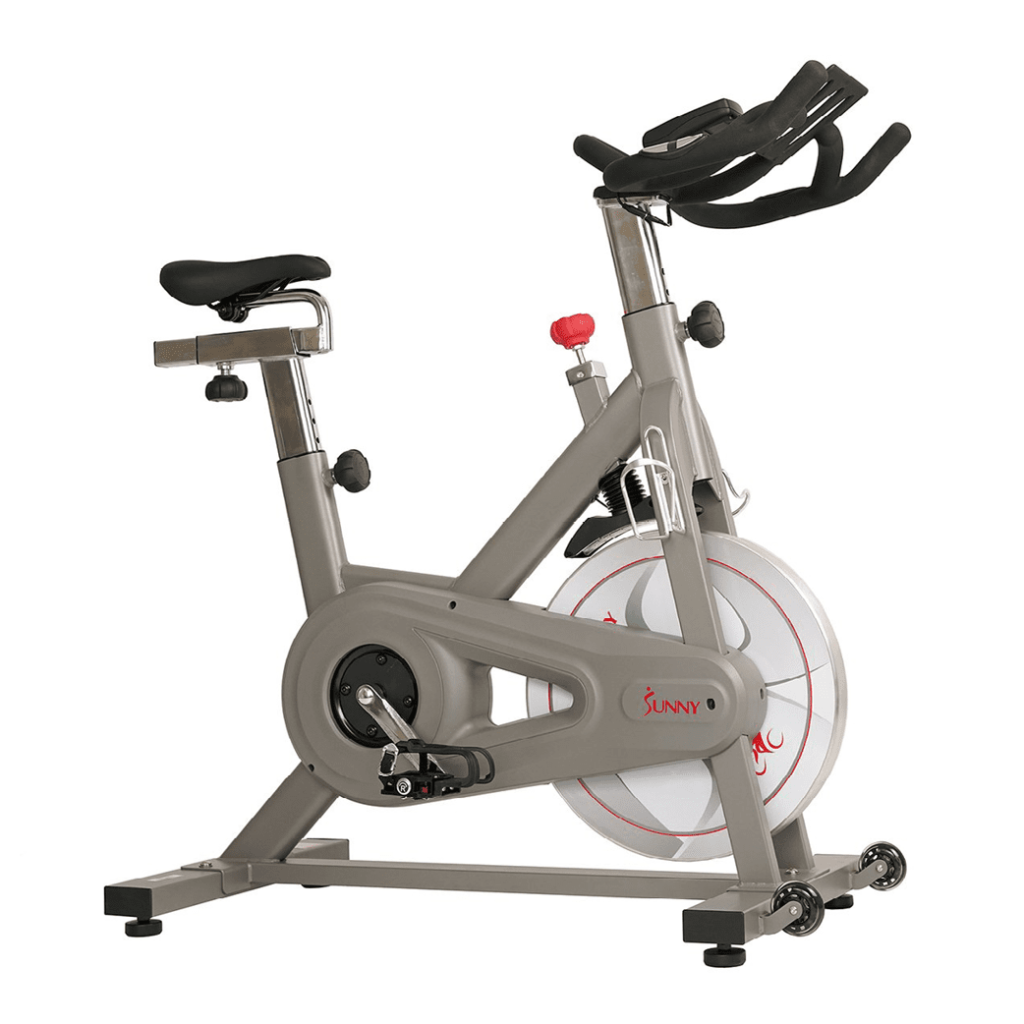 What We Love
Great exercise bike under $500
Free shipping
30-day money-back guarantee
Cushioned, four-way adjustable seat
Caged pedals
Device holder for tablet
What You Should Know
Short, 180-day warranty on parts
Small monitor with basic stats only
Weight capacity of 275lbs
No preset workouts
No tech compatibility
The best under $500 on our list is the Sunny Health & Fitness Synergy Magnetic. At just over $450, this affordable but quality machine offers the basics of what you need for a good workout. The Synergy Magnetic uses – wait for it – magnetic resistance adjusted manually, with seats and handlebars that can also be moved into the correct position for your body.
Though small, the monitor displays distance, speed, calories, pulse and rpm. There is, however, a tablet holder for you to stream from on your own iPad or other smart device. Other conveniences include a water bottle holder, dumbbell holder (though dumbbells not included), and floor stabilizers to ensure a balanced ride.
At just 88 pounds and with built-in wheels, it is incredibly easy to move this compact bike around. The light weight does, however, lower the machine's overall weight capacity to just 275lbs.
With the extremely affordable price also comes sacrificing luxuries of high-end bikes, such as preset workouts and tech compatibility. Overall, you can still get a good sweat on this bike for just a small investment.
Best Foldable Bike: Exerpeutic Folding Magnetic
Good for: People needing the bare minimum in a compact exercise bike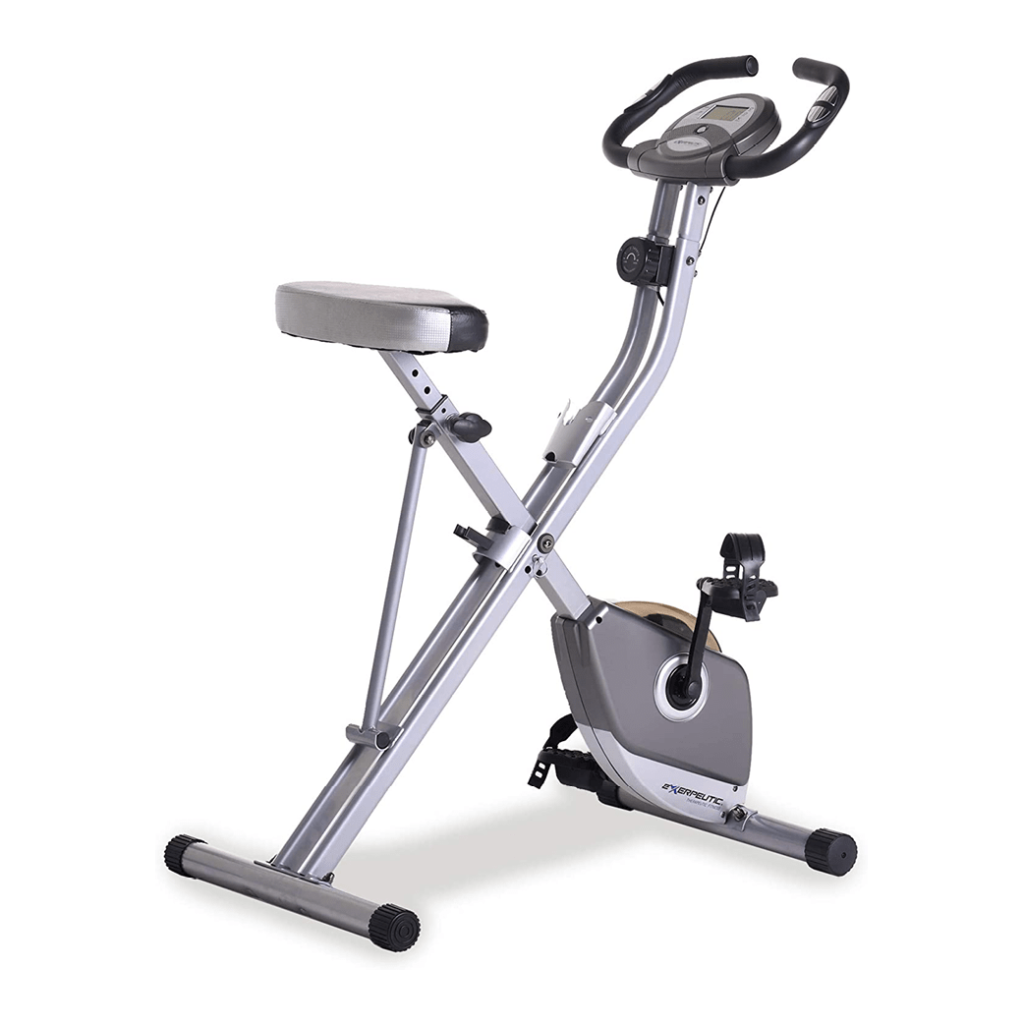 What We Love
Weight capacity of 300lbs
Manually adjustable tension
Monitor with time, distance, calories
Heart rate tracking capability
Weighs just 39lbs
Folds to half its size
What You Should Know
No tech compatibility
No preset workouts
Not suited for very short or very tall riders
Large, very padded seat
The Exerpeutic Folding Magnetic is our pick for the best foldable exercise bikes. In general, folding exercise bikes are affordable, compact and free of frills. Where the Exerpeutic shines is its large LCD screen and total adjustability. The large, comfortable seat helps make for a more comfortable ride.
The monitor tracks the very basics of what you would want from a workout: current speed, time, distance and estimated calories burned.
Additionally, the bike offers a hand pulse monitor to track your heart rate. Impressively, the bike is just 39 pounds but designed with a weight capacity of 300 pounds.
At just $149, the Folding Magnetic is extremely budget-friendly. With that, however, comes some sacrifices.
The bike itself can be adjusted to accommodate riders between 5'3" and 6'1", which leaves many potential users out of luck. Also, there are no tech capabilities or preset workouts.
Best for Seniors: Marcy ME-709
Good for: Older adults who want an affordable exercise bike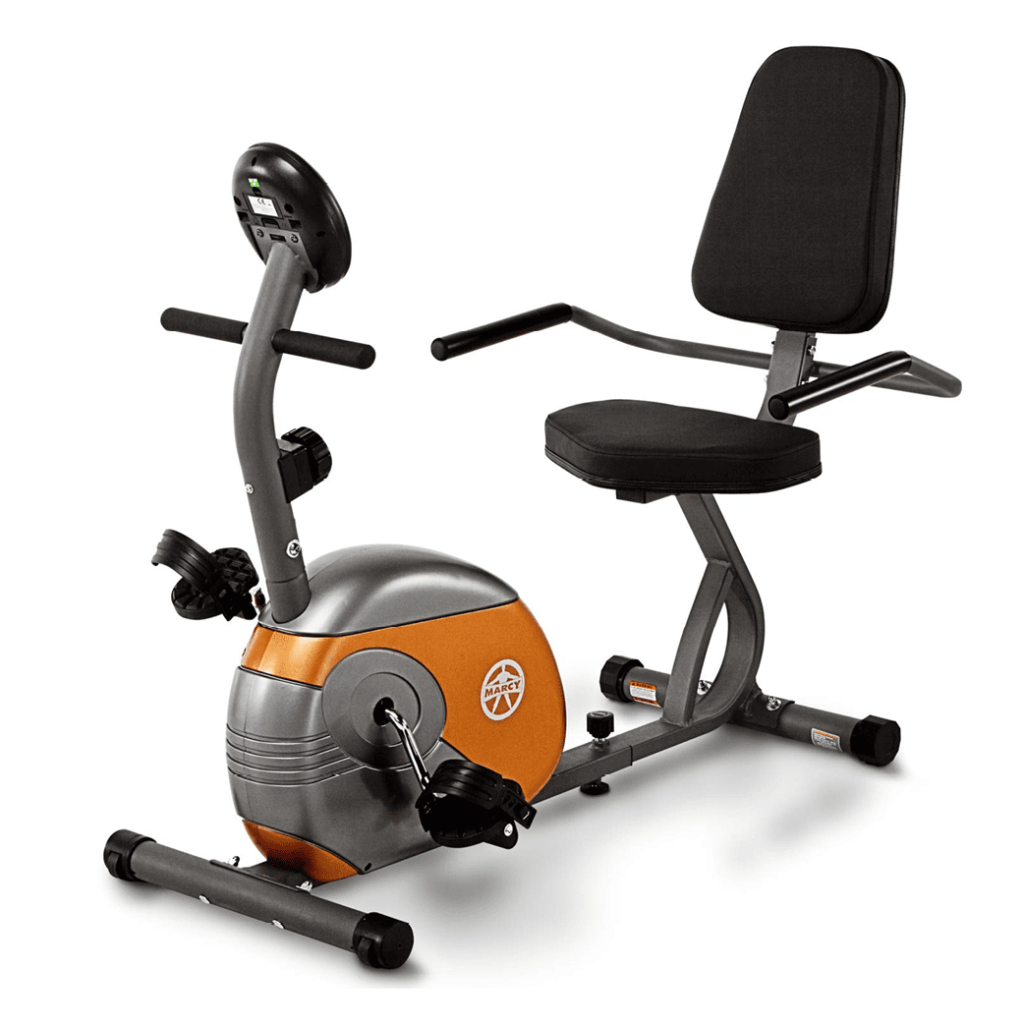 What We Love
Very affordable at around $200
Easy-to-read screen
Comfortable, adjustable seat
Step-through design
Very quiet ride
Free shipping
What You Should Know
No preset workouts
No heart rate monitoring
Lack of tech compatibility
Return policy could include additional fees
Small console shows basic workout data
For a smooth, quiet ride in comfort, look no further than the Marcy ME-709. This recumbent bike is excellent for seniors or anyone else looking to reduce pressure on joints.
With a walk-through design, you can easily get in and out of the seat. There are eight resistance levels you can navigate to make your workout as challenging or as relaxed as you want.
At around $200, the machine offers a lot of comfort for your money. The padded, high-back seat feels great on your back and entire posterior chain. Additionally, the seat can be adjusted so you get the right distance for your stride.
An LCD screen – which is on the smaller side – reports on your distance, time, speed and calories.
There are a few things to keep in mind with the ME-709. First, it has manual resistance, which could be challenging to adjust if you have arthritis or other grip-related problems.
Additionally, there are no preset workouts and no heart rate monitoring. However, if you just need to move in comfort, this is the bike for you.
What to Look for in Your Stationary Bike
There are so many options to choose from when looking for the best exercise bike for your home. Don't be overwhelmed! The factors below will help you sort through what matters most in your biking search.
Types of Exercise Bikes
First thing's first: What kind of bike do you want?
Upright: The name says it all: You are in an upright position while doing your workout with the pedals under your body, much like riding a bike outdoors. These bikes usually have a small footprint and are easy to move.
Studio cycle bikes: If you have ever been to a spin class, these sleek bikes will look familiar. Similar to the upright bike, studio bike pedals are under your body, though you lean forward more with a studio bike because the handlebars are farther from your seat. These provide a range of resistance levels and may be adapted into smart bikes through the use of a tablet and power pedals.
Recumbent: If you have back issues, are recovering from knee or back surgeries, or simply find the upright bikes to put too much strain on your posterior, a recumbent bike may be a more suitable option. Instead of sitting in a saddle, you are reclined in a comfortable chair-like seat.
Air bikes: The air bike uses pedals to move a large fan where the front "wheel" is. Two handlebars at chest height also move, giving you a full-body workout when many other bikes typically focus solely on the lower body.
Built for Your Body
Ergonomics matter. You are buying this bike for your health, so it needs to fit your body. And bodies that exercise come in all shapes and sizes! Look for an exercise bike with an adjustable seat and handlebars. Both should be able to move up and down as well as backward and forward. Also, check the weight limit of the machine as well as how big the pedals are. Small pedals can be difficult for larger feet.
Don't forget the seat! You will be spending a lot of time in the saddle, and no one wants the kind of booty pain that comes from a hard seat. Some basic exercise bike models forgo the much-needed comfort of a padded seat. If you happen to fall in love with a bike that could leave you with a raw bottom, you may be able to buy a seat cover separately.
Price Range
A quick way to narrow down your options is to sort by price. Basic, no-frills models start at just a few hundred dollars. Most bikes will fall between $500 and $1,000, with the bells-and-whistles machines clocking in at several thousand dollars.
Must-Have Features or Just-for-Fun Add-ons?
Are you looking for just a quick workout, or do you need life's luxuries to fully enjoy your sweat session? Consider these conveniences to pimp your ride:
Bluetooth speakers
Water bottle holder
Magazine/tablet stand
Cooling fans
Heart rate monitor compatibility
App connectivity
Guided Workout Plans
Kick your workout up a notch by finding a bike with programmed workouts. Most mid-range bikes have pre-set workouts to choose from each time you take a seat. For an even more intense ride, there are several high-end bikes that connect you to studio classes or interactive fitness apps through a subscription service.
Return Policy and Warranty
Before purchasing any gym equipment, review the manufacturer's return policy and warranty. Many companies allow you to use the exercise bike for up to 30 days and still return it for either a full refund or a refund minus shipping and handling costs. If you're not 100% sold that a bike will be best for you, be sure you understand these important company policies before you buy.
Saddle up, Partner!
Ready to ride? We hope our tips have helped you find the right bike. Remember that the best exercise bike will fit your body, your fitness goals and your budget. Happy pedaling!
---
Kate Meier is senior editor at The Fit House, which means she personally tests and reviews equipment featured on our pages. She has more than 20 years of experience in the health and fitness world, ranging from college sports to big box gyms to boutique fitness studios. Outside her work at our House, Kate is co-owner of a gym in North Carolina and spends much of her time coaching and working out. She also loves dogs and being outside.