In our Bowflex M6 review, we'll give you a comprehensive look at what makes this elliptical trainer great as well as provide insights on some of its drawbacks.
The M6 is the most affordable model of the three Max Trainers Bowflex has, though it is far from basic.
Our team at The Fit House put the Bowflex M6 through rigorous testing to evaluate areas like portability, adjustability, value and durability. Keep reading to learn about the pros and cons of this machine, and see the Trainer M6, the M9 and Max Total comparison.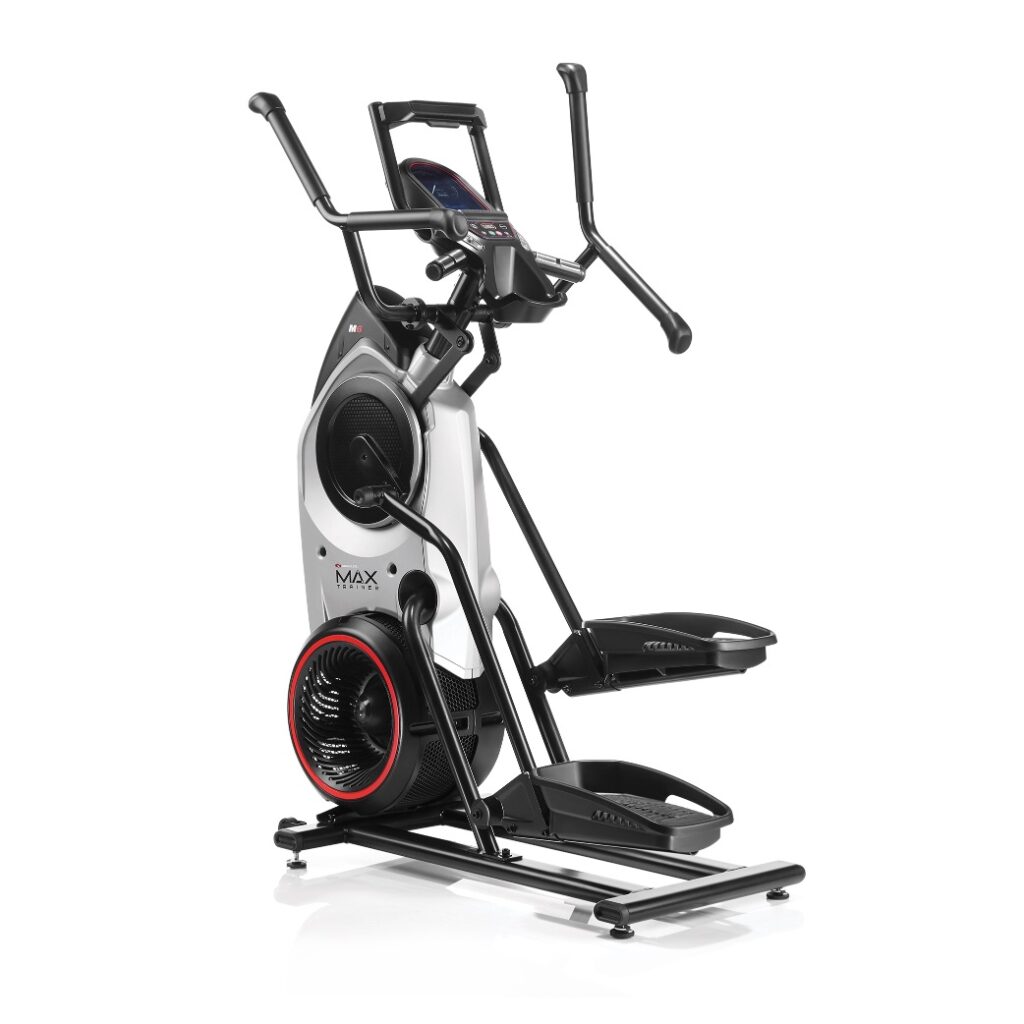 | | |
| --- | --- |
| What We Love | What You Should Know |
| Small footprint and portability | Priced at just under $1,700 |
| Upper and lower body workout | Subscription required for max potential |
| Two-month free trial of JRNY app | Backlit, color 5-inch LCD screen |
We have affiliate relationships through which we may be paid a commission through our links at no cost to you, the reader. Read more here.
Our Favorite Things
Small and portable
Full-body workout
The JRNY app
Small and Portable
Getting the best elliptical for your home gym might mean making space considerations. The Bowflex M6 is a compact machine, measuring just 46 inches long and 26 inches wide. The pedals move in an up-and-down motion, making its footprint much smaller than other elliptical machines where pedals slide back and forth.
In addition to its small size, the Bowflex M6 is also relatively lighter than other machines. Assembled, it weighs less than 150 pounds. There are also built-in wheels to make moving it around fairly easy.
Total-Body Workout Experience
There are two sets of handlebars for you to use during your workout. One is fixed, and the other moves while you exercise, giving you a full-body workout. Pumping with the arms works biceps, triceps, deltoids and other upper body muscle groups.
The JRNY App
Formerly known as the Max Intelligence app, the now-named JRNY app is Bowflex's solution for personalized virtual training. The program gives you daily workouts that have been customized to suit your fitness needs and get harder as you get in better shape. There are also videos that feature a personal trainer to keep you motivated.
The Bowflex M6 comes with a two-month free trial of JRNY. Afterward, payment is either $149/year or $19.99 a month.
We need to point out that the console of this machine is simple; you will need to bring your own tech to the table in order to use the Bowflex JRNY app. Fortunately, there is a media shelf where you can place your tablet or smart device.
User Experience
We spent a good amount of time working through the preset workouts on the Bowflex M6 as well as playing with the JRNY app.
Getting Started
If you just want to hop on and go, you just hit the "MAX" button on the console. This launches interval training for 14 minutes. The program is based on your own personal profile, which takes into account your height, weight and assessment workout, as well as other workouts you have done. The M6 can also store information for two people. We set up two user profiles and easily moved between them thanks to the "User" button on the machine.
For other options, navigating through the console is fairly simple. There are several preset workout programs on the machine itself you can do that range between four minutes and 30 minutes. Also, you can manually adjust through 16 levels of resistance as you exercise.
The Ergonomics
The workout is comfortable, aside from the heavy breathing, of course. The pedals themselves are elliptical-style. They are extra-wide with a textured surface. We found our feet didn't slip or move at all.
The Bowflex Max Trainer M6 has both fixed and moving handles. This gave us a total-body workout when we wanted it, and a break when we needed it.
Additionally, there are floor stabilizers on the bottom of the machine. If you feel the elliptical shifting too much during the workout, you can make adjustments to level it.
The Workout
The M6 Trainer workouts are designed to be short and high intensity. Some workouts actually felt a little too short for us, so we were glad we could hit the "Add Time" button to keep going.
We also enjoyed the "burn rate" feature, displayed on the LED screen above the LCD back-lit screen. This is an indicator of how many calories you are burning each minute. Many of the workouts on the M6 give you a goal burn rate and help you adjust the machine to stay in that zone.
The JRNY app workouts are still customized based on your individual specs and goals. You need to use your own tablet or smart device to access the programming (on the M9 and the Max Total, you can simply use the touchscreen built into the machine). One drawback we found is that a tablet blocks the display of the machine. This led to some back and forth between watching the video and moving it to see what we were doing.
One beneficial aspect of JRNY is the personalized coaching. You have a virtual trainer who instructs you when to slow down or speed up in order to stay in zones for fat burn and calorie burn.
Noise Levels
This is not a quiet machine. As you exercise, the pedals and handles make an audible sound as they move through the air. We would consider the decibel level to be moderate: Not as quiet as some fitness equipment, but much more quiet than a treadmill.
No Fans
It's not a dealbreaker for us, but there aren't any cooling fans on this machine. In fact, none of the ellipticals in the Max Trainer line have fans on them. We worked up a sweat doing HIIT training, so it would have been nice to feel the breeze.
A Look at Tech
Though this is not Bowflex's most advanced piece of equipment, it does has some built-in conveniences that we like:
Display
The M6 Trainer has a back-lit, color LCD display that is about 5 inches wide. It tells you your distance, time, resistance level and heart rate. There is also an LED screen that calculates your "burn rate," or how hard you are working. Many of the programs give you a target burn rate to hold while exercising.
Heart Rate Monitoring
There are two different ways to get your heart rate while on the machine. The first is through the integrated contact grips under the display. You can also tap into the Bluetooth connectivity for a chest strap or other kind of heart rate monitor.
No Speakers
We were a little disappointed to find there are no speakers on the M6. That would have made listening to our own music or the JRNY app a little easier. Many machines at this price point offer that convenience.
The Specs
| | |
| --- | --- |
| Footprint | 46"L x 26"W x 64.2"H |
| Weight | 148lbs |
| Weight capacity | 300lbs |
| Ceiling height | User height plus 15" |
| Resistance levels | 16 |
| Drive | Front-drive |
| Preset workouts | Five standard workouts |
| Pedals | Oversized textured |
| Display | Backlit LCD screen |
| WiFi | No |
| Water bottle holder | Yes |
| Media shelf | Yes |
| USB port | Yes |
| Heart rate monitoring | Yes |
Buying Experience
From start to finish, buying this machine was hassle-free.
Purchasing
We ordered the M6 Trainer directly from Bowflex. There is an 18-month financing option through the manufacturer with a Bowflex credit card.
Shipping and Assembly
Manufacturers are split on how they handle shipping and delivery costs. We were pleased to see free shipping on all the Max Trainer ellipticals. For an additional $169, we added in-home assembly by a professional.
Warranty
This is where Bowflex disappoints. There is just a two-year warranty on the frame and parts, and just 90 – 90! – days on labor. This is well below the 10-year and lifetime warranties that other manufacturers offer on similar equipment. Even the labor warranty is too short for our liking. You have the option to add either a three-year or five-year protection plan for an additional cost.
Return Policy
We love that Bowflex gives you six weeks to give the M6 Max Trainer a try. Most companies have a 30-day return policy.
Under Bowflex's terms, you have to follow their policy to get a return merchandise authorization number from them. Without one, you won't get a refund. Within two weeks of getting your number, you have to ship the machine.
Bowflex will not refund shipping costs or anything you may have paid for assembly.
Customer Reviews
The Bowflex M6 Max Trainer has 4.7 out of 5 stars on bowflex.com. In looking through customer reviews, we found people especially enjoyed how small it is and how easy it is to get started.
Some of the negative feedback surrounds a complicated assembly. Also, during very high intensity workouts, the machine may rock a little. This could be due to an uneven floor and could be resolved through adjusting the stabilizers.
Bottom Line
Here's what we learned during our time with the Bowflex Max Trainer M6:
Short, high-intensity workouts are customizable.
Small footprint and built-in wheels increase portability.
The JRNY app is a fun tool but costs extra.
The warranty policy is shortsighted.
Overall, we think this is a quality machine that can help you on your fitness journey.
Compare Bowflex Max Trainer M6 vs. Max Trainer M9 vs. Max Total
There are three machines in the Bowflex Max Trainer series. The key differences, aside from cost, involve the display, the number of resistance levels, some tech capabilities and the warranties.
The Basics
| | | | |
| --- | --- | --- | --- |
| | Max Trainer M6 | Max Trainer M9 | Max Total |
| Price | Under $1,700 | Under $2,000 | Under $2,800 |
| Size | 46"L x 26"W x 64.2"H | 49.2″ L x 30.5″ W x 65.1″ H | 49″ L x 30.5″ W x 65.5″ H |
| Weight | 148lbs | 148lbs | 148lbs |
| Resistance levels | 16 | 20 | 20 |
| User capacity | 300lbs | 300lbs | 300lbs |
| Ceiling height | User + 15" | User + 15" | User + 15" |
| Total body | No | No | Yes |
Comfort
| | | | |
| --- | --- | --- | --- |
| | Max Trainer M6 | Max Trainer M9 | Max Total |
| Handles | 4 grip positions | 4 grip positions | 6 grip positions |
| Cooling fan | No | No | No |
| Media rack | Yes | Yes | No |
| Bottle holder | Yes | Yes | Yes |
| Transport wheels | Yes | Yes | Yes |
| Pedals | Oversized textured | Oversized textured | Oversized textured |
Tech
| | | | |
| --- | --- | --- | --- |
| | Max Trainer M6 | Max Trainer M9 | Max Total |
| Display | Full-color LCD | 10" HD touchscreen | 10" HD touchscreen |
| JRNY-compatible | Use app on phone or tablet | Use directly on machine | Use directly on machine |
| Built-in workouts | 5 | 4 | 8 |
| Bluetooth | Yes | Yes | Yes |
| Heart rate monitoring | Contact grips | Contact Grips, Bluetooth enabled | Contact Grips, Bluetooth enabled |
| Streaming | No | Yes | Yes |
| WiFi | No | Yes | Yes |
| USB port | Yes | Yes | Yes |
| Bluetooth speakers | No | Yes | Yes |
Policies
| | | | |
| --- | --- | --- | --- |
| | Max Trainer M6 | Max Trainer M9 | Max Total |
| Financing | Available | Available | Available |
| Frame Warranty | Two years | Three years | Three years |
| Parts Warranty | Two years | Three years | Three years |
| Labor Warranty | 90 days | 90 days | 90 days |
BowFlex M6 Trainer FAQs
Some of the most commonly asked questions about this elliptical are:
Is the Bowflex M6 Trainer an elliptical?
The Bowflex M6 is a combination of two cardio machines: an elliptical and a stair stepping machine. The handles move for an upper body workout, which is unlike many stair climbers. Your feet simulate climbing more than running.

Is the Bowflex M6 Trainer good for seniors?
Many seniors seek exercise that is easy on the joints. An elliptical or stair stepper is a gentler cardio workout than, say, running might be. It is important to note that the M6 features high intensity workouts, so monitoring heart rate and speaking to a doctor about your current fitness level is advisable.
Can I use the Bowflex M6 trainer every day?
Yes, you can – but that doesn't necessarily mean you should.The M6 workouts are designed to be shorter, which would lend itself well to working out every day. It's best to consult with a doctor or fitness expert to determine the amount of exercise that is right for you.
Is the Bowflex M6 trainer hard on the knees?
No, the exercise machine is designed to have low impact workouts. Many people with knee problems do better with elliptical machines than they do with treadmills. If you have an injury or concerns, it is best to consult with your physician about your fitness goals.