The Fitbit Sense is the top-of-the-line smartwatch from the industry giant, and it comes fully loaded. It packs in the basics, the extras and the things you probably didn't even think of. This advanced fitness tracker is ideal for the person who wants to be able to do just about everything from their wrist.
Unfortunately, all the fun packed into this smartwatch seems to overwhelm it at times.

Our team at The Fit House has worn and evaluated some of the best fitness trackers. Our Fitbit Sense review will tell you what you need to know before you buy. We also stacked the Sense against other Fitbit devices, namely the Inspire 2 and the Charge 4 so you can see how they compare.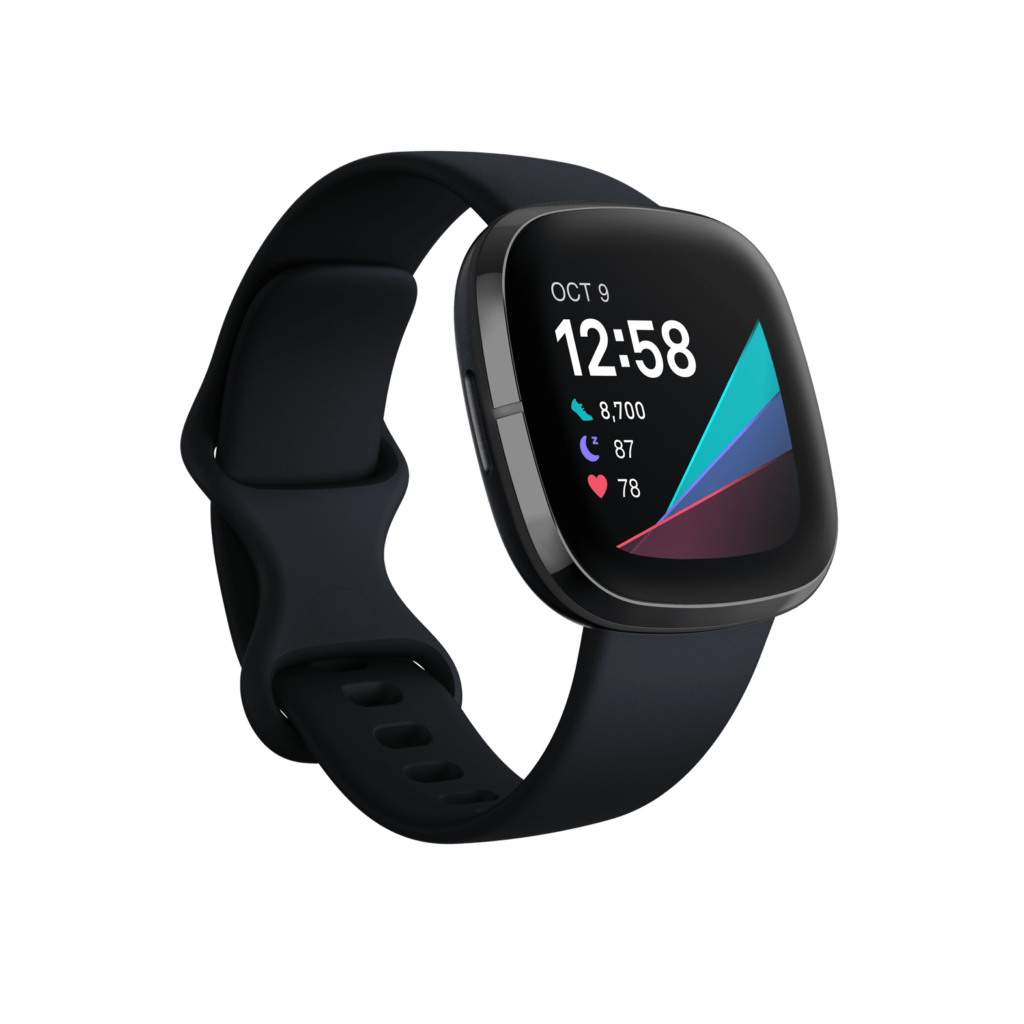 The Fit House Overall Rating: 4.1/5
View our full Fitbit Sense rating
| | |
| --- | --- |
| What We Love | What You Should Know |
| Built-in GPS and altimeter | Tech features aren't always reliable |
| Advanced heart rate monitor and ECG app | Priced around $300 |
| Sleep, women's health and stress tracking | 45-day trial period |
We have affiliate relationships through which we may be paid a commission through our links at no cost to you, the reader. Read more here.
Who Should Buy This Fitness Tracker?
The Fitbit Sense is great for:
People looking for an alternative to the Apple Watch
Those looking for advanced heart health features
People who want a smartwatch
We don't recommend this tracker for:
People who want something easy to use
People looking for an inexpensive tracker
People who need highly accurate workout data
What the Fitbit Sense Measures
The Sense is one of three Fitbit smartwatches (the others being the Versa 2 and Versa 3). It covers a significant number of bases when it comes to data collection and analysis. Here is a quick glance of what you'll get on the Fitbit Sense:
Daily step count, distance traveled, floors climbed and calories burned
24/7 heart rate monitoring
Resting heart rate
Heart rate zones like fat burn, cardio and peak zone
Workout intensity map
Stress management score
Breathing rate
Heart rate variability
On-wrist skin temperature
Blood oxygen saturation, or SPO2
Sleep stages and sleep score
Active Zone Minutes
Menstrual cycle
Design and Aesthetics
To be frank, the Sense looks a lot like something from the Apple Watch series. You could put it on and people would probably think that you were rocking an Apple Watch.
But, it's the Fitbit Sense, and It has a 1.58-inch full-color OLED watch face with a stainless steel bezel. We tested it indoors and in bright sunlight and had no problem reading it. Though it's a touchscreen, we found it less-than-responsive at times and had to tap or swipe multiple times to get to what we needed. You can set the display to be "always on," but it will eat into the battery life like crazy.
There is a sunken sensor on the left side of the screen that serves like a button that will take you to the home screen. If you hold it for a long time, it will bring up Amazon Alexa by default (you can also set this to use Google assistant). A double-press results in a shortcut list where you can customize your four favorite apps.
Though we were able to operate the sensor just fine, we have read customer reviews in which the sensor didn't always register when someone was trying to press it.
Adjustability
You get both a small and large band with your order of the Sense. According to Fitbit, a small band fits wrists that are 5.5 to 7.1 inches around, and a large band is ideal for wrists that are 7.1 to 8.7 inches around.
The band itself is really easy to adjust to fit your wrist. We had no problem with the
Sense sliding or moving during high intensity workouts.
The band that comes with the Sense is a soft silicone in either black or white. It is adjustable with the notch system. We could easily swap out those bands for options like a knit band, woven band, sport band or leather band, which are all available on the Fitbit site or through third-party sources like Amazon.
In short, you could find a way to style the Fitbit Sense to make it wearable just about anywhere.
Technology
The Baseline Metrics
The Sense, just like nearly every other Fitbit device, has all-day activity tracking. Therefore, it will give you steps, distance, floors climbed and calories burned. With a multipath sensor, the tracker also gives you continuous heart rate monitoring.
There is also significantly more:
Activity Tracking
When it comes to measuring activities, the Sense covers most of the essentials. Just like other devices from Fitbit, there are 20 exercise modes you can use:
Bike
Bootcamp
Circuit training
Elliptical
Golf
Hike
Interval workout
Kickboxing
Martial arts
Pilates
Run
Spinning
Stair Climber
Swim
Tennis
Walk
Weights
Workout
Yoga
Unfortunately, we spent the better part of a week testing the Sense, and two days in a row, it failed to record our activities and our heart rate.
Built-in GPS
For a smartwatch in this price range, built-in GPS is essentially a must. It increases the accuracy of outdoor activities like running. You can get a clear picture of your pace and distance.
Be careful when using the GPS, because it sucks the life right out of your battery. Turn it on when you need it, and turn it off as soon as you're done.
Blood Oxygen Saturation
It's super trendy right now to be well-versed in blood oxygen saturation. Why? Because having oxygen in your blood is literally vital. If you have low blood oxygen levels, it could be an indication that you're getting sick. (Though remember, a smartwatch can't diagnose an illness.)
Typical SpO2 levels are between 95 and 99 percent. With the Sense, you'll get a nightly average on your wrist, and you can track trends in the app.
ECG App
One of the features we love the most about the Fitbit Sense is a potentially life-saving electrocardiogram (ECG) app. A sensor assesses your heart for an irregular heart rhythm, or atrial fibrillation. If this little guy gives you a nudge, Fitbit states you should contact your doctor immediately.
For even more health metrics, the Sense also gives you alerts when your heart rate is abnormally low or high. Again, this doesn't necessarily mean there is something wrong with you, but it could give you a push to phone a doctor.
Stress Management
There are several ways that the Sense helps you assess and manage your stress levels:
Stress score: You get a daily score that uses your body's biometrics to determine how your body is responding to stress. The lower your score from 1 to 100, the more you need to address the stress by sleeping, taking a walk, or doing guided breathing.
EDA scan: A scan detects electrodermal activity, which is a fancy way of describing the tiny electrical changes your body experiences when it's stressed.
Relax app: This gives you a two-minute deep breathing session.
Mindfulness: You have to go into the Fitbit app to access mindfulness, which provides guided sessions to help you be aware of what you're feeling.
Pair With Smartphone or Device
The Sense is a smartwatch, so you can get notifications for calls, texts and apps by pairing it with either an Android or iOS device. However, you'll only get those notifications if your phone is nearby. If you have an Android, and it's nearby, you'll be able to send quick replies and even voice replies.
There is a built-in mic and Bluetooth in the Sense, so you can make calls from your wrist. Again, this only works if the phone is nearby, and if you want to walk around talking to your wrist. Be advised that this will drain your battery quickly.
We actually had significant issues after just a few days with this feature. Initially, everything worked great. Then a few days in, we totally stopped getting phone alerts on our Sense.
Sleep Tracking and Sleep Score
Just like most other fitness trackers, the Sense tracks your sleep and shows you how much shuteye you got as well as how much time you spent in each of the sleep stages: light, deep and REM. The Sense also gives you a sleep score, because if you don't already know you're tired, maybe a number will remind you that you don't get enough rest.
In all honesty, sleep tracking is one of the things we like best. Adults are supposed to get between seven and nine hours a night, and our wrist reminded us most days that we were falling short.
Fitbit also has "smart wake," which is an alarm that will wake you up only if you're in a light sleep so you feel more rested. If you're in a deep sleep and need to get up, we hope you set another alarm.
Menstrual Tracking
Women's health tracking is crucial to surviving some of the roughest days of the month. In the Fitbit app, you can monitor your symptoms and patterns in your cycle to better prepare. Fitbit notes you can also view your "fertile windows," but Fitbit is not your doctor, so proceed with caution.
Music
There are more options for music on the Sense than there are on Fitbit's other devices. Like the Fitbit Versa 3, you can store and play music or podcasts from Deezer. And like the Fitbit Charge 4, you can control Spotify. Of course, you need premium subscriptions for all of these services to get them to work.
Fitbit Pay
Why reach for your wallet when you can just flash your watch? Fitbit Pay links your financial institution to your wrist so you can make contactless payments. The Sense has NFC, so it works just about anywhere that will accept it. To set it up, you have to open the app and create a PIN with your financial institution. This is a super easy process and we have not found any instances of people having issues with it.
User Experience
We were thrilled when we got the Sense because it is essentially billed as an alternative to the Apple Watch.
But then we started using the Sense, and we bummed hard. The calls/texts alerts stopped working after a few days, and the heart rate monitor seemed very inaccurate. Additionally, there were a few workouts in which the Sense didn't store our data at all.
Companion App
The app is overwhelming. Of course it is, because the Sense tracks and analyzes more body functions than we knew were possible. If you're tech savvy or have hours to spend digging through the app, you'll probably be fine. If that isn't you, you might struggle like we did to figure out how to find the information we wanted.
Workout Intensity Map
If you like geeking out over workout data, then the intensity map will be your best friend. It's a cool graphic that lays out your workout period and highlights things like your pace (if you're running or walking) and your heart rate zones. It's easy to read, because it uses colors to let you know which zone you're in:
Blue: Low heart rate zone, typically during warmup and cool down
Yellow: Fat burn zone
Orange: Cardio zone
Red: Peak heart rate zone
This is really only useful for GPS-enabled activities. The Sense won't track your HIIT workouts with this function.
Active Zone Minutes
Standard on many Fitbit devices now are "active zone minutes," which take into consideration how much time you spend in peak zones. The American Heart Association recommends you get 150 of these minutes each week, so Fitbit has created an app to let you know if you're hitting that mark or not.
It's a great feature, when it works. Because the Sense didn't register our workouts two days in a row, we technically fell short of hitting all the active zone minutes we were supposed to.
Battery Life
There are a few great things about the Sense, and battery life is one of them. The coolest feature is rapid charge, which gives the Sense a full day of batter in just 12 minutes.
Typically, the Sense can last up to six days without being on a charger. However, if you use GPS, keep the SpO2 monitor on or make calls from your wrist, it will drain quickly. Most of the time, the Sense only takes about 40 minutes to get back to a full charge.
Community
Fitbit has a great community you can access through the companion app. There are step challenges and other ways to connect with your friends and the hundreds of thousands of people who use these devices. You can get into targeted groups, like "cardio," to read and comment on posts from other people interested in the things you like.
Fitbit Premium
Want more? (Really? Even more?)
Well, Fitbit Premium has it. For $9.99 a month, or $79 for a year, you can access even more tools, namely workout programs and meditation guidance. The metrics get more granular, and you can get completely lost in a sea of data and information.
When you purchase the Sense, you get a six-month free trial of Fitbit Premium.
Specs
| | |
| --- | --- |
| Size | 1.59 x 1.59 x 0.49 in |
| Weight | .24 oz |
| Water resistant | To 50m |
| Battery Life | Up to 10 days, but just 5 hours when GPS is on |
| Sleep tracking | Yes, tracks sleep stages and gives a sleep score |
| GPS | Built-in GPS |
| Workout programs | 20+ goal-based exercises |
| Compatibility | Android, iOS |
Buying experience
Buying and Shipping
Fitbit offers free shipping, so we easily qualified for that when we placed the order through the website. Within a week, the smartwatch arrived at our doorstep in good condition.
Customer Service
Because we had significant issues with some of the functions on the Sense, we reached out to customer service via the website. The agent was friendly and answered all of our questions.
To get help, you can call or opt for a live chat. Reviews on Fitbit's customer service is a mixed bag; they have a good return policy, but they have yet to develop a solution for many of the customer complaints related to the problems we had.
Warranty and Returns
The Fitbit Sense comes with a 45-day money back guarantee. If you don't like it, or if it just won't work, you can send it back. You have to take three important steps: request an authorization number within the 45-day window from when your device shipped; pack that authorization number with the device; send it all back with the original packaging.
There is a one-year limited warranty on the Fitbit Sense, as well as a 90-day warranty on labor for refurbished products. So if your refurbished Sense breaks, and it's within that 90-day window, you might qualify for a free repair.
Customer Reviews
The Sense tests high with people when it comes to how stylish it is as well as how great the battery life is.
The complaints matched ours: there seems to be some tech breakdown from time to time. Many people reported that within even just a few days of use, certain features weren't working.
Final Verdict
We had high hopes for this smartwatch. While it delivered in many aspects, there are a few areas where we found that the Fitbit Sense fell short:
We love the battery life and ability to rapid charge
The health metrics are impressive, like the ECG app and sleep tracking
The breakdown in tech is frustrating and makes this smartwatch more like an overly-expensive activity tracker
The Fit House Rating
Overall score: 4.1/5
| | |
| --- | --- |
| Aesthetic | 5 |
| Adjustability | 5 |
| Tech Capabilities | 2 |
| Durability | 3 |
| Value | 4 |
| Customer Reviews | 4.3 |
| Community | 5 |
| Warranty and Returns | 5 |
| Customer Service | 4 |
Compare Fitbit Charge 4 vs. Fitbit Sense vs. Fitbit Inspire 2
Fitbit has produced some amazing fitness trackers. Here is a look at some of the top sellers:
The Basics
| | | | |
| --- | --- | --- | --- |
| | Charge 4 | Sense | Inspire 2 |
| Price | $149.95 | $299.95 | $99.95 |
| Size | 9.72 x 1.13 x 0.49 in | 1.59 x 1.59 x 0.49 in | 1.47 x 0.66 x 0.5 in |
| Weight | 1.06 oz | 1.61 oz | .24 oz |
| Display | Backlit OLED touchscreen | AMOLED touchscreen full color | Backlit OLED touchscreen |
| Battery life | Up to 7 days | Up to 6 days | Up to 10 days |
| Charge time | Two hours | 40 min, fast charge mode in 12 min | 2 hours |
| Water resistant | To 50m | To 50m | To 50m |
| Fitbit Premium | Free 90-day trial | Free 6-month trial | Free 1-year trial |
| GPS | Built-in | Built-in | Connect to phone |
Tracking and Activity
| | | | |
| --- | --- | --- | --- |
| | Charge 4 | Sense | Inspire 2 |
| Exercise modes | 20+ | 20+ | 20+ |
| Reminders to move | ✔ | ✔ | ✔ |
| Heart rate | ✔ (24/7) | ✔ (24/7) | ✔ (24/7) |
| Resting heart rate | ✔ | ✔ | ✔ |
| Floors climbed | ✔ | ✔ | |
| Sleep | ✔ | ✔ | ✔ |
| Stress score | | ✔ | |
| ECG app | | ✔ | |
| High/low heart rate alert | | ✔ | |
| Automatic exercise recognition | ✔ | ✔ | |
| Swimproof | ✔ | ✔ | ✔ |
| Cardio fitness score | ✔ | ✔ | |
| Blood oxygen saturation | ✔ | ✔ | |
| Skin temperature | ✔ | ✔ | |
| Menstrual cycle | ✔ | ✔ | ✔ |
| Active zone minutes | ✔ | ✔ | ✔ |
| Breathing rate | ✔ | ✔ | ✔ |
| Heart rate variability | ✔ | ✔ | ✔ |
| Food logging | ✔ | ✔ | ✔ |
| Guided breathing | ✔ | | ✔ |
Tech
| | | | |
| --- | --- | --- | --- |
| | Charge 4 | Sense | Inspire 2 |
| Compatibility | Android, iPhone | Android, iPhone | Android, iPhone |
| Weather | ✔ | ✔ | |
| Wireless sync | ✔ | ✔ | |
| Fitbit Pay | ✔ | ✔ | |
| Spotify | ✔ | ✔ | |
| Pandora | | ✔ | |
| Smartphone notifications | ✔ | ✔ | ✔ (if phone is nearby) |
| Voice assistant | | ✔ | |
| Calls from wrist | | ✔ | |
| Always-on display | | ✔ | |
Fitbit Sense FAQs
Some of the most commonly asked questions about the Fitbit Sense are:
What are the differences between the Fitbit Sense and the Fitbit Versa 3?
Both the Fitbit Sense and the Fitbit Versa 3 are smartwatches. The main differences include the following:
The Sense is around $300, the Versa 3 is around $230
The Sense has a stainless steel body material, and the Versa 3 is aluminum
The Sense has extra health features, like the ECG app, an EDA sensor and gives you a stress score
What can the Fitbit Sense do?
Well, a lot! Let's start with the basics in fitness tracking:
Tracks steps, calories, floors climbed, distance and heart rate
Provides a sleep score and analyzes your sleep stages
Has built-in GPS and an altimeter for improved accuracy outdoors
Is swim proof
Then there are the more advanced and new features:
Has an ECG app that can alert you to afib
Measures blood oxygen saturation
Measures and manages your stress
Is cellular-enabled for calls and text messages
Tracks women's health
Tracks breathing rate
Has a skin temperature sensor
Does the Fitbit Sense measure blood pressure?
No, the Sense is not equipped with a sensor that can track your blood pressure. It does, however, alert you to possible atrial fibrillation, and can let you know if your heart rate is unusually high or low.