The Fitbit Inspire 2 is small, but mighty. We spent about a week with this sleek, simple activity tracker and can testify to its ease of use and incredible value.
Fitbit is synonymous with the best fitness trackers, and the Inspire 2 is a good part of the reason why. At under $100, it offers all the basics of what you would want out of a device like this as well as some bonus extras.
Our team put the Inspire 2 to the test using our in-depth evaluation process to rank it, review it and compare it to some of Fitbit's other products.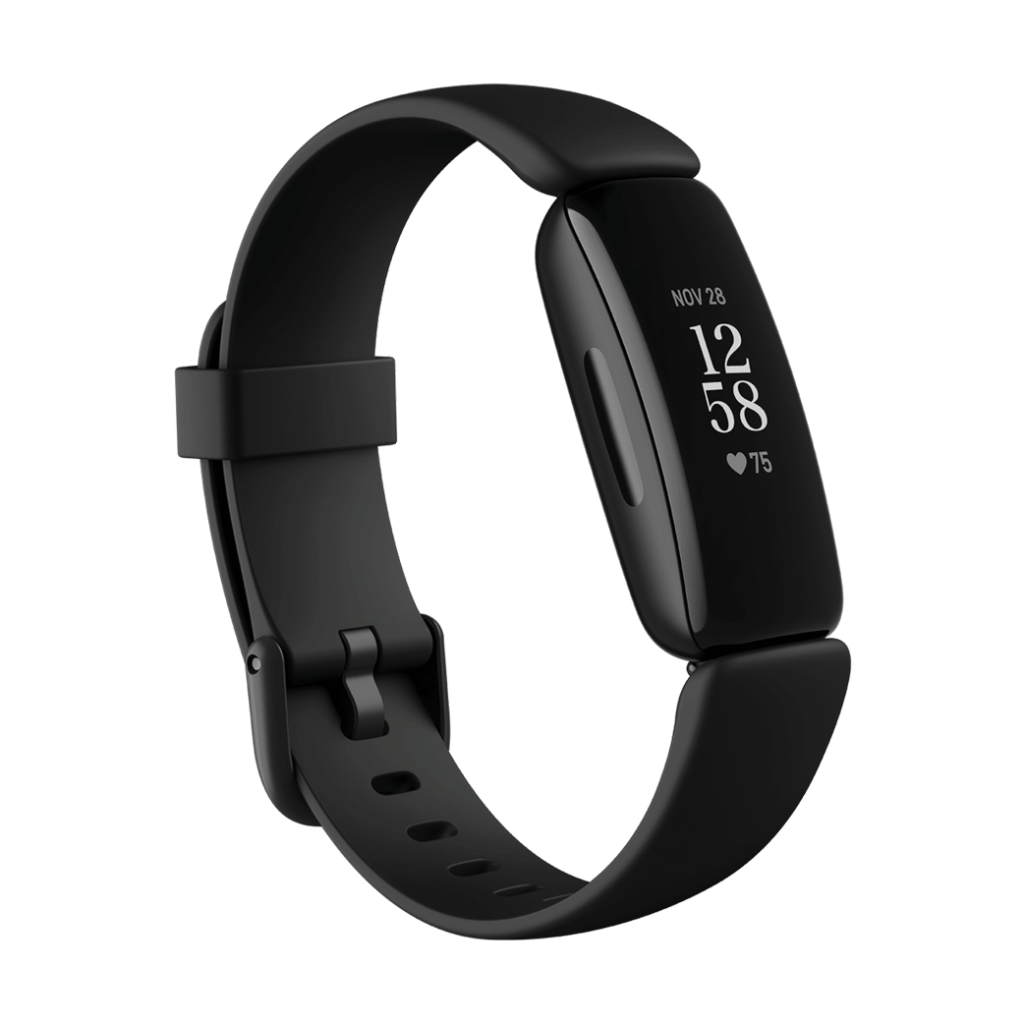 The Fit House Rating: 4.5/5
View our full Inspire 2 rating
| | |
| --- | --- |
| What We Love | What You Should Know |
| Simple enough for beginners to use | Priced under $100 |
| Up to 10 days of battery life | Small, narrow touchscreen display |
| Reminders to move | No altimeter or built-in GPS |
We have affiliate relationships through which we may be paid a commission through our links at no cost to you, the reader. Read more here.
Who Should Buy This Fitness Tracker?
The Inspire 2 is great for:
Beginners new to tracking activities
People looking for an affordable fitness tracker
People wanting a long-lasting device
We don't recommend this tracker for:
Runners or outdoor enthusiasts who need built-in GPS
People who need an altimeter to track floors climbed or altitude traveled
People who want a smartwatch
What the Fitbit Inspire 2 Fitness Tracker Measures
Here is a quick glance at what you can expect when using the Inspire 2:
Easy-to-use Fitbit app
Daily step count, distance traveled and calories burned
24/7 heart rate monitoring
Heart rate variability
Resting heart rate
Heart rate zones like fat burn, cardio and peak zone
Workout intensity map
Sleep stages and score
Cardio fitness score
Active Zone Minutes
Menstrual cycle
Food logging
Pairs with Apple or Android device via Bluetooth for GPS
Design and Aesthetics
It's slim and sleek. We wore an all-black Fitbit Inspire 2: Black silicone band, black display, black buckle. There are other options available on the Fitbit site, including lunar white and pink silicone bands.
The display measures about half an inch wide and about 1.5 inches long. It's an OLED greyscale touchscreen. In other words, it doesn't have a large, smartwatch-style face (because, duh, it's not a smartwatch).
The narrow screen takes some time to get used to, but once you know what you're looking for, it's easy enough to read. You swipe up on the touchscreen to navigate through the various data points. There are also two buttons that are used to access quick settings, as well as check battery life and turn off the screen.
You can set up a personalized display by swapping out clock faces. If you go into the Fitbit app, you select "Today," then tap your profile picture, then tap your device. You should then be able to tap "Clock Faces" and view "All Clocks." From there, you can choose from options to set the clock face to read the way you want it to.
Adjustability
The silicone band adjusts with a buckle and tang, just like your typical watch. You get both a small and large "classic" band with your purchase. A small band is optimal for wrists that are 5.5 to 7.1 inches, and a large band should fit wrists that are 7.1 to 8.7 inches around.
There are options on the Fitbit website for other bands, including a rose gold or silver stainless steel option, a leather band or a bloom print. We found the silicone band to be extremely comfortable to wear all day and night.
One thing we found really cool about the Fitbit Inspire 2 is that it can be worn on a clip instead of just on a band. Therefore, if you can't find an option that matches your outfit, you can clip it to your waistband. The clip only works for the Inspire 2, not the original Inspire or the Inspire HR.
Technology
Compared to other fitness trackers, the Inspire 2 is fairly middle-of-the-road when it comes to technological capabilities. It does much more than basic step counting, but doesn't have some of the features of higher-tech devices.
The Baseline Metrics
Step counting, all-day calorie burn and distance traveled are all available on the Inspire 2. Notably missing for us is an altimeter, which means that this wearable tracker cannot measure floors climbed like the Fitbit Sense and the Charge 4 can.
It does, however, use an optical heart rate monitor that provides an around-the-clock reading. Not only does this help you maximize your workouts, but it also gives you a resting heart rate reading all day and while you sleep.
If you have a subscription to Fitbit Premium, the Inspire 2 also measures heart rate variability. HRV determines the variability in the time between your heartbeats. Generally speaking, HRV is high during periods of relaxation, and low when you're under some kind of stress, exercise or otherwise. When viewed over time, high HRV is associated with healthy hearts. If your readings are coming back consistently low, it may be time to a doctor about lifestyle changes.
Activity Tracking
The Inspire 2 falls in line with other Fitbit activity trackers in that it has modes for about 20 different types of exercise:
Bike
Bootcamp
Circuit training
Golf
Hike
Interval workout
Kickboxing
Martial arts
Pilates
Run
Spinning
Stair Climber
Swim
Tennis
Walk
Weights
Workout
Yoga
The Fitbit Inspire 2 has "SmartTrack," which is supposed to automatically recognize when you have started exercising. This works for the most part. If you're a stickler for data, you should always set your watch to the right exercise mode before starting.
No Built-in GPS
Because the Inspire 2 costs less than $100, it isn't a surprise that the device does not have a built-in GPS. Instead, you can pair it to your phone's GPS. The advantage to GPS is that it provides you much more accuracy when you are doing outdoor activities like running or hiking.
We found the Inspire 2 to still be fairly accurate without the built-in GPS when it comes to distancer, and it easily syncs with a phone when necessary.
Workout Intensity Map
The workout intensity map (which you access through the app) is the perfect place to completely geek out over data. This is a graph of your outdoor workouts. (Note: This is ONLY for outdoor workouts, and works best if you have paired the Inspire 2 with your phone's GPS.)
In the map, you can view how you hit different heart rate zones throughout your workout route. This might clue you in to why you performed the way you did, and it might be useful in workouts to come.
Stress Management
Feeling stressed? The Fitbit Inspire 2 comes with guided breathing sessions. In fact, it will even buzz you if your heart rate seems high (outside of exercise, of course) to tell you to try to relax.
During a guided breathing session, the tracker will default to a two-minute period, but you can adjust it to be up to five minutes long. You can get into the session by doing the following:
Open the relax app (this is a little heart symbol with two little wisps of air coming out of it).
The first option will be two minutes, but you can swipe up for five minutes.
Tap play, and the screen will guide you through the rest.
To get started, you'll be taking long, slow breaths for about 30 seconds while the Inspire 2 measures your heart rate variability. It then develops a customized session based on your heart rate (which is pretty awesome). A circle will then grow and shrink, and you inhale and exhale to try to match the circle's movement.
Food Logging
Food logging is something you have to use the app for – you won't actually be entering your food onto this teeny device (thank goodness). To track your food, open the app, click "Today" and then select the "Food" tab. Hit the addition symbol and start typing the food you ate.
This pairs well with Fitbit's all-day calorie burn function, because you can compare your caloric input vs. calories burned. If you're really into logging food, an app like My Fitness Pal might be a better fit. In fact, you can link My Fitness Pal with Fitbit.
Cardio Fitness Score
Fitbit uses the sensors in the Inspire 2 to give you a cardio fitness score. This stems from a formula that uses your age, sex, weight and resting heart rate. Therefore, when you put your information in your profile, it's important to be as accurate as possible! You'll get a range that will fall into one of six levels that range from poor to excellent.
If your score comes back lower than you like, there are a few ways to improve it:
Increase your exercise levels (safely, of course, and perhaps consulting your physician first.
Weight loss – specifically healthy weight loss – can also improve your score. Healthy weight loss generally refers to lowering body fat percentage, whereas unhealthy weight loss (like loss that comes from crash dieting) would lower your muscle mass.
The app may also give you direction into tips for improving your score, especially if you upgrade to Fitbit Premium.
Call and Text Alerts
Once you have paired your Inspire 2 with your phone, you may receive call, calendar and text notifications. You can also customize the app notifications you wish to receive. This only works if your phone is nearby, however.
Don't want the alerts? No problem. You can put your Inspire 2 on do not disturb mode, which will mute those notifications.
This is not to be confused with "sleep mode," which will disable all notifications as well as keep the screen from lighting up.
Sleep Tracking and Sleep Score
When it comes to sleep tracking, Fitbit's line of devices excels. Of course, you have to be wearing the wristband all night in order for this to work. We found the Inspire 2 to be comfortable enough that this wasn't an issue.
The Inspire 2 covers the basics of sleep tracking, such as telling you how long you slept, as well as tell you how long you spent in each sleep stage: light sleep, deep sleep and REM.
This tracking isn't always accurate. Fortunately, you can go in and edit your sleep if you need to. For example, if the device thinks you fell asleep around 9 but you know it was closer to 9:30, you just go in and change the time.
You also get a sleep score on a scale of 1-100. The score factors in how much time you spent in REM sleep, the time you spent restless or awake, and your heart rate. It breaks down like this:
Excellent: 90-100
Good: 80-89
Fair: 60-79
Poor: Below 60
Getting the score is good, improving your sleep quality it is better. Fitbit Premium gives you access to a few programs that give you advice on how to improve your shuteye.
Menstrual Tracking
The Fitbit app has a fairly extensive wellness tracker just for women. In it, you can record things like your PMS symptoms and when you got your period. There is also a way to assess fertility windows (but this probably shouldn't replace a conversation with your doctor).
Timer and Stopwatch
Though we didn't use them at all, there is a timer and stopwatch in the Inspire 2.
User Experience
Here is what we gleaned from our personal time with the Inspire 2:
Companion App
The app is in-depth. In this Inspire 2 review alone, we cover just about everything you'll find in the Fitbit app, but you still need to spend some time familiarizing yourself with it. It took us a few days to get used to how all the information is presented, and another few days to find exactly what we needed. Once you get it though, it's pretty easy to use.
Reminders to Move
One of the most useful features for people who work desk jobs is the reminder to move. We loved this. Even if you exercise every day, you may still find yourself sitting for long periods of time. The device will buzz you with a friendly nudge to get up. It is set to do this if you don't take 250 steps every hour. That sounds like a lot, but just moving around and making lunch satisfied the movement trigger for us.
Active Zone Minutes
The "active zone minutes," are similar to Garmin's "intensity minutes." Basically, the American Heart Association has recommended that you get about 150 minutes of moderate-intensity activity every week. So, Fitbit holds you accountable.
The minutes are based on time you spend in the fat burn zone, the cardio zone and the peak zone. You actually earn double the minutes for the time you spend in cardio and peak zones. The Inspire 2 tracks how many minutes you earn each workout and each day. You can swipe up on the screen to see your collective minutes throughout the week.
Battery Life
Because it isn't a super complicated smartwatch, the Inspire 2 has a great battery life at up to 10 days. If it is completely dead, it will take about two hours on the charger to get back to 100 percent.
When we got the Inspire 2, it was about half charged out of the box. In just 30 minutes, it had reached a full battery.
Oh, and when the battery is fully charged, there is a smiley face. Not necessary at all, but very cute.
Community
The Fitbit app has an extensive community broken down into Feed, Family and Groups. You can find groups that focus on your interests or your geographical location. There is also the ability to add your friends to compete against each other, play games or just have check-ins on your progress.
Fitbit Premium
The Inspire 2 comes with a one-year free subscription to Fitbit Premium. This basically takes everything the little device offers and goes even deeper, like tips for food logging, diet, sleep quality and exercise. There are also extras such as:
More than 150 guided workouts
Even more health tracking for sleep, activity and nutrition
Audio library for mindfulness, stress reduction and body positivity
Guided programs related to sleep and eating
Additional challenges and games
Specs
| | |
| --- | --- |
| Size | 1.47 x 0.66 x 0.5 in |
| Weight | .24 oz |
| Water resistant | To 50m |
| Battery Life | Up to 10 days |
| Sleep tracking | Tracks sleep stages and gives sleep score |
| GPS | Connect to smartphone for GPS |
| Workout programs | 20+ goal-based exercises |
| Compatibility | Android and iOS |
Buying experience
Buying and Shipping
We bought the Inspire 2 directly from Fitbit and received it within a week. It comes with the small and large wristband as well as a charging cable.
Customer Service
The live chat function on the Fitbit site might be the best bet for simple questions about functionality. The agents helped us navigate the app when we had issues. If you have bigger problems, calling or emailing might be the way to go.
Warranty and Returns
All of Fitbit's devices are guaranteed for 45 days, or you get your money back. Additionally, there is a one-year warranty on the device itself.
If you decide within the 45-day timeframe that you don't like the Inspire 2, you can ask for a refund. You do this through requesting an authorization number, which you must do within 45 days of the date the device shipped. You then have to put that number with the device in the original packaging and send it back.
If you want a refund outside that 45-day window, you're out of luck.
Customer Reviews
Reviews of the Fitbit Inspire 2 are overwhelmingly positive. People enjoy that it is simple to use but still comes with a lot of advanced features.
Some people complained that the device buzzes too much, but that's a simple fix by turning off app notifications or even temporarily disabling the reminders to move.
Other concerns include that the touchscreen isn't always responsive, though we have found that to be the case with most of the devices we have tested.
Final Verdict
Overwhelmingly, the Fitbit Inspire 2 is one of our favorite trackers on the market. Our biggest takeaways are:
We love that it is easy to use and simple enough for beginners.
It offers tremendous value at less than $100.
Without built-in GPS, you need to use your phone's GPS for improved accuracy.
The Fit House Score
Overall score: 4.5/5
| | |
| --- | --- |
| Aesthetic | 5 |
| Adjustability | 5 |
| Tech Capabilities | 4 |
| Durability | 4 |
| Value | 5 |
| Customer Reviews | 3.5 |
| Community | 5 |
| Warranty and Returns | 5 |
| Customer Service | 4 |
Compare Fitbit Inspire 2 vs. Fitbit Charge 4 vs. Fitbit Versa 3
Read on to learn the differences between some of Fitbit's leading trackers. Want more? We have a full Fitbit Charge 4 review.
The Basics
| | | | |
| --- | --- | --- | --- |
| | Inspire 2 | Charge 4 | Versa 3 |
| Price | $99.95 | $149.95 | $229.95 |
| Size | 1.47 x 0.66 x 0.5 in | 9.72 x 1.13 x 0.49 in | 1.59 x 1.59 x 0.49 in |
| Weight | .24 oz | 1.06 oz | 1.3 oz |
| Display | Backlit OLED touchscreen | Backlit OLED touchscreen | AMOLED touchscreen color display |
| Battery life | Up to 10 days | Up to 7 days | Up to 6 days |
| Charge time | 2 hours | Two hours | 40 minutes; rapid charge available |
| Water resistant | To 50m | To 50m | To 50m |
| Fitbit Premium | Free 1-year trial | Free 90-day trial | Free 90-day trial |
| GPS | Connect to phone | Built-in | Built-in |
Tracking and Activity
| | | | |
| --- | --- | --- | --- |
| | Inspire 2 | Charge 4 | Versa 3 |
| Exercise modes | 20+ | 20+ | 20+ |
| Reminders to move | ✔ | ✔ | ✔ |
| Heart rate | ✔ (24/7) | ✔ (24/7) | ✔ (24/7) |
| Resting heart rate | ✔ | ✔ | ✔ |
| Floors climbed | | ✔ | ✔ |
| Sleep | ✔ | ✔ | ✔ |
| High/low heart rate alert | | | |
| Automatic exercise recognition | | ✔ | ✔ |
| Swimproof | ✔ | ✔ | ✔ |
| Cardio fitness score | | ✔ | ✔ |
| Blood oxygen saturation | | ✔ | ✔ |
| Skin temperature | | ✔ | ✔ |
| Menstrual cycle | ✔ | ✔ | ✔ |
| Active zone minutes | ✔ | ✔ | ✔ |
| Breathing rate | ✔ | ✔ | ✔ |
| Heart rate variability | ✔ | ✔ | ✔ |
| Food logging | ✔ | ✔ | ✔ |
| Guided breathing | ✔ | ✔ | ✔ |
Tech
| | | | |
| --- | --- | --- | --- |
| | Inspire 2 | Charge 4 | Versa 3 |
| Compatibility | Android, iPhone | Android, iPhone | Android, iPhone |
| Weather | | ✔ | ✔ |
| Wireless sync | | ✔ | ✔ |
| Fitbit Pay | | ✔ | ✔ |
| Spotify | | ✔ | ✔ |
| Pandora | | | ✔ |
| Smartphone notifications | ✔ (if phone is nearby) | ✔ | ✔ |
| Voice assistant | | | ✔ |
| Calls from wrist | | | ✔ |
| Always-on display | | | ✔ |
Fitbit Inspire 2 FAQs
Some of the most commonly asked questions about the Fitbit Sense are:
What are the differences between the Fitbit Inspire 2 and the Fitbit Charge 4?
There are a few key differences between the two. The Inspire 2 is essentially the most basic fitness tracker from Fitbit. The Charge 4 has some upgrades, including the following:
An altimeter to show floors climbed
Advanced options like Fitbit Pay, Spotify compatibility and weather apps
More health metrics such as blood oxygen saturation, cardio fitness score and auto-exercise recognition
Built-in GPS
The Inspire 2 comes with a full year of Fitbit Premium, whereas you only get a 90-day trial with the Charge 4.
Is there music on the Fitbit Inspire 2?
Unfortunately, no. The Inspire 2 isn't wired for music and podcasts the way that the Sense, Versa 2, Versa 3 and Charge 4 are.
What's the difference between the Fitbit Inspire and the Inspire 2?
The Inspire 2, which was released last year in 2020, has many new features and upgrades. For starters, the old Inspire had a battery life of just five days, and the Inspire 2 can last up to 10 days. Food logging, swim tracking and the "do not disturb" mode are also new with this second generation wristband
Which Fitbit should I buy?
It really just depends on what you are looking for. Our team at The Fit House has reviewed the Versa 3, the Sense, the Inspire 2 and the Charge 4 to give you and idea of what might be the best fit for you.
The Versa 3 and the Sense are smart watches. The Inspire 2 is the most basic, and the Charge 4 falls somewhere in between.