Find the best ellipticals for your at-home workouts
Looking for the best elliptical machine to get you in shape? You're on the right track. Ellipticals are regarded as an excellent choice for low-impact exercise. Unlike most treadmills or fitness bikes, many elliptical trainers offer people a total-body workout. In just 30 minutes, you can effectively burn calories, strengthen muscles and give your cardio a boost.
Our team at The Fit House has spent countless hours turning our wheels on exercise equipment. We have a panel of experts who test, evaluate and review these products. Our in-depth analysis covers the pros and cons of the top elliptical machines on the market.
Our Top 9 Favorite Ellipticals
We have affiliate relationships through which we may be paid a commission through our links at no cost to you, the reader. Read more here.

The Fit House Favorite: Bowflex Max Trainer M6
Good for: An affordable option for someone looking for a quality elliptical with some extras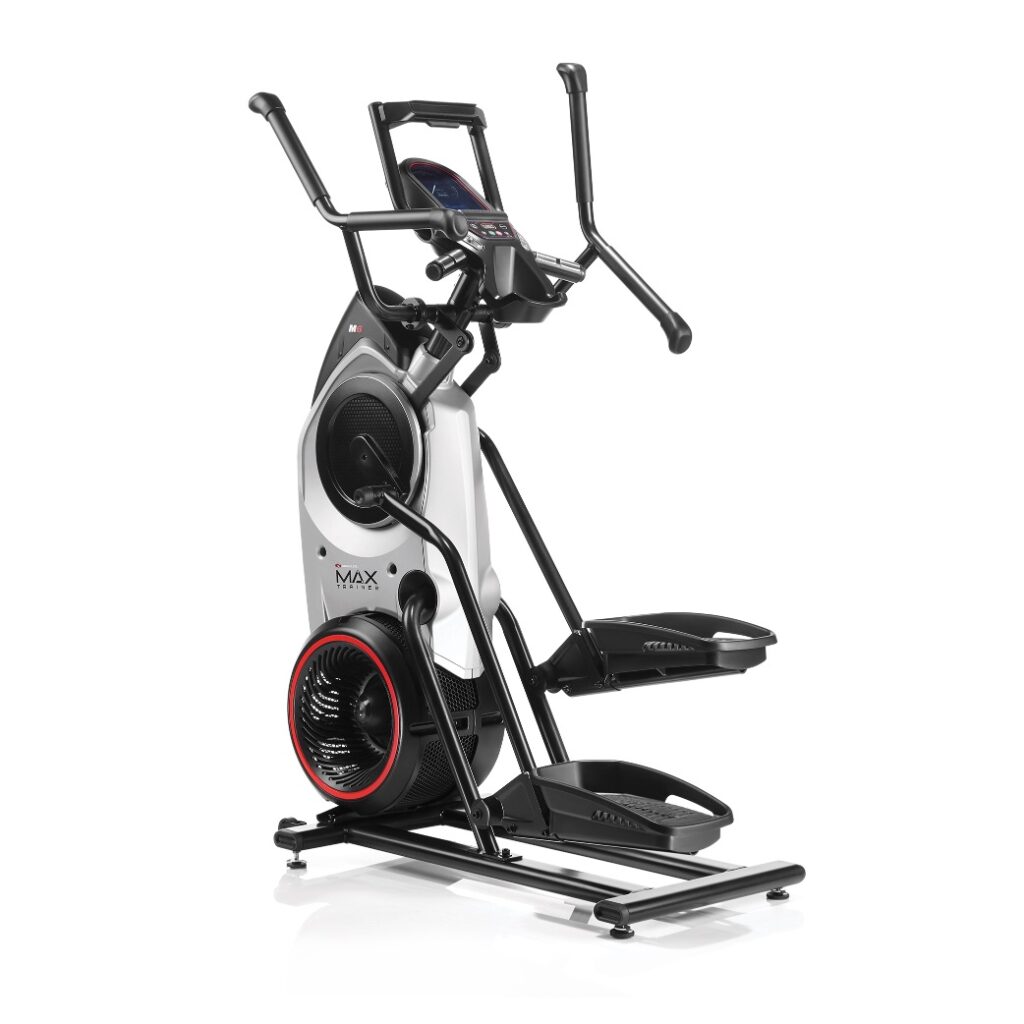 What We Love
Preprogrammed workouts
Connectivity to personalized workout app
Easy to move at just 150 lbs
Heart rate monitoring
Large pedals
16 levels of resistance
What You Should Know
Priced under $1,700
No cooling fan
Small backlit LCD display
Lackluster warranty
Two months of JRNY free with purchase
Whether you're looking for a quick sweat or a longer, low-impact workout, the Bowflex Max Trainer M6 is a fantastic choice. It takes our pick for the best overall elliptical for a number of reasons, including tech capabilities, value and comfort. Priced at under $1,700, the M6 provides high-end options like connectivity to the Bowflex JRNY app for personalized workouts (though this is a paid subscription when your two-month free trial ends).
One set of fixed handles and one moving pair means multiple levels of comfort and a total-body workout. We found we could adjust our hand position throughout the workout. Also, there are 16 levels of resistance for your lower body, and has built-in heart rate monitoring from a set of grips.
Its compact size and built-in front wheels allow the M6 to be easily moved around your home gym if necessary. Additionally, the machine allows for two user profiles for multi-person use.
The downsides of the M6 are the byproduct of an affordable price tag: There is no cooling fan, and the screen is relatively small, though still readable.
The warranty for this elliptical trainer is just two years for parts and 90 days of labor. Bowflex does have a good reputation for making quality machines, though we would still like to see a longer warranty for labor.
Read our full Bowflex M6 review.
Best Budget Elliptical: Sunny Health Magnetic Elliptical Machine
Good for: People looking for a comfortable workout on a budget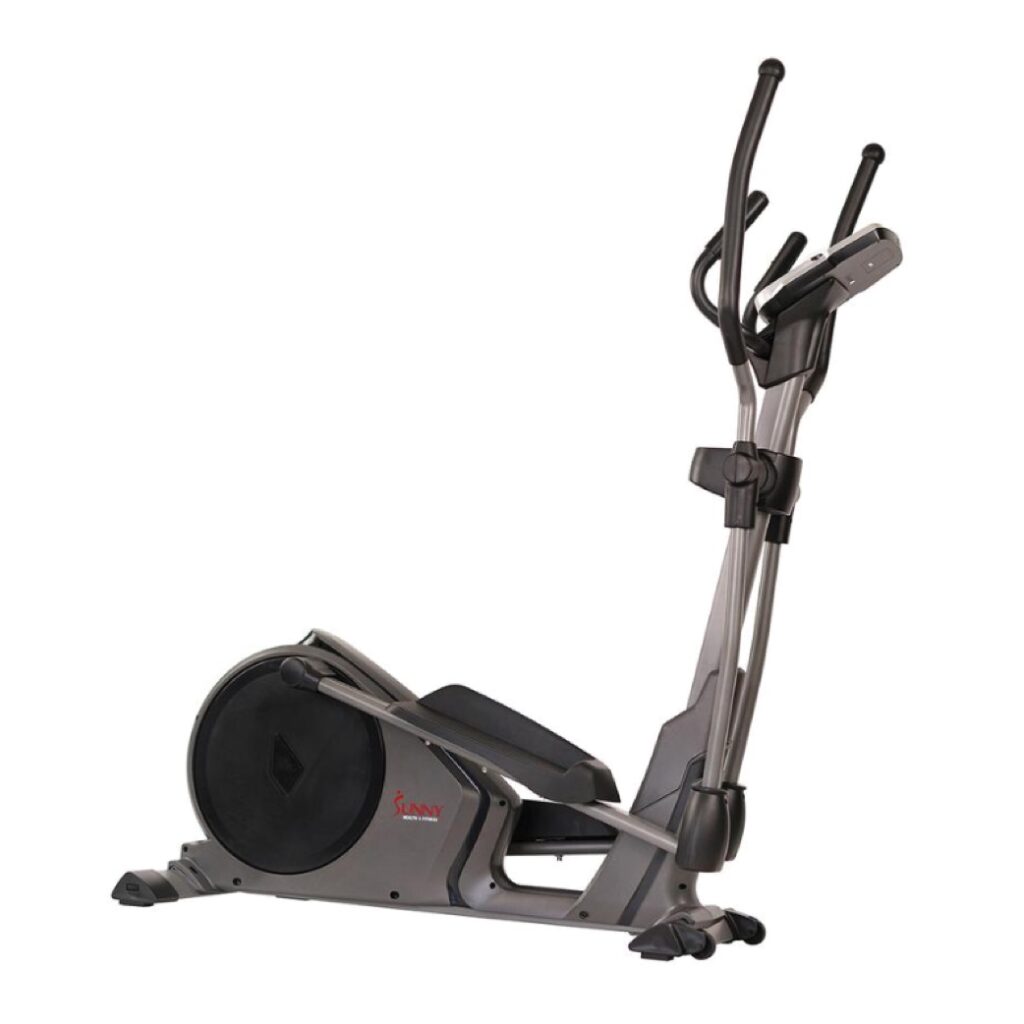 What We Love
30-day money-back guarantee
Free shipping
105lb machine that holds up to 330lbs
Transportation wheels for easy moving
Mobile handles for upper body workout
Easy assembly
What You Should Know
Limited three-year frame warranty
No interactive workouts
No smart device connection
No cooling fan
Just 180-day warranty on labor
At just over $500, the Sunny Health Magnetic Elliptical Machine is one of the best budget-friendly ellipticals. Not only is the price attractive, but Sunny Health offers free shipping on orders over $99 and has a 30-day money-back guarantee.
At this price point, you don't often see too many extras. The Magnetic Elliptical, however, has 24 built-in programs as well as 16 resistance levels that are adjustable.
The full-motion handlebars give you a total body, low-impact cardio workout with a screen that tracks time, distance, heart rate and calories, among other measurables. Additionally, this is a very lightweight machine with built-in wheels that could easily be moved around your home if necessary.
What you sacrifice on a machine like this is the connectivity offered with higher priced ellipticals. This machine does not have interactive workouts or Bluetooth connectivity. It does, however, have a tablet holder where you can place your smart device.
One thing we don't love about the Magnetic Elliptical is the warranty. Sunny Health offers just a three-year warranty on the frame and only 180 days on labor.
Best Under $500: Schwinn 411 Elliptical
Good for: Quality workouts on a compact and affordable machine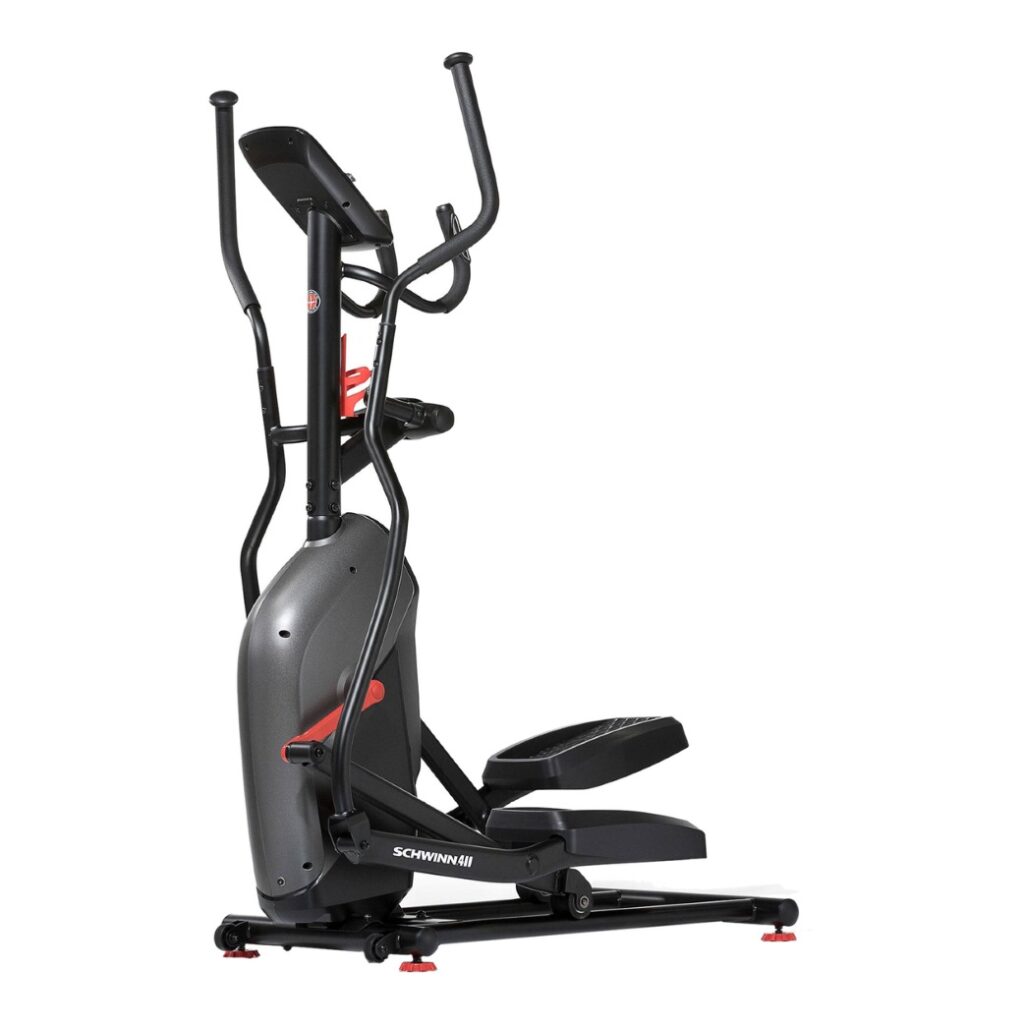 What We Love
Connectivity to the Explore the World app
Compact and lightweight at 100lbs
Heart rate monitoring
Built-in workout options available
16 resistance levels
Moving and fixed handlebars
What You Should Know
Wireless heart rate strap not included
18-inch stride length
Bring your own tech
Explore the World is $10/month
Max user weight is 300lbs
Short 90-day warranty on labor
Compact and affordable, we love the Schwinn 411. Don't let that $499 price tag fool you! This machine has a lot to offer: both touch and wireless heart rate monitoring, fixed and moving handlebars, and 16 resistance levels.
Though the console is small, there is a media holder you can use for your smart device. In other words, you need to bring your own technology to the table for advanced cardio workout options.
Schwinn equipment connects to the Explore the World app, which allows you to do virtual workouts alongside other people, navigating 19 different locations. There are three free courses available when you download the app. A monthly subscription is $9.99 on iOS or Android, or a full year for $59.99.
We found this front-drive elliptical to be compact enough to fit into tight spaces. This is due in part to an 18-inch stride length, which is a little shorter than the average machine offers. People taller than 6 feet may need an elliptical with a longer stride.
Schwinn offers a 10-year frame warranty on the 411 Elliptical, with just 90 days on labor. Comparatively, those are short timeframes.
Best Elliptical Machine Under $1,000: Sole E25
Good for: People seeking a high-tech, smooth workout elliptical at an affordable price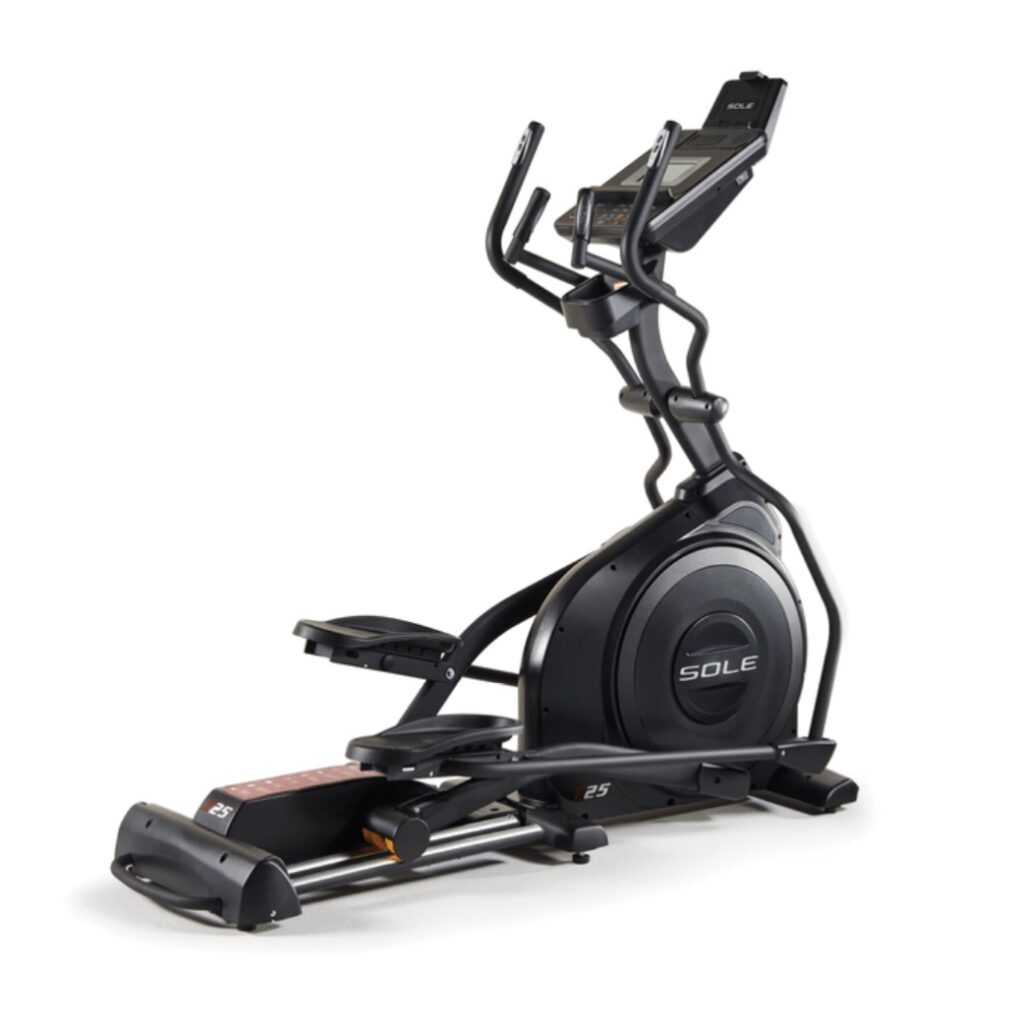 What We Love
Quality elliptical under $1,000
A very smooth and quiet workout
Total-body workout with moveable handles
Integrated speakers and tablet holder
Bluetooth, USB and app connections
Lifetime frame warranty
What You Should Know
Only 10 pre-programmed workouts
Not designed for advanced athletes
Small LCD display screen
"Bring your own" technology
One-year warranty on parts
The elliptical machine we like best under $1,000 is the Sole E25, which gives you a total-body workout and many of the perks of a higher priced machine. We love how smoothly the E25 runs through its 20 incline levels. Some lower-priced ellipticals are shaky, but this one is steady – and quiet! – thanks to its four-wheeled gliding construction.
The technology capabilities on the E25 were especially impressive to us. We love the USB port and Bluetooth connection you can use to play your own music. There are also integrated speakers and an integrated tablet holder to seamlessly stream shows or workout videos.
The stationary handlebars measure your heart rate, and Sole also has included a strap for wireless heart rate monitoring. The LCD display screen is smaller but still measures everything you need to know in terms of time, distance and calories burned.
As far as the workout itself, there are 10 preset options that include two that adjust the machine based on your heart rate. The 20-pound flywheel is strong enough to give most people a good workout, but not ideal for more advanced athletes.
The 30-day money-back guarantee on Sole machines is legit. They promise absolutely no fees to return your exercise machine. Additionally, they do free curbside delivery.
Best Folding Elliptical: NordicTrack SpaceSaver SE9i
Good for: People short on space looking for an advanced machine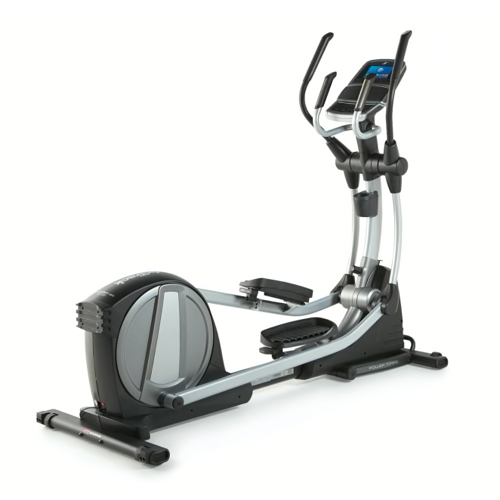 What We Love
One-step folding to half its size
Free one-year membership to iFit included
10% incline
24 digital levels of resistance
Fixed and moving handles
7-in HD smart touchscreen
What You Should Know
Just under $1,700
Up to 325lb user capacity
iFit requires a subscription after one year
Weighs 218lbs
Unfolded footprint is 78.7 in long
Stride is 18 in
The NordicTrack SpaceSaver SE9i is a foldable elliptical that offers a lot. At just under $1,700, it has many of the high-tech features you should expect from that price range and the quality construction from a manufacturer like NordicTrack. Most notably, it folds in just one step to nearly half its size.
Unfolded, the SE9i is nearly 80 inches long – which is big considering it has only an 18-inch stride. Taller users would likely benefit from an elliptical with a 20-inch stride, which would give them a more natural gait.
NordicTrack outfits many of its cardio pieces with a free year's membership to iFit, which is interactive training. The SE9i has a 7-inch HD touchscreen from which iFit can broadcast countless studio classes, workout programs and even virtual personal training. After your membership with iFit is up, you'll have to pay to keep it. The SE9i does work without iFit because it has 30 preprogrammed workouts available.
NordicTrack offers a 10 year warranty on the frame, which we feel is a little too short given the cost of the machine.
Best Value Elliptical: Horizon 7.0 AE
Good for: People looking for the most for their money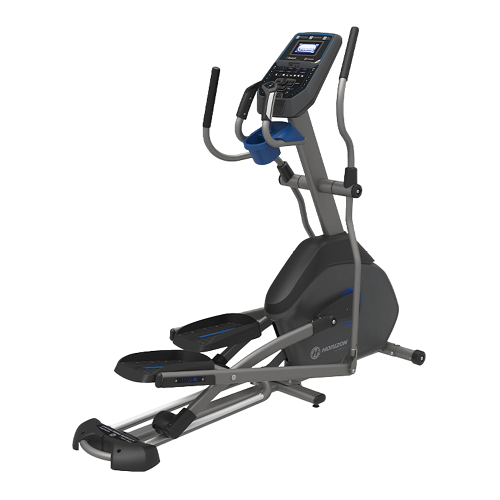 What We Love
Contact grips monitor heart rate
Free shipping
Bluetooth-connected speakers
Built-in device holder
Lifetime warranty on the frame
Rapid-charge USB port
What You Should Know
Priced at just under $1,000
Bring your own tech for streaming workouts
7-in LCD display
Stride length may be long for shorter users
0% financing available
For everything that comes with the Horizon 7.0 AE, you wouldn't expect it to be priced at under $1,000. For the workout itself, there are 20 levels of resistance and incline, which means your workout can be just about as challenging as it can get. The 7.0 AE also comes with a subscription-free app where you can stream workouts and easily push your information to other workout apps.
To use the app, you'll have to bring your own tech to the table. Fortunately, the 7.0 AE has a built-in smart device holder to either launch workouts from the app or stream your favorite shows while exercising. Without the app, the elliptical has a number of built-in workouts, including ones that are heart-rate based, intended for fat burn or manual.
This is a front-drive elliptical that has a quiet, 23-pound flywheel that gives you a smooth workout. With oversized pedals and a 20-inch stride length, it can work for users who are 5'3" to 6'5" and weigh up to 325 pounds. People shorter than 5'3" could feel a little unnatural on a longer stride.
Best With Interactive Training: NordicTrack Commercial 14.9
Good for: People who need studio classes or interactive training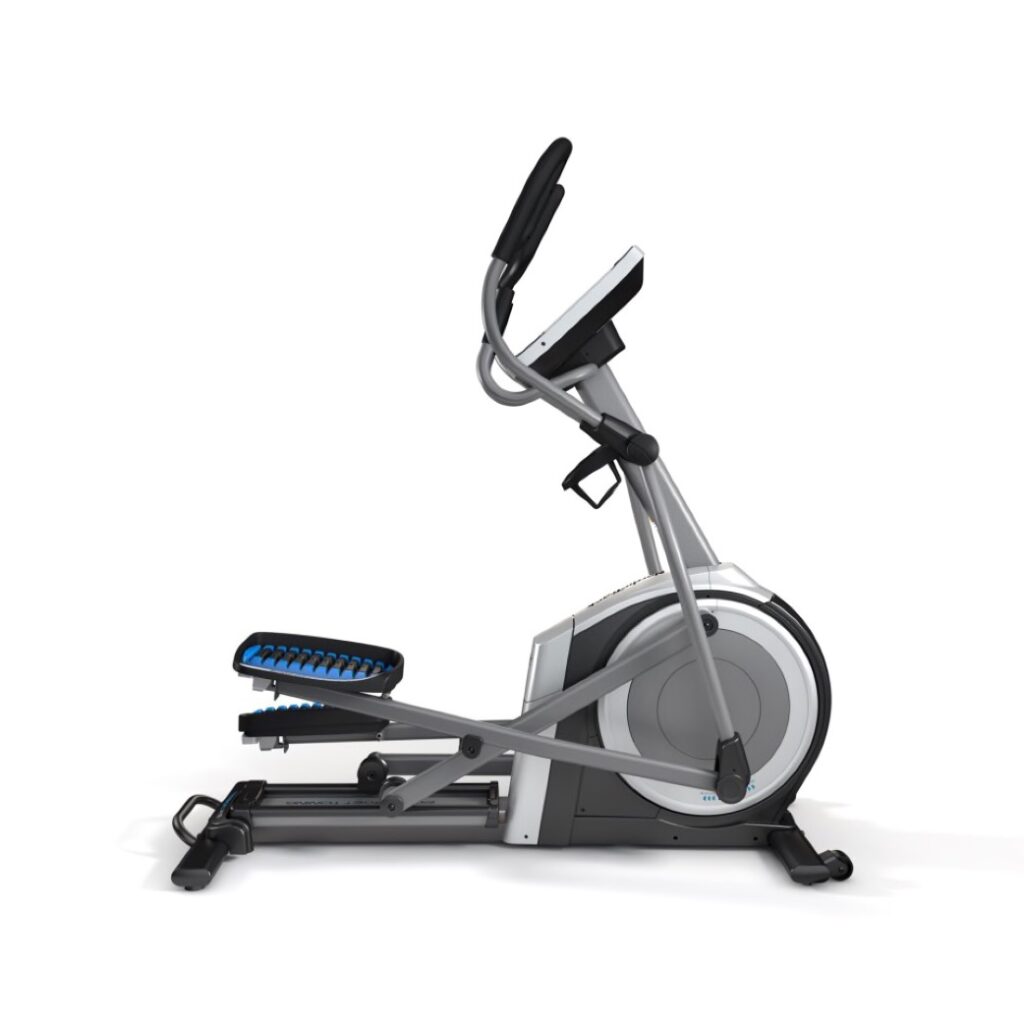 What We Love
One-year iFit family membership included
Endless interactive workout options with iFit
Fan, cushioned pedals and adjustable stride
Bluetooth capability and integrated speakers
Built-in wheels help with portability
Wireless heart rate monitoring
What You Should Know
Subscription needed after free trial for iFit
Not much storage or convenience tray
Limited 10-year warranty on the frame
Large machine that does not fold
Priced just under $1,800
The NordicTrack Commercial 14.9 is our favorite elliptical with interactive training. There are options for live streaming workouts, on-demand options, HIIT training, and even a virtual personal trainer.
Also, the program automatically adjusts your machine during the workout. The 14-inch HD touchscreen gives you a clear picture of instructors and high-energy sessions.
This is all made possible through the iFit program, which many of NordicTrack's machines connect to, including the Commercial 14.9. In fact, your purchase of this $1,799 includes a one-year iFit family membership.
Other features we love on the Commercial 14.9 are the 26 resistance levels, 32-pound flywheel for a smooth ride, and up to a 20 percent incline. The stride length is adjustable, which helps accommodate users of all heights.
Though NordicTrack is one of the most recognized and trusted brands in the industry, they only offer a 10-year warranty on the frame, compared with lifetime warranties other manufacturers offer. We also would have liked a little more storage space aside from the one water bottle holder.
Read our full NordicTrack Commercial 14.9 elliptical review.
Best Under-Desk Elliptical: Sunny Health & Fitness Under Desk Elliptical Peddler
Good for: People who want to move while working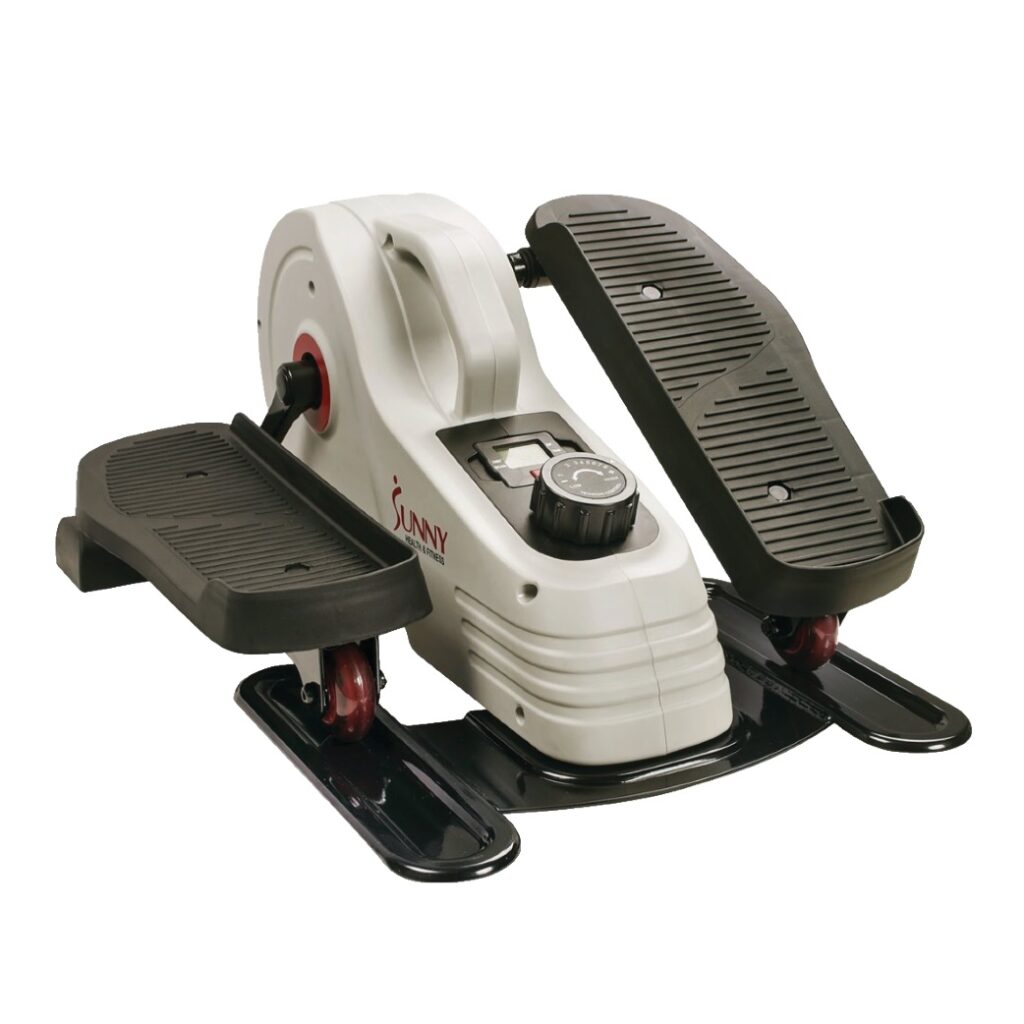 What We Love
Allows you to move while you work
Comes fully assembled
Convenient handle for carrying
Extremely affordable at just under $140
Has a small footprint
Weighs just 25 pounds
What You Should Know
One-year frame, 180-day parts warranty
Tracks only time, distance, speed, calories
No advanced technology
Not a silent machine
For the crowd who needs to add some movement into their day, the Sunny Health & Fitness Under Desk Elliptical Peddler is the answer. It covers the basics, which is all you'd really expect from a piece of fitness equipment that fits under your workstation.
The Peddler is just under $140 and comes fully assembled. You can open it and use it right away.
A very simple digital monitor shows time, distance, speed and calories burned. Likewise, a plain knob allows you to move through eight resistance levels. The foot pedals on the Peddler are attached in two places: a crank on the front that hooks into the main part of the machine, and wheels on the back for that smooth, natural movement.
This is a compact machine, measuring just 24 inches long, 19 inches wide and 11 inches high. It weighs 25 pounds and has a handle that makes moving it around very easy.
The Peddler is a simple exercise machine, so it won't have the bells and whistles of the larger pieces of cardio equipment you may be used to. Also, it makes a little noise, which is important to keep in mind if you work near other people.
Best Compact Elliptical: Diamondback 1280ef
Good for: Most users who need an elliptical with a smaller footprint
What We Love
Adjustable stride saves space
Built-in wheels for portability
50" L x 36" W x 66" H
Weighs just 187lbs
Train forward and reverse
Android touchscreen with app connectivity
What You Should Know
Priced just under $1,900
Uses magnetic resistance
Designed for users 5'3" to 6'5"
Weight capacity at 350lbs
Financing available
Wireless heart rate strap not included
Short on space but big on quality? The Diamondback 1280ef has a small footprint at just 50 inches long and 36 inches wide. Some compact ellipticals sacrifice stride length, but not this one. It has adjustable stride lengths that can be 17 inches, or 22 inches for taller users. Diamondback advertises that the 1280ef can suit people between 5'3" and 6'5".
The spacesaver nature of this elliptical also makes it easier to move around your home gym or living room. It weighs 187lbs and has transport wheels on the front of the machine.
Let's talk about the workout itself: You can choose from manual mode or one of the several preset programs. Also, with movable handles as well as forward and reverse training options, you get a total body cardio workout.
The touchscreen displays a number of stats, including speed, distance, calories and heart rate. Even cooler: The screen is Android enabled and connects to apps like Netflix and YouTube.
The versatility and convenience explain the mid-range price of $1,899, though financing is available. Also, wireless heart rate monitoring requires a strap that is not included in the purchase of the machine.
The five-year frame warranty and 90-day parts warranty are too short for our liking. DiamondBack allows you to buy an extended warranty for an additional $199.
Best Hybrid Cross Trainer: ProForm Hybrid Trainer
Good for: Bike and elliptical training with an attractive price tag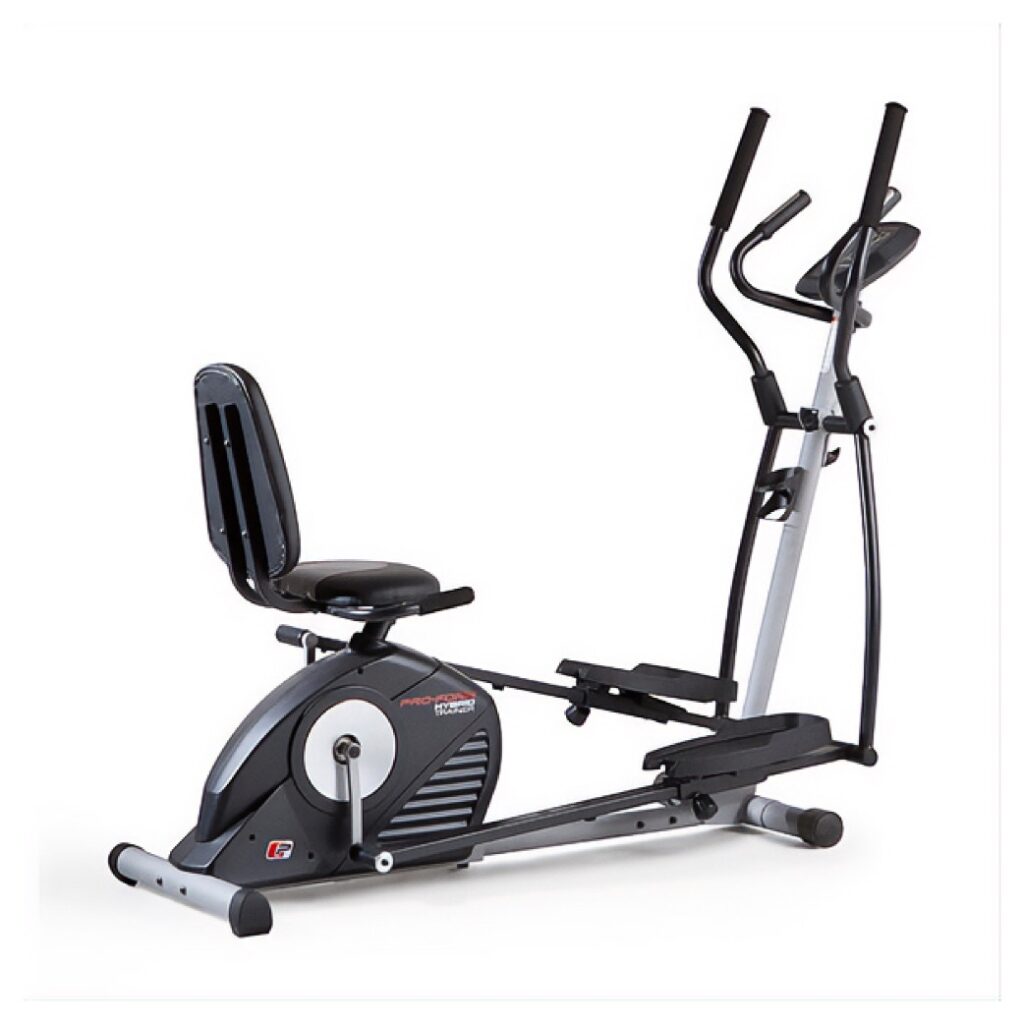 What We Love
14 preset workouts
Two machines at an affordable price
Highly adjustable to fit your body
Total-body workout
Built-in wheels for easy transport
Built-in heart rate monitoring
What You Should Know
Console displays just the basics
No media shelf
Returns face restocking and other fees
Limited warranty on frame and parts
Priced just under $800
A hybrid trainer is a great way to give yourself options at home, and the ProForm Hybrid Trainer is the best on the market. This 2-in-1 machine offers exercise bike and elliptical workouts for just under $800.
We found it very smooth to adjust the pedals and the console to transform the machine from the elliptical into the recumbent bike.
The ProForm Hybrid has a number of conveniences, including heart rate monitoring through the handles, as well as a built-in water bottle holder. There is no media shelf for a smart device to stream during your workouts, however.
We did like the 14 preset workouts you can easily move among as well as the customized option to give you targeted pacing. Because it has moving handlebars, you can work just about all your muscle groups.
ProForm is a well-respected brand known for making quality machines. However, the frame warranty on the ProForm Hybrid is 5 years with just 90 days on parts and labor, which leaves much to be desired. Additionally, the 30-day return policy includes a $250 fee plus 10 percent restocking charge.
What to Look for in an Elliptical
The factors that determine which elliptical is the "best" will vary from person to person. Our comprehensive buyer's guide to ellipticals may shape your decision.
Types of Ellipticals
Most ellipticals fall into one of three types:
Front-drive ellipticals: If you're on a budget, a front-drive machine may be your best choice. These feature a wheel at the front of the elliptical. They are some of the most compact designs as well as some of the most affordable options. However, these tend to make a lot of noise. Additionally, front-drive ellipticals may end up requiring more maintenance than other models.
Rear-drive ellipticals: The opposite of front-drive ellipticals, these rear-drive cross trainers have the wheel housed in the back, behind the pedals. Many people find their workouts to be smoother with a more natural feel on a rear-drive elliptical. The footprint of these ellipticals is typically larger than other designs.
Center-drive ellipticals: The new kid on the block, the center-drive elliptical is still finding its place on the market. On these machines, the drive is on either side of the elliptical. This provides for a smooth experience that is arguably the lowest-impact workout on joints. These are also great for small spaces.
Space
Speaking of small spaces, the size of the average elliptical is between 4 and 7 feet long and a few feet wide. Add at least a foot of free space around the machine so you can get on and off. This also allows the pedals to move freely.
Don't forget your head! Some ellipticals can add as much as a foot to your height, so taller people may need to factor in ceiling room. If you know you have little room, you may need to search for space-saving ellipticals or folding ellipticals.
Price
Before you get too caught up in all the extras, set your budget. Your search will result in affordable ellipticals that are $200 and luxury ellipticals that are thousands of dollars. What is your bottom line? Having a price range in mind will enable you to look for the extras you want while still protecting your wallet. You can also compare prices among vendors, including Amazon.
Key Safety Features
If balance is a concern for you, look for an elliptical with stationary handles. Some designs also have handrails, heart rate monitors and emergency stop buttons.
Do you have children? Ellipticals can look like fun for kids, but they can pose a safety hazard for little fingers. There are models that come with a lock screen option and a pin lock to prevent the pedals from moving.
Workout Features
Let's talk about the main course: your workout. This is the biggest reason you are buying an elliptical, so we need to make sure we get it right. Here are some key factors to look for:
Adjustable resistance and incline: Resistance and incline directly affect the intensity of your workout. These are two factors you should have direct control over while using the elliptical.
Preset workout programs: Life is hectic! Simplify your exercise routine by opting for an elliptical with programmed workouts that automatically adjust resistance for you.
Total-body workout: Ellipticals with moving handles provide work for all your muscles, not just your lower body. Some models offer additional stationary handles for stability and a much-needed break.
Warranty and Return Policy
The best warranties offer a lifetime coverage on the frame as well as up to seven years on parts. Read the warranty with an eye for labor. Most companies will provide at least one year of included labor if something goes wrong with your machine.
Before purchasing, review the company's return policy. Many of the manufacturers will allow you to try the elliptical for up to 30 days. However, read the fine print: You may be on the hook for shipping and handling charges as well as restocking fees if you send your elliptical back.
The Extras
Once you sort through some of your must-haves, it's time to think about the totally-wants. Keep in mind that these little extras will add to the price of the elliptical:
Connectivity to fitness trackers
Bluetooth speakers
Water bottle holder
Tablet holder
Wireless and Bluetooth connectivity
USB port
Get to Work
If you're going to invest in your health with an elliptical machine, stair stepper or stationary bike, do so wisely. Have an idea of what you want, research the product and know the policies. That way you can click "buy now" with confidence!
---
Kate Meier is senior editor at The Fit House, which means she personally tests and reviews equipment featured on our pages. She has more than 20 years of experience in the health and fitness world, ranging from college sports to big box gyms to boutique fitness studios. Outside her work at our House, Kate is co-owner of a gym in North Carolina and spends much of her time coaching and working out. She also loves dogs and being outside.