Minimal in design but still maximizing its value, the Fitbit Charge 4 is one of the best fitness trackers we have tested at The Fit House. Fitbit is arguably the most recognized name in the industry, and they have done a great job with this upgrade to the Charge.
At around $150, this simple band gives you a lot for your money, like a built-in GPS and around-the-clock heart rate monitoring.
Our experts put it to the test for this in-depth Fitbit Charge 4 review. Scroll on to learn the ups and downs, then see how it compares to some of Fitbit's other products.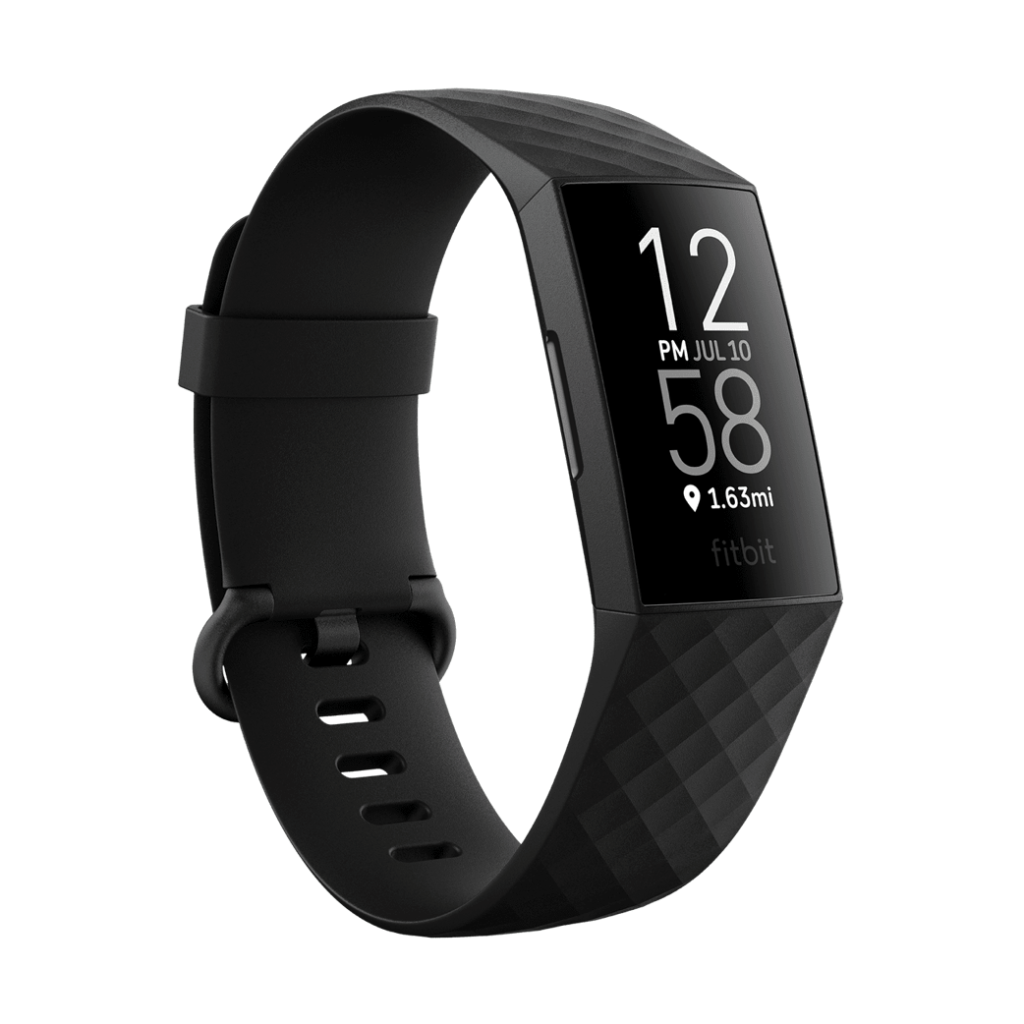 The Fit House Rating: 4.4/5
View our full Fitbit Charge 4 rating
| | |
| --- | --- |
| What We Love | What You Should Know |
| Swim and sleep tracking | Priced around $150 |
| Built-in GPS and heart rate monitoring | Watch face is greyscale and narrow |
| Battery life up to 7 days | Takes 2 hour to reach a full charge |
We have affiliate relationships through which we may be paid a commission through our links at no cost to you, the reader. Read more here.
Who Should Buy This Fitness Tracker?
The Charge 4 is great for:
People with an active lifestyle
Runners and outdoor enthusiasts who need GPS built-in
Anyone who wants an advanced tracker but not a smartwatch
We don't recommend this tracker for:
People who want full cellular capability from their wrist
People who want a very basic device
What the Fitbit Charge 4 Measures
Here is a quick rundown of everything the Fitbit Charge 4 tracks:
Daily step count, distance traveled, floors climbed
24/7 heart rate monitoring
Resting heart rate
Blood oxygen saturation, or SPO2
Calories burned
Sleep stages
Active Zone Minutes
Menstrual cycle
Design and Aesthetics
Just like the other Fitbit trackers, the Charge 4 has a stylish wrist strap. It is textured and comes in four colors on the website for the regular band. There are also "woven" and "sport" band options you can buy from Fitbit.
Additionally, if you previously owned a Charge 3, you can put that band on the Charge 4 face. Third-party e-tailers like Amazon also offer a number of band options. Essentially, you could find a band to make the Charge 4 wearable for just about any occasion.
The face itself is smaller than, say, the Apple smartwatch, but not quite as narrow as other trackers on the market. At times, the smaller screen makes it a little difficult to read the stats, though this got easier as we got used to it.
The Charge 4 has an OLED clock face that is touchscreen, along with one button on the side. You move through the screen through tapping, swiping up-down or left-right, or tapping the button. It took us a few days to get used navigating through the many options and finding what we needed to.
Adjustability
You adjust the band exactly as most watches adjust with the notch system. We found it comfortable enough to wear throughout the night and in everyday activities. Once you have it set on the right size, it doesn't move at all, even during sweaty workouts. We wore it while doing burpees, running and lifting weights and had no issues with it sliding.
One nice thing about ordering the Charge 4 is that you get both a small and large classic band. According to Fitbit's sizing chart a small band fits wrists that are 5.5 to 7.1 inches around, and a large band fits wrists that are 7.1 to 8.7 inches around.
Note: There is a Fitbit Charge 4 Special Edition. It costs about $20 more than the Fitbit Charge 4. The only real difference is that the Special Edition comes with a small and large woven band in addition to a small and large classic wristband.
Technology
The Metrics
It's always impressive how much these small devices can do. The Fitbit Charge 4 covers all the basics, like steps, distance and calories. It has a great heart rate monitor, and it also offers a significant amount more.
Activity Tracking
The Charge 4 comes with more than 20 exercise modes. There are six pre-loaded ones, but you can swap them out for others. The exercise modes are the following:
Bike
Bootcamp
Circuit training
Golf
Hike
Interval workout
Kickboxing
Martial arts
Pilates
Run
Spinning
Stair Climber
Swim
Tennis
Treadmill
Walk
Weights
Workout
Yoga
You can also go into the app and delete an activity to replace it with something else, as there are profiles set up for activities like kickboxing, Pilates, tennis and bootcamp.
The reminders to move were especially useful to us. It can be easy to get lost in work and sit at a desk for hours. Our band would vibrate and gently remind us to get up for a few minutes to move around. After taking a few hundred steps, the band buzzes again to let you know you cleared the activity alert.
Built-in GPS
The Charge 4 stands out because it has built-in GPS. Most trackers that have this feature, like a Garmin watch, for example, run you hundreds of dollars. We were thrilled to see a built-in GPS on this Fitbit tracker. You can go for a hike or run and get an accurate picture of just how far you went without having to rely on your smartphone.
Pair With Smartphone or Device
The band wirelessly connects with Android and iOS devices. We received alerts for calls, text and calendar events. Certain smartphone apps will also trigger notifications. For example, we use Slack and received updates on the tracker when someone pinged us.
If you have an Android phone and it's nearby, you can send quick replies. If you don't want notifications, just put the tracker on sleep mode. Sleep mode also keeps the screen from switching on overnight.
Sleep Tracking
Like the other Fitbit devices, the Charge 4 measures your sleep. You wear the band all night, and in the morning, you get a sleep score from 1-100 based on a number of factors, such as:
How long you slept
The time you spent awake during the night
The time in light, heavy and REM sleep
There is a pretty cool chart that shows you hour-by-hour what stage you were in. If you have trouble sleeping or don't ever feel rested, you might be able to use this kind of data to problem-solve.
The Charge 4 went through an update in July 2020 to acquire "smart wake," which sets alarms to wake you up based on your optimal amount of sleep.
Blood Oxygen Levels
The Charge 4 can also measure your blood oxygen saturation levels, which tells you how much oxygen is in your blood. The app uses a sensor to collect that information and gives you a score. A "normal" score for an adult is between 94 and 99 percent. If you happen to fall out of the "normal" range, you can research ways to increase blood oxygen levels, like getting fresh air, exercising and doing breathing exercises.
Breathing Exercises
One aspect of the Charge 4 that we really liked was the guided breathing mode. The tracker picks up on your heart rate and uses it to put you through breathing exercises. Basically, your band tells you to sit still, and you take deep breaths for about a minute.
Menstrual Tracking
We love the women's health aspect of fitness trackers. With the Charge 4, you can track your cycle and even fertility windows, if that's something you are interested in. You can also use the app to make notes of your symptoms. We can see how month over month this could help women make predictions and be prepared.
Music
The Charge 4 syncs with the Spotify app so you can put on playlists or listen to podcasts. One downside, however, is that if you're using Spotify during your workout, you can't exit the workout to change the song unless you are willing to pause the workout. So you either need to grind through a crappy song, or risk having less-than-perfect data.
You need a Spotify premium subscription in order for this feature to work, which costs $9.99 a month.
Contactless Payments
Fitbit Pay is now a feature that Fitbit has placed on all its trackers, not just the "Special Edition" models. There are a number of institutions that Fitbit Pay syncs with, like Capital One, Bank of America and Wells Fargo. You have to go through the app and set up a PIN with your institution, which is actually a pretty simple process. Once it's done, you can literally make payments with your wrist.
User Experience
The Charge 4 is essentially whatever you make it. You can put it on and simply use it to count your steps and measure your heart rate, and it will do a great job. However, if you really want to take full advantage of everything it has to offer, there is a little more work involved.
Companion App
Once you download the Fitbit app, you pair it with your Charge 4. You enter all your profile information and perform any updates that are necessary. All in, this process took us a little less than an hour.
The app takes some time getting used to. We spent about 30 minutes each day sorting through all the data and trying to figure out where everything lives. We also had to research how to add activities and use some of the functions.
Honestly, the app isn't the easiest to use. We have used other Fitbit device companion apps, and this seems to be more complicated. Once you spend some time in it, you can probably figure out what information you want and how to get to it quickly.
Active Zone Minutes
If you really like measuring your workout intensity, then you will love Fitbit's "active zone minutes," which measures how long you spend in fat burn, cardio and peak heart rate zones each week. Fitbit uses your age and general fitness level to determine your heart rate zone. From there, the app generates a targeted number of minutes you need to spend in the "active zone" each week. This starts at 150 minutes per week based on recommendations from the American Heart Association.
Simply put, this is another good way to measure activity and get you moving. We found that our basic workout regimen satisfied the 150 minutes in peak zones each week, as you can earn active zone minutes by just taking a brisk walk. Fitbit allows you to increase your goal through the app as you see fit.
Battery Life
When you first get the Charge 4, it will take at least a few hours to get it to a full battery. (To compare, the Fitbit Sense only took us about 15 minutes on the charger to go from 0 to 100 percent.)
However, once it's charged, the battery does have a good lifespan. A full battery can last up to seven days. If you are using GPS often, it will drain the battery quicker. The Charge 4 only lasts about 5 hours if you have the GPS turned on, so keep your charger handy.
Community
Another way to hold yourself accountable to your fitness goals is to participate in the Fitbit community. Through the app, there is a leadership board where you can subscribe to challenges, connect with friends and compete against other people who use Fitbit.
Fitbit Premium
When you buy the Charge 4, you have the option of adding on Fitbit Premium for a free, 90-day trial. It comes with tools that include:
Workout programs
Sleep advice based on your patterns
Guided meditation
Advanced measurements in sleep, heart rate monitoring and more
Premium is $9.99 a month or $79 for the year.
Specs
| | |
| --- | --- |
| Size | 9.72 x 1.13 x 0.49 in |
| Weight | 1.06 oz |
| Water resistant | Water resistant to 50m |
| Battery Life | Up to 7 days, only 5 hours with GPS turned on |
| Sleep tracking | Yes, tracks sleep stages and gives a sleep score |
| GPS | Built-in GPS |
| Workout programs | 20+ goal-based exercises |
| Compatibility | Android, iOS |
Buying experience
Buying and Shipping
We ordered the Fitbit Charge 4 directly from the website. Because it is more than $50, we cashed in on free shipping. We received the device within a week of ordering it.
Customer Service
On the Fitbit website, you can click on "Get Support," and it leads you to options like a live chat, a phone call, or going to a community board with typical questions and answers. We reached out via the live chat option and found the agent to be extremely helpful and friendly when we needed help navigating the app.
Warranty and Returns
There is a 45-day money back guarantee on the FitBit Charge 4. Essentially, you get to take the activity tracker for a test drive. If you don't like it, you can request a return authorization. To qualify for a full refund, you have to satisfy the following three conditions:
You must request the authorization within 45 days of the date your Fitbit shipped unless you bought it in November or December, in which the deadline is either January 31 or 45 days from the shipment, whichever is longer.
You have to return everything in good condition and in the original packaging.
You have to include the return authorization number in the shipment
The Fitbit Charge 4 has a one-year limited warranty. If you purchase a refurbished product that has been Fitbit-approved, there is a 90-day warranty. To receive an authorization for a repair or replacement, you must fill out the form on the Fitbit website. They will generate a number for you, which you have to include with the product when you ship it to them.
Be advised, you could lose your data if you don't back it up before sending to Fitbit.
Customer Reviews
People who have used the Fitbit Charge note how easy it is to set up for fitness tracking. Even those who were new to activity tracking noted how easy it is to use. As a budget-friendly tracker, it drew people who were looking for good value.
Criticisms of the Charge 4 include the exercise auto-recognition feature not kicking in for certain activities like bike riding. Some users would also prefer a more colorful display as opposed to the greyscale.
Final Verdict
Through our extensive Fitbit Charge 4 review, we determined that this is a great activity tracker for its price range. Our biggest takeaways are:
We love that there is built-in GPS and upgraded, new features like "smart wake"
The battery life is great, unless you are using GPS often
The screen is small and sometimes hard to read
The Fit House Score
Overall score: 4.4/5
| | |
| --- | --- |
| Aesthetic | 4 |
| Adjustability | 5 |
| Tech Capabilities | 4 |
| Durability | 4 |
| Value | 4 |
| Customer Reviews | 4.3 |
| Community | 5 |
| Warranty and Returns | 5 |
| Customer Service | 4 |
Compare Fitbit Charge 4 vs. Fitbit Sense vs. Fitbit Inspire 2
Fitbit has long been known for producing the best fitness trackers. Here, we compare the Charge 4, the Sense and the Inspire 2.
The Basics
| | | | |
| --- | --- | --- | --- |
| | Charge 4 | Sense | Inspire 2 |
| Price | $149.95 | $299.95 | $99.95 |
| Size | 9.72 x 1.13 x 0.49 in | 1.59 x 1.59 x 0.49 in | 1.47 x 0.66 x 0.5 in |
| Weight | 1.06 oz | 1.61 oz | .24 oz |
| Display | Backlit OLED touchscreen | AMOLED touchscreen full color | Backlit OLED touchscreen |
| Battery life | Up to 7 days | Up to 6 days | Up to 10 days |
| Charge time | Two hours | 40 min, fast charge mode in 12 min | 2 hours |
| Water resistant | To 50m | To 50m | To 50m |
| Fitbit Premium | Free 90-day trial | Free 6-month trial | Free 1-year trial |
| GPS | Built-in | Built-in | Connect to phone |
Tracking and Activity
| | | | |
| --- | --- | --- | --- |
| | Charge 4 | Sense | Inspire 2 |
| Exercise modes | 20+ | 20+ | 20+ |
| Reminders to move | ✔ | ✔ | ✔ |
| Heart rate | ✔ (24/7) | ✔ (24/7) | ✔ (24/7) |
| Resting heart rate | ✔ | ✔ | ✔ |
| Floors climbed | ✔ | | |
| Sleep | ✔ | ✔ | ✔ |
| Stress score | | ✔ | |
| ECG app | | ✔ | |
| High/low heart rate alert | | ✔ | |
| Automatic exercise recognition | ✔ | ✔ | |
| Swimproof | ✔ | ✔ | ✔ |
| Cardio fitness score | ✔ | ✔ | |
| Blood oxygen saturation | ✔ | ✔ | |
| Skin temperature | ✔ | ✔ | |
| Menstrual cycle | ✔ | ✔ | ✔ |
| Active zone minutes | ✔ | ✔ | ✔ |
| Breathing rate | ✔ | ✔ | ✔ |
| Heart rate variability | ✔ | ✔ | ✔ |
| Food logging | ✔ | ✔ | ✔ |
| Guided breathing | ✔ | | ✔ |
Tech
| | | | |
| --- | --- | --- | --- |
| | Charge 4 | Sense | Inspire 2 |
| Compatibility | Android, iPhone | Android, iPhone | Android, iPhone |
| Weather | ✔ | ✔ | |
| Wireless sync | ✔ | ✔ | |
| Fitbit Pay | ✔ | ✔ | |
| Spotify | ✔ | ✔ | |
| Pandora | | ✔ | |
| Smartphone notifications | ✔ | ✔ | ✔ (if phone is nearby) |
| Voice assistant | | ✔ | |
| Calls from wrist | | ✔ | |
| Always-on display | | ✔ | |
Fitbit Charge 4 FAQs
Some of the most commonly asked questions about the Fitbit Charge 4 are:
What are the differences between the Fitbit Charge 3 and 4?
The Fitbit Charge 4 has a lot of new features, including:
Near field communication, or "nfc," which makes Fitbit Pay quick and easy between devices (this was previously only available with special edition Charge 3)
Built-in GPS
Better backlighting and ability to adjust the screen in different lighting situations
Spotify
Active zone minutes
Can I make calls on a Fitbit Charge 4?
You can't make phone calls from the Charge 4, but you do get call and text message alerts. If you use an Android device, you can send quick text replies.
Can I use a Fitbit Charge 4 without a phone?
If you don't have a phone, you can pair your Fitbit Charge 4 with a smart device like a tablet. If you don't have that either, don't sweat it! There is free software you can install called Fitbit Connect. You can either use Bluetooth to connect your tracker to your computer wirelessly, or you will have to use the syncing dongle available on the Fitbit store.