Looking to get the best exercise bike for your house? Our NordicTrack S22i review gives you a glimpse of everything you need to know before buying this machine. We have a team of fitness experts who test and analyze cardio equipment.
The S22i is pretty much the complete package: smooth ride, interactive workouts and total adjustability. This is a step up from NordicTrack's S15i, mostly due to the upgraded 22-inch HD touchscreen and added resistance levels.
NordicTrack has been making fitness equipment for decades, and this bike has some of the most advanced features yet. It comes with a lot of the extras you find the comparably priced Peloton.
There are a few important things to note, like the bike's complicated assembly. Keep reading to dig into what we found.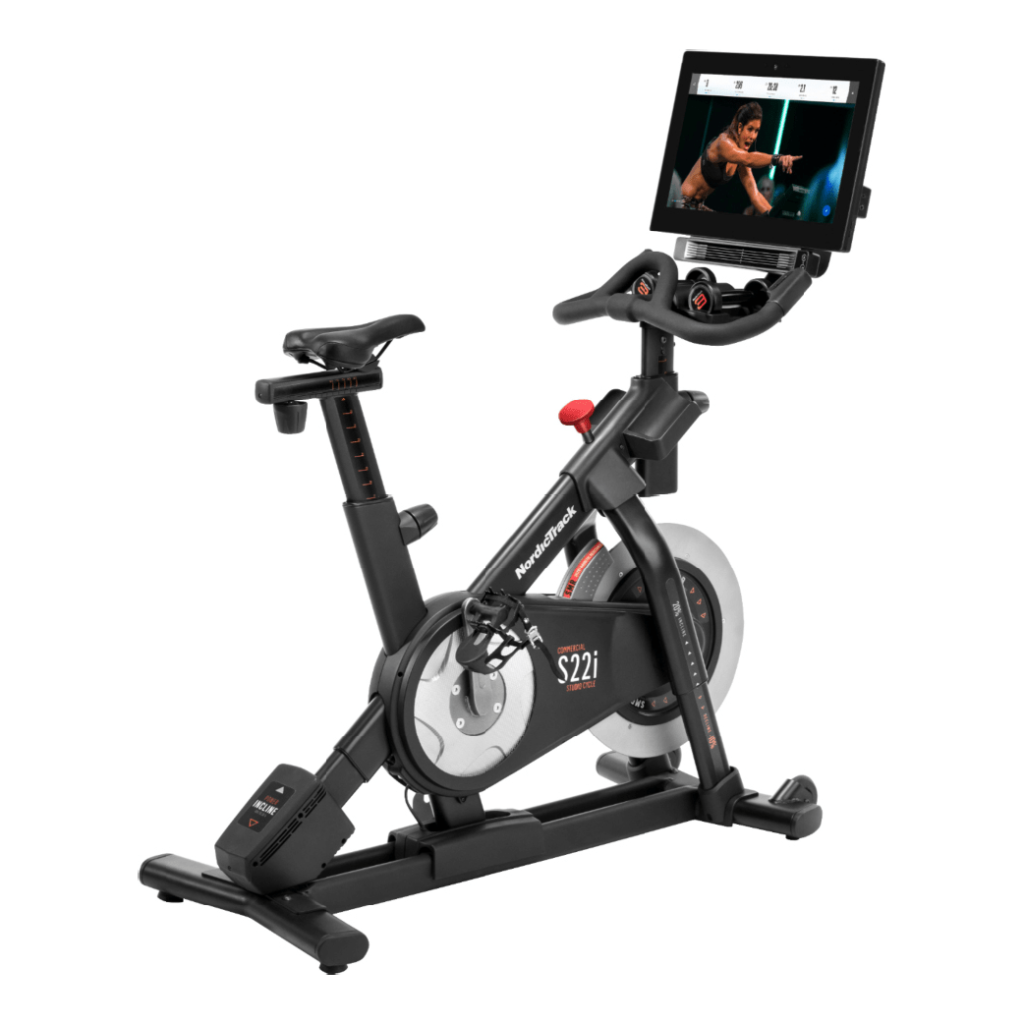 The Fit House Rating: 4.4
View our full NordicTrack Commercial S22i rating
| | |
| --- | --- |
| What We Love | What You Should Know |
| Highly customizable workouts through iFit | Just under $2,000, with financing available |
| 22-inch rotating HD touchscreen | Assembly is very involved |
| Ability to mimic up- and downhill training | Subscription required for iFit membership |
We have affiliate relationships through which we may be paid a commission through our links at no cost to you, the reader. Read more here.
Who Should Buy This Exercise Bike?
The Nordictrack S22i is great for:
People seeking a highly interactive home exercise experience
Advanced riders who want incline and decline training options
Tech savvy people
We don't recommend this bike for:
The budget-conscious
People who want a simple exercise bike
Small spaces
Our Favorite Things
There are a few key features that stuck out to us as we tested for our NordicTrack S22i review:
One-year membership to iFit included with purchase
A 22-inch HD smart touchscreen that swivels
Hands-free, or automatic, training
Membership to iFit
It's not always easy to exercise at home, we know. Using iFit programming truly transports you elsewhere and gives you guidance as you go. Purchasing the S22i gives you one year of a free family membership to the program.
iFit is ICON Health & Fitness' solution to interactive training. (ICON is the parent company of NordicTrack and other brands like FreeMotion and ProForm, so iFit works on many of those machines as well.) With options like iFit Coach, you can get customized workouts that are catered to your goals. There are also on-demand studio spin classes, challenges and leaderboards available.
After your free year with iFit is up, you can choose to continue with the family membership for $396 a year or $39 a month. An individual iFit membership is $180 a year. With either option, you can cancel at any time.
Rotating, 22-inch Smart Touchscreen
This is probably the most impressive feature of the bike. The 22-inch HD smart touchscreen is like having a small TV showing your workout. Your stats line the top of the screen while high-def streaming plays below. If you want to do a HIIT or cross training workout, you can rotate the screen to exercise elsewhere in the room. By comparison, the NordicTrack S15i has a smaller, 14-inch touchscreen that also swivels.
Hands-free Exercise
When using iFit, the bike goes into trainer mode. This means it will automatically adjust resistance, incline and decline levels along with the iFit workouts. The first time we started climbing, it was almost a bit of a shock! The bike actually moves up and down along with the programming. You still have the option to manually make adjustments on your own if you want, but it will shift the bike out of trainer mode.
The Ergonomics
The S22i has a lot of moving parts, which is a good thing. Here's how we got into position for our workout:
Adjust for Your Body
The seat is an ergonomic, slightly padded saddle that attaches by post and clamp. If you aren't used to riding a bike often, you'll probably feel some discomfort, because it isn't very cushioned. You can choose to purchase a more comfortable seat, but you will have to find one that uses the post and clamp style attachment. Or, you might opt for padded shorts.
The seat adjusts vertically and the post has numbers so you always know how to easily find your seat height. It also adjusts horizontally and can be tilted to match your preferred angle.
Experienced cyclists will easily find the correct posture. But if you're new to biking, follow these steps:
Adjust the bike seat first.
The saddle should be positioned so it is at your hip height when you are standing.
Sit in the seat and put your feet on the pedals. In the lowest position, you should have a very slight bend in the knee. If you find while pedaling that you are reaching, you need to lower the seat.
Rotate the pedals so they are even with each other. Your front knee should be over the ball of your foot. If it pushes over the toes, move the seat back. If it is behind the heel, move the seat forward.
The handlebars also adjust up and down on the S22i. This is more personal preference. If you have back issues, set the handlebars up higher than the seat. People more experienced with bike workouts may set the bars at seat height or even lower.
The Pedals
Stationary bikes vary when it comes to pedal types. Some spin bikes use clip-in pedals, some use cages. The S22i has caged pedals, but it is compatible with the standard road bike pedals. We found it extremely easy to take the NordicTrack pedals off, so you could put others on if you wanted to.
The Ride
A quick overview of the NordicTrack S22i workout experience and conveniences:
Incline to 20 percent
Decline feature to -10 percent
24 digital resistance levels
Quiet Drive Tech
Automatic and manual modes available
Dumbbells included for strength training
Two water bottle holders
Heart rate monitoring
Workout fan
Bluetooth enabled for headphones and wireless heart rate monitoring
Rides Come to Life
Make no mistake about it: Using iFit is amazing. Our first impression is that it feels like you are actually pedaling through the landscapes you see. As iFit trainers take you up and down scenic rides, the bike automatically adjusts incline, decline and resistance. This was an awesome experience, especially for those of us used to studio classes where we had to do the adjustments manually.
When you do have to make manual adjustments, it's easy. We had to manually adjust the resistance several times as we worked out because, well, we were tired. There are buttons on the handlebars that make it a cinch.
The NordicTrack S22i uses silent magnetic resistance. This keeps the bike quieter as it moves through 24 digital levels of resistance. It also reduces the wear and tear on the flywheel and makes for a smoother ride.
One thing we did notice is that the front of the bike where the console is does move a little while exercising. It isn't distracting, but it is noticeable.
Using iFit
iFit is easy to use. Once you set up your profile, you can choose from real-time classes, calorie burn options, personal training and full-body workouts. The NordicTrack S22i Studio Cycle is integrated with Google Maps, so we could literally ride anywhere. Our personal favorites were moving through Le Tour de France and climbing through the Swiss Alps.
Some of us prefer strength training to cardio, so we enjoyed the options for HIIT classes and other full body workouts. The bike comes with a pair of 3 lb dumbbells as well as a place to store them. We supplemented heavier weights, which do not fit on the bike's dumbbell holders. In fact, the holders are only good for small-dumbbells and not very useful for other storage.
iFit works on Apple and Android devices, so you can use your own tech to keep your workout going wherever you go.
iFit Community
As you exercise, there is a leaderboard that pops up on the right side of the screen showing you how other people were performing during that part of the workout. The live classes have the same kind of setup, which is nice because you can "race" if you want. There are also dozens of built-in challenges you can do – and you can retest later to see how your fitness has improved.
Workout Without iFit Subscription
The bike works without iFit in two ways:
If you don't want to do the live classes or keep an iFit subscription, the bike works fine manually. You can just hop on and go, adjusting your resistance on your own.

There are a few free "workouts of the day" you can access through iFit without having the subscription. They aren't as cool as the paid ones, but they still give you a decent workout.
Conveniences
We didn't realize we would love the fan as much as we did! The fan is located directly beneath the console, and you can control how strong it is.
There is a place for you to set your phone, but there isn't a good media shelf to use if you wanted to watch a show on a tablet or other device.
The Bluetooth capability is nice in case you want to use your headphones to listen to the music or iFit coach.
Lastly, there are two water bottle holders, though they would only fit the standard plastic bottle-sized container. Larger bottles may not sit correctly.

Moving the Bike
The bike itself is pretty typical, size-wise. It is 63 inches long, 22 inches wide and 60 inches tall. It would fit fine in most smaller spaces. Although it weighs just over 200 pounds, the wheels on the front make it manageable to move. What we didn't like is that there is no convenient handle for moving the bike, so you have to pick it up by the back floor stabilizer. Also, the large screen on the front can make it difficult to maneuver it around corners.
The Specifics
By the numbers, here's some fast specs on the NordicTrack s22i:
| | |
| --- | --- |
| Footprint | 63in L x 22in W x 60in H |
| Weight | 203 |
| Weight capacity | 350 lbs |
| Resistance levels | 24 digital levels |
| Incline | 20 percent |
| Decline | -10 percent |
| Pedals | Caged, but compatible with road pedals |
| Display | 22-inch swivel smart HD touchscreen |
| WiFi | Dual 2.4 GHz & 5 GHz |
Buying experience
We chose to buy the S22i directly from NordicTrack, though it is also available on Amazon. The online shopping experience is fairly simple. You can choose to pay in full or use financing at 0% APR for 39 months through a TD Fit Loan.
Currently, your only shipping and delivery option is a threshold delivery. For $199, NordicTrack will send the bike directly to your doorstep.
Assembly
The assembly itself is a little involved, because you will be attaching the screen, pedals, floor stabilizers, handlebars and seat. The directions and pictures are very clear, but be sure to read them thoroughly.. Our recommendation is to lay out all the parts first. There is a package that has all the screws and bolts labeled. Do not open this all at once. Carefully use a box cutter or scissors to open just what you need as you need it.
NordicTrack recommends you have two people put together the machine. We had just one person do it, and it took about an hour. Placing the console really should be a two-person job to make sure you don't drop that huge 22-inch beauty. You will have to attach the wiring to the console, which is easy to do as long as you follow the instructions.
NordicTrack supplies two Allen wrenches and a regular wrench. You will also need a Phillips head screwdriver. Do not use a drill because you could over tighten and damage the bike.
Return Policy
NordicTrack has a pretty clear 30-day return policy. From the date your bike arrives, you have 30 days to decide if you will keep it. If you choose to return it, you will face a $250 shipping fee as well as a 10 percent restocking fee. If the manufacturer finds damage or heavy use on the bike, you could face additional charges.
Warranty
The warranty on the NordicTrack S22i is 10 years on the frame, two years on parts and one year on labor. This is middle-of-the-road for exercise bikes. There are extended warranty and service plans available for purchase.
Customer Service
We contacted NordicTrack via chat to ask about using the S22i without a subscription. While our questions were eventually answered, we felt the agent could have been more clear and descriptive about where to find the free workouts in iFit.
The Bottom Line
We had a great time testing the NordicTrack S22i Studio Cycle. Our key findings include:
We love that it has incline and decline abilities.
The iFit personal trainer, live classes and on-demand workouts made exercise easier.
This is an expensive bike but is fully loaded.
We don't love the warranty or the return policy fees.
Overall, if you're looking for a Peloton-like bike, we highly recommend this option.
The Fit House Scoring
Overall, the NordicTrack Commercial S22i received a 4.5/5 from us.
| Metric | Rating |
| --- | --- |
| Footprint and Portability | 3.5 |
| Delivery and Setup | 4.5 |
| Durability | 4.0 |
| Customizations | 5.0 |
| Adjustability and Ergonomics | 4.8 |
| Tech Capabilities | 5.0 |
| Conveniences | 4.5 |
| Dynamic Programming | 5.0 |
| Customer Reviews | 4.7 |
| Value | 4.5 |
| Warranty, Financing and Returns | 4.5 |
| Customer Service | 3.0 |
The S22i vs. the S15i
NordicTrack has two commercial studio cycles, the S22i and the S15i. They differ in just a few key areas, such as the display and the number of resistance levels. Here's a quick look at how they stack up against each other:
The Basics
| | | |
| --- | --- | --- |
| | Commercial S15i | Commercial S22i |
| Price | $1,599 | $1,999 |
| Size | 60in L x 22in W x 58in H | 63in L x 22in W x 60in H |
| Weight | 203lbs | 203 lbs |
| Flywheel | Inertia enhanced, 32lbs | Inertia enhanced, 32lbs |
| User capacity | 350lbs | 350 |
| Incline | -10% to 20% | -10% to 20% |
| Folding | No | No |
Comfort
| | | |
| --- | --- | --- |
| | Commercial S15i | Commercial S22i |
| Cushioned seat | Yes | Yes |
| Fans | Yes | Yes |
| Media holder | Yes | Yes |
| Water bottle holder | 2 | 2 |
| Quiet Drive Tech | Yes | Yes |
| Handsfree workout | Yes | Yes |
Tech
| | | |
| --- | --- | --- |
| | Commercial S15i | Commercial S22i |
| Display | 14-in rotating touchscreen | 22-in rotating touchscreen |
| Operating system | Android 9 OS | Android 9 OS |
| iFit programming | Yes | Yes |
| Built-in workouts | A few free options in iFit | A few free options in iFit |
| BlueTooth | Yes | Yes |
| Heart rate monitoring | Chest strap, sensors | Chest strap, sensors |
| Speakers | 2, 2-inch speakers | 2, 2-inch speakers |
| WiFi | Dual 2.4 and 5 GHz | Dual 2.4 and 5 GHz |
| Google Maps | Yes | Yes |
Policies
| | | |
| --- | --- | --- |
| | Commercial S15i | Commercial S22i |
| Financing | Yes | Yes |
| Frame Warranty | 10 years | 10 years |
| Parts Warranty | 2 years | 2 years |
| Labor Warranty | 1 year | 1 year |
NordicTrack Commercial S22i FAQs
Some of the most commonly asked questions about this bike are:
Can you use AirPods with the NordicTrack S22i?
You sure can! The bike can connect to any device, including headphones, using Bluetooth.
Do you need special shoes for the NordicTrack S22i?
No, the pedals that come on the bike are cage pedals, so you can wear any shoe you want. However, avid cyclists may find that swapping out the pedals for ones that use clip-in shoes may result in a more powerful workout.
Can you watch TV on the NordicTrack S22i?
No. The iFit app will work on your TV, but streaming apps do not work on the bike's monitor itself.
Does NordicTrack S22i have live classes?
Absolutely. The iFit app has live classes, on-demand studio classes and specialized training from an iFit coach. You get a free year of iFit with your S22i purchase.
Does the NordicTrack S22i come assembled?
No, it does not. Plan for at least an hour, as you will have to unbox all the pieces and attach floor stabilizers, handlebars, console, pedals and seat.
---
Kate Meier is senior editor at The Fit House, which means she personally tests and reviews equipment featured on our pages. She has more than 20 years of experience in the health and fitness world, ranging from college sports to big box gyms to boutique fitness studios. Outside her work at our House, Kate is co-owner of a gym in North Carolina and spends much of her time coaching and working out. She also loves dogs and being outside.