After spending some time with the Schwinn IC4 Indoor Cycling Bike, we can attest that it is a durable, interactive piece of cardio equipment. In fact, it's a great alternative to high-end bikes like the Peloton.
There's a lot to love and a few things to note, especially when comparing it to similar products. Check out the rest of our Schwinn IC4 review for the high points and key considerations. Keep scrolling to view a side-by-side comparison with this bike, the Sunny Health and Fitness Synergy Magnetic, and the Nordictrack Commercial S22i.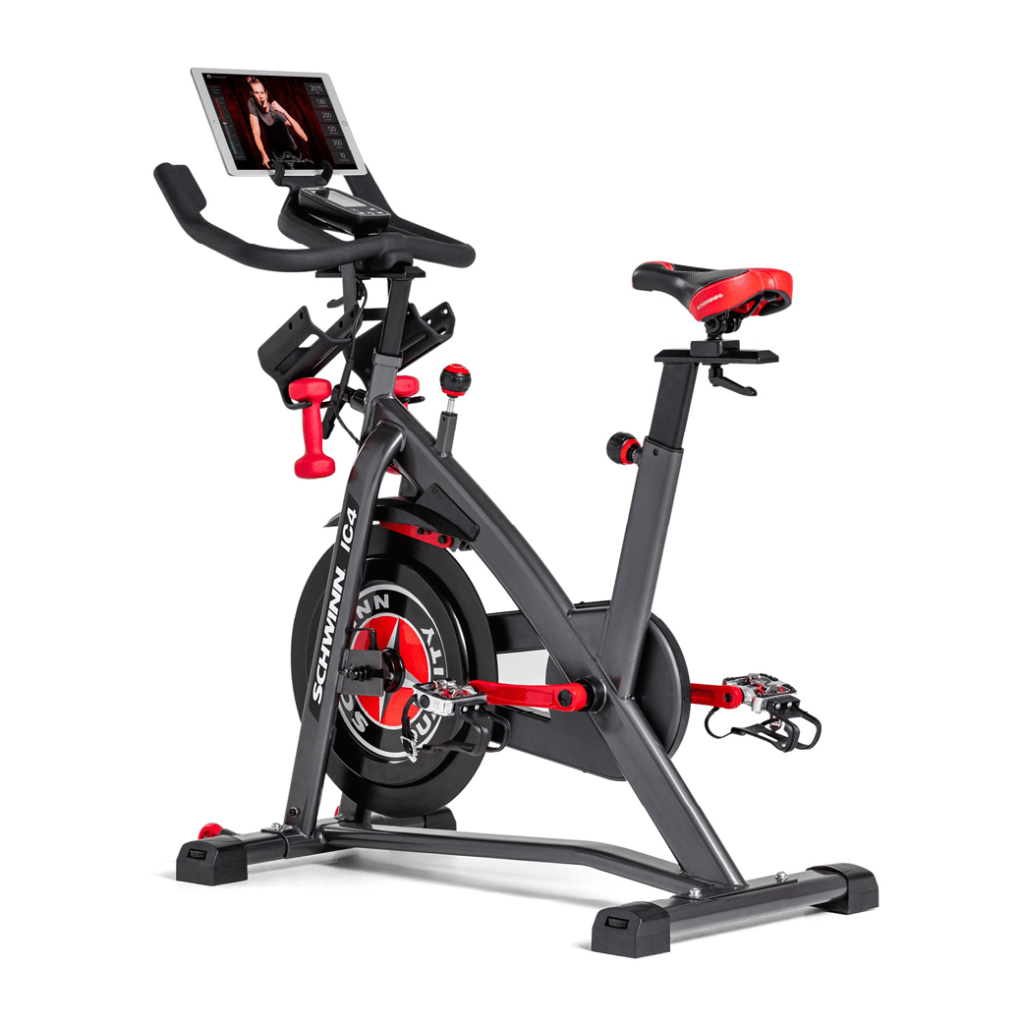 The Fit House Score: 4.5/5
| | |
| --- | --- |
| What We Love | What You Should Know |
| High quality exercise bike under $1000 | Small LCD monitor but has a media holder |
| Compatible with Peloton and Zwift apps | No built-in workouts; app required for that |
| Dual water bottle and dumbbell holders | 10-year frame warranty, 3 years parts |
We have affiliate relationships through which we may be paid a commission through our links at no cost to you, the reader. Read more here.
Who Should Buy the Schwinn IC4?
This might be the best exercise bike for:
People who want an affordable alternative to a Peloton
People looking for a high-quality studio cycle bike
People who don't mind jumping through some tech hoops to connect apps
This bike isn't recommended for:
People who need the comfort of an upright or recumbent bike
People who want built-in high tech
Our Favorite Things
Great value
App compatibility
Ergonomically sound
Great Value
Priced at under $900, the Schwinn IC4 offers significant capabilities and conveniences. It's a sturdy, durable spin bike that doesn't cut corners on the extras like dual water bottle holders and a media shelf.
App Compatibility
Perhaps what we love the most is that the IC4 is compatible with the Peloton app, making it essentially just as good but for half the price. The Schwinn IC4 also works with apps like Zwift, Sufferfest, Rouvy, TrainerRoad, FulGaz and Tacx. Some, like Peloton, require a subscription, but the Zwift app is free.
Ergonomically Sound
Pro tip: Of all cardio equipment, a bike is what should have the most adjustability to fit your body. The Schwinn IC4 is highly customizable with seat, handlebars and pedals that can all be moved or otherwise adjusted to accommodate your needs.
Portability and Durability
The IC4 really shines here:
Portability
The bike itself weighs 106 pounds, so it isn't exactly something you can throw over your shoulder. However, there are wheels on the front that make it easy to tip and roll. The bike also has a relatively average sized footprint: 48.7 in long x 21.2 in wide x 51.8 in high.
You will need an electrical outlet within 6 feet of the bike because it requires a wall adapter.
Durability
This is a heavy-duty indoor cycle bike. It weighs just 106 lbs but has a user capacity of 330 pounds. During our workouts on the IC4, we didn't notice any jostling or shaking, regardless of whether we were in or out of the saddle. That is due in part to a 40-pound flywheel that uses magnetic resistance.
Magnetic resistance matters for a few reasons:
First, it eliminates the friction of direct resistance, where contact pads rub against the wheel to make it more difficult to pedal. Second, magnetic resistance leads to less wear and tear on your machine – in other words, increased durability.
Lastly, the Schwinn IC4 has levelers at both the front and rear so you can adjust the bike for a smoother ride.
Digging Into The Ergonomics
We love how adjustable this bike is:
Seat
The seat is adjustable both up and down as well as forward and backward. Schwinn recommends that users be between 4'6" and 6'6" to be able to comfortably use the IC4.
As with many indoor bikes, the seat is cushioned – though it is far from comfortably padded. If you have ever taken a spin class, you will probably be familiar with this type of seat. You can always use gel covers for added comfort, or swap out the seat. This one uses saddle rails, though there are adapter kits available if you had a seat with a different type of attachment.
Pedals
These are dual-purpose pedals: One size has a toe cage, which means you can wear virtually any shoe. The other side has clip-ins that are SPD-specific to accommodate SPD cycling shoes. Want to use your own pedals? No biggie; the IC4 works with any 9/16" pedal.
Handlebars
The handlebars on the IC4 also adjust horizontally and vertically. They are extra long and dipped, providing positioning for upright pedaling as well as seated or standing climbs.
Conveniences
The IC4 is equipped with:
Two water bottle holders
Two dumbbell holders (and two 3-pound dumbbells)
A tablet holder
Pedals that can be used as toe cages or clip-ins
Floor stabilizers
Convenience wheels on the front for moving
Technology
The tech is where you'll either love or hate the IC4.
Start With the Apps
For this price point, we love what Schwinn has done. They outfitted the bike with Bluetooth connectivity so it connects with popular cycling apps that will actually control your workout through adjusting resistance. Therefore, you get the Peloton experience without having to buy a Peloton.
We tested this with the Zwift app, which is a free download. It was incredibly simple to connect our phone with the bike, set our phone in the device holder and ride.
Heart Rate Monitor
It's nice to have pulse grip sensors, but we move our hands around a lot when we ride. Schwinn throws a Bluetooth-enabled armband in with your purchase. We actually had to look up how to connect the band because it wasn't quite as easy as connecting the bike to Zwift. However, once you get it going, it's a seamless process to view your heart rate during the workout.
LCD Display
The screen is about what you would expect from a bike at this price: It's a full-color, backlit LCD display that shows you all the basic metrics, like time, distance and rpm. This is useful for when you use the bike in manual mode, or without an app.
We noticed that at times, while using Zwift, the numbers in the app were slightly above or slightly below the numbers on the LCD display. For us, it's not a dealbreaker, though serious cyclists may want to take note of that.
USB Port
Having a USB port on an exercise machine is clutch. The last thing you want is your tablet dying when you're mid-ride! You can hook it right into the bike so it continues to charge as you exercise.
Workout Experience
Have you ever been in the middle of the workout and just felt … happy? That's how we felt the whole time on the IC4:
The Ride
Right away, you know you're on a sturdy machine. Whether we were seated, standing or leaning forward, the bike showed no signs of jostling or jolting. We felt secure and stable the entire time.
One thing we really love is that you can adjust the resistance in two ways: manually by using the knob on the crossbar, or digitally by pushing the buttons on the console. Having both options is nice because manually adjusting gives you access to endless micro-adjustable resistance levels. Digital resistance is convenient because it's just the push of a button.
The bike comes with a pair of 3-pound dumbbells as well as holders. This is useful for upper-body workouts and add to the versatility of the machine.
Connect To Zwift
We chose to download the Zwift app and connect it to the bike for our ride. This was a totally seamless experience once we found the instructions on the Schwinn website to do so:
Turn the Bluetooth on your device
Launch Zwift
Press the Bluetooth button on the IC4 console
Hit "power source" in the Zwift app
Find the IC4 and select in
Boom – you're connected
There are a lot of workouts to choose from in Zwift, and the bike automatically adjusts resistance based on where you are in the exercise. We did notice that the numbers on the console for things like distance didn't always match the numbers in the Zwift app, but it wasn't a huge discrepancy.
Explore the World App
Schwinn also has its own app you can download called Explore the World, available on both Apple iOS as well as Android devices. You literally travel places throughout the world on your workout.
There are just three free courses available with the app. Otherwise, you have to pay for a subscription. The cost is just $9.99 per month, which is relatively cheap compared to apps like Peloton. You can also pay for a year subscription for $59.99.
Heart Rate Armband
We love that the IC4 comes with a heart rate armband. We had to look up online how to connect it:
Put the armband on the upper part of your forearm
Push the on/off button on the armband
When it's activated, the little LED light will flash blue quickly
Once the band locates your heart rate, it will begin to flash slowly
Just make sure at the end of your workout to power off the armband.
The Specs
| | |
| --- | --- |
| Footprint | 48.7 x 21.2 x 51.8 in |
| Weight | 106 lbs |
| Weight capacity | 330 lbs |
| Levels of resistance | 100 microlevels manually and digitally adjusted |
| Seat | Cushioned, adjustable |
| Heart rate | Bluetooth armband included |
| Pedals | Toe cages and SPD clip-in compatible |
| Display | Full-color, backlit LCD |
Buying Experience
A comprehensive look at what it's like to order and assemble the IC4 as well as some of Schwinn's key policies.
Purchasing and Shipping
We ordered the IC4 directly from Schwinn, which offers free shipping. There was a note on the purchase page stating that the IC4 could take up to three weeks to ship, which we found to be accurate.
There is an option to finance the bike over 18 months interest-free if you can pay off the full amount in that time. Applying for financing is done through the Schwinn website at checkout and is an instant credit check.
Assembly
There is an option to add in-home assembly for $129. We opted to put the bike together ourselves, and it took one person just 45 minutes to complete from unboxing to ready to go.
The assembly manual shows just three steps, but this is deceiving. The pictures combine about nine tasks into each step. On the backside of each picture is a step-by-step guide that is useful, especially when assembly the display monitor. Don't make the mistake we did and try to just go off the pictures! Read the steps, because it will save you time.
The screws and other parts are not clearly labeled in the packaging. We recommend laying them out at the start and even comparing them to the manual to make sure you have the exact pieces you need.
If you don't necessarily want the hassle of putting the bike together, and money isn't an issue, then paying for assembly may be worth it. However, the process isn't overly complicated – you just have to have common sense and patience.
Warranty
The warranty on the IC4 is pretty standard: 10 years on the frame, three years on parts, three years on the electronics, and one year on any labor to make repairs.
Returns
Let's say you get the bike, and you just don't like it. With Schwinn (as well as its sister brands, Bowflex and Nautilus), you have up to six weeks to decide what to do. That's huge – most manufacturers only give you 30 days.
So you decide to return it. You have to contact customer service by calling (800) 605-3369 within six months of the bike's delivery date. Request a return merchandise authorization (RMA) number. Schwinn notes they only accept returns under the following conditions:
Products that have an RMA
Products postmarked within two weeks of receiving the RMA
Product is undamaged an in either original packaging or suitable packaging
Product must be in its original condition and include all the original accessories
If you return the bike and are eligible for a refund, Schwinn does not refund shipping or assembly costs.
Customer Reviews
There are more than 700 reviews of the IC4 on Schwinn's website. In general, people love that the bike is well-built, quiet, easy to adjust, and comes with a ton of handy tech features.
Some criticisms include using the Android platform for third-party apps, as not all workout data appears to transfer. A few people mentioned receiving defective parts, though this seemed to be the vast minority. We noticed a customer service representative responded to the lower-rated reviews in an attempt to resolve issues.
Final Verdict
We have mostly positive things to say about the IC4:
Smooth, quiet ride
Affordable Peloton bike alternative
Low tech capabilities unless you connect your own device to third-party fitness apps
The Fit House Score
Overall score: 4.5/5
| | |
| --- | --- |
| Footprint and Portability | 4 |
| Delivery and Setup | 4 |
| Durability | 5 |
| Customizations | 5 |
| Adjustability and Ergonomics | 5 |
| Tech Capabilities | 5 |
| Conveniences | 5 |
| Dynamic Programming | 4 |
| Customer Reviews | 4.7 |
| Value | 5 |
| Warranty, Financing and Returns | 4 |
| Customer Service | 3 |
Compare the Schwinn IC4 vs. Sunny Health and Fitness Synergy Magnetic vs. the NordicTrack S22i Studio Cycle
Here, we compare several of the best exercise bikes on the market: The Schwinn IC4, the Sunny Health and Fitness Synergy Magnetic, and the NordicTrack S22i Studio Cycle Bike.
The Basics
| | | | |
| --- | --- | --- | --- |
| | Schwinn IC4 | Synergy Magnetic | NordicTrack S22i |
| Price | $899 | $454.71 | $1,999 |
| Size | 48.7 x 21.2 x 51.8 in | 49 x 22 x 50.5 in | 63 x 22 x 60 in |
| Weight | 106 lbs | 88 lbs | 203 lbs |
| Flywheel | 40 lbs | 30 lbs | 32 lbs |
| User capacity | 330 lbs | 275 lbs | 350 |
| Incline/Decline | n/a | n/a | -10% to 20% |
| Resistance levels | Manual and digital | Manually adjusted | 24 digital levels |
| Power needs | Wall adapter | Two AAA batteries | Wall adapter |
Comfort
| | | | |
| --- | --- | --- | --- |
| | Schwinn IC4 | Synergy Magnetic | NordicTrack S22i |
| Cushioned seat | ✔ | ✔ | ✔ |
| Adjustable seat | ✔ | ✔ | ✔ |
| Adjustable handles | ✔ | ✔ | ✔ |
| Pedals | Caged and clip | Caged | Caged |
| Media holder | ✔ | ✔ | ✔ |
| Water bottle holder | ✔ | ✔ | ✔ |
| Dumbbell holder | ✔ | ✔ | ✔ |
| Noise-free workout | ✔ | ✔ | ✔ |
| Handsfree workout | ✔ | | ✔ |
Tech
| | | | |
| --- | --- | --- | --- |
| | Schwinn IC4 | Synergy Magnetic | NordicTrack S22i |
| Display | Full-color, backlit LCD | 4 x 1 in LCD screen | 22-in HD touchscreen |
| Built-in workouts | Syncs with Peloton, Zwift and Explore the World apps | N/A | Compatible with iFit, one-year subscription included |
| BlueTooth | ✔ | N/A | ✔ |
| Heart rate monitoring | Bluetooth armband included | Pulse grip sensors on handlebars | Bluetooth chest strap and pulse grip sensors |
| USB port | ✔ | | |
| Speakers | | | ✔ |
Schwinn IC4 Indoor Cycling Bike FAQs
Some of the most commonly asked questions about this bike are:
What are the best shoes to wear with the Schwinn IC4?
One of the nice things about the pedals on the IC4 is that you can wear pretty much any shoes and still get a good workout. The toe cages on the pedals make the bike compatible with most shoes and shoe sizes.
If you want to wear clips, the clip-ins on the pedals are SPD-specific, so you would need to find SPD cleats.
What apps work with the Schwinn IC4?
As noted on the Schwinn website, the IC4 works with Zwift, Peloton, Sufferfest, Rouvy, TrainerRoad, FulGaz and Tacx. There is a disclaimer on the website stating that there may be discrepancies between what the console says you have done and what the app says you have done.
How do I connect my Schwinn IC4 to the Peloton app?
If you want a Peloton without having to buy a Peloton, the IC4 is a pretty good fit. It may not have all the conveniences of the high-end bike, but it works pretty seamlessly with the app.
To connect your Schwinn IC4 to the Peloton app:
Turn on your Bluetooth on your iOS device and then open the Peloton app.
Find the Bluetooth button on the lower left hand side of the IC4 console and press it.
In the Peloton app, search for a cycling program and press start.
On the right side of the screen in the Peloton app, click the button for Connected Devices (looks like an oval with a jagged line through it).
Select "Cadence" (not "Heart Rate")
It may take a few moments for the app to find the bike, but it should appear and you can select it when it does.
Exit that screen by touching anywhere else on your device's screen and go back to the program. Your IC4 is now connected and you may begin your exercise!