Find the right treadmill to match your fitness goals, space and budget
Looking for the best treadmill for your home? Running reaps countless health benefits, and treadmills empower you to burn calories, strengthen your joints and relieve stress from the comfort of your living room. Today's machines are equipped to help you get your sweat on with benefits that include heart rate monitors, pre-programmed workouts and even connection to personal trainers.
Your search for a treadmill could lead you down a seemingly endless trail of options. There are treadmills for walkers, runners, beginners and pros.
At The Fit House, we are constantly running over ways to simplify your search for items like ellipticals and exercise bikes. Our fitness experts have personally evaluated a number of treadmill machines. Our top picks below include the pros and cons to consider when making your buying decision.
Our Top 10 Favorites
We have affiliate relationships through which we may be paid a commission through our links at no cost to you, the reader. Read more here.

The Fit House Favorite: ProForm Pro 9000
Good for: Beginners to serious runners looking for comfort and guided workouts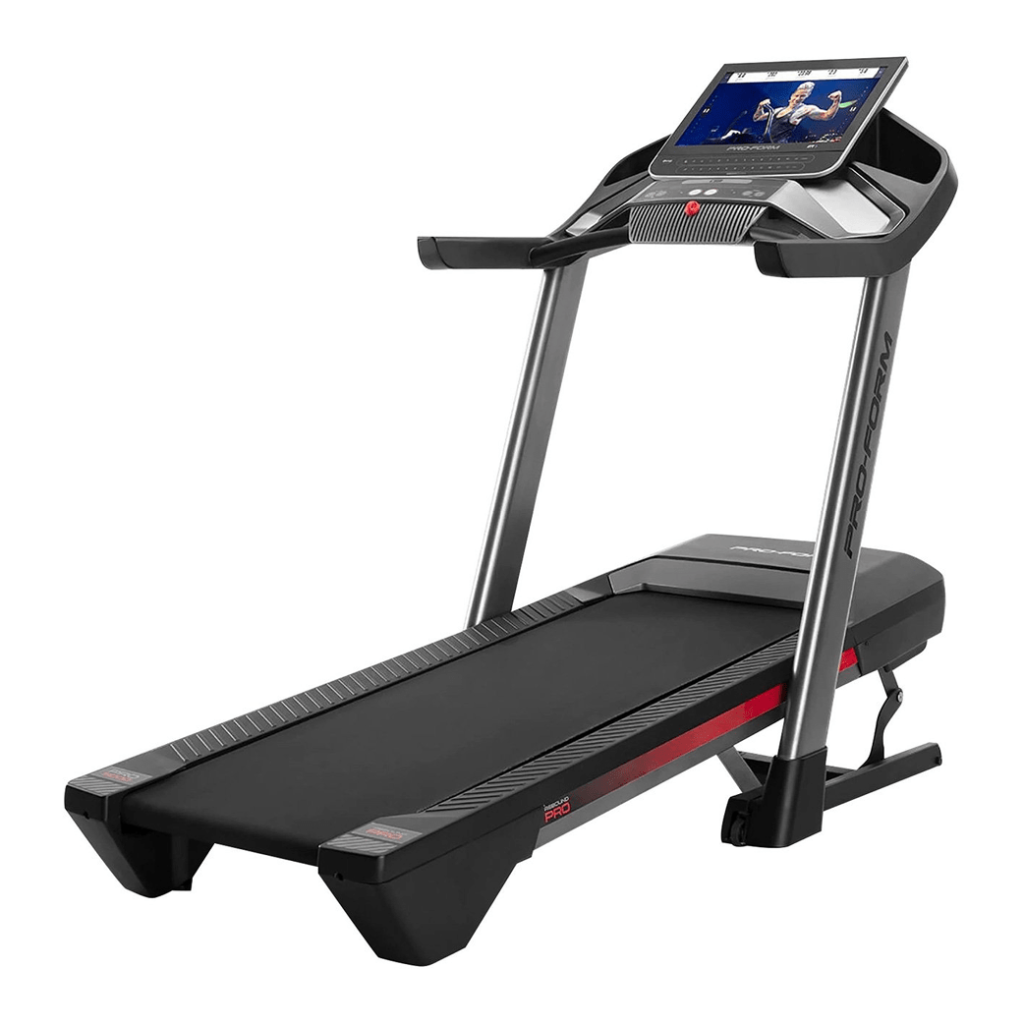 What We Love
One-year iFit family membership included
Foldable for storage
Cushioned belt and patented CoolAire fan
Workouts with trainers or in group settings
Connected fitness tracking
22-inch touchscreen monitor
What You Should Know
Limited warranty compared to other brands
Heart rate monitor strap not included
Returns include fees and restocking charge
Cost is just under $1,800
Financing available
Our pick for the best overall treadmill is the ProFrom Pro 9000. A quick glance and it is easy to see why: interactive workouts, one-year iFit family membership included, foldable and designed for comfort. What's more, the Pro 9000 has a price tag of less approximately $1,799 with financing options available.
ProForm is consistently one of the top-selling treadmill brands. In fact, ProForm has historically partnered with the Boston Marathon and is popular among serious runners. With incline and decline options that range from -3 percent to 12 percent, the treadmill has speeds up to 12 mph.
The most recent upgrade on the Pro9000 is a 22-inch smart HD touchscreen monitor. There, personal trainers can guide you through running workouts as well as strength training programs (the equipment for strength programs is sold separately).
Though ProFrom is a trusted brand, the warranty on the Pro 9000 is a little lacking compared to similar brands and machines. We were disappointed to see only a 10-year frame and 2-year parts warranty when others offer lifetime warranties on frames. Additionally, heart rate monitoring is possible but requires the purchase of a $79 band.
Best for Beginners: LifeSpan TR2000i
Good for: People new to walking/running who need a little guidance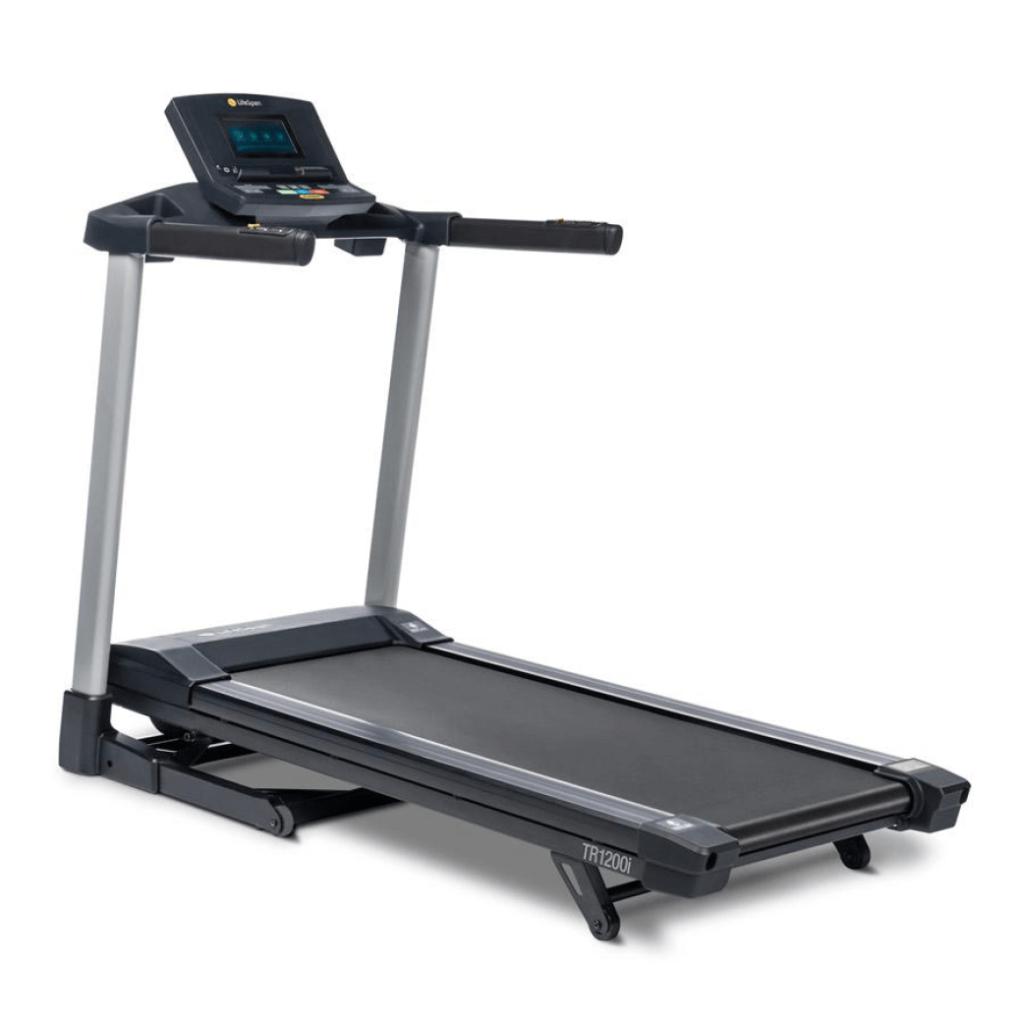 What We Love
Variety of workout programs
Shock absorption to protect joints
Easy to use, easy to fold and store
Free shipping
Financing available
Lifetime frame warranty
What You Should Know
Weaker motor at 2.5 HP
Shorter running deck
No app connectivity to studio classes
Touchscreen monitor is relatively small
Price is just under $1,700
If you're just dipping your toes into walking or running on a treadmill, the LifeSpan TR2000i is a good choice. It has a variety of pre-programmed workouts you can use as well as some conveniences to help you actually enjoy your experience.
Let's start with the 21 programs that are extremely easy to use and follow. Two of them factor in your heart rate, which is measured through sensors located along the arms. The full-color, 7-inch display has three viewing options you can choose from based on whatever is easiest for you to read and follow along with. We especially like the option that shows your progress based on an oval track.
The price of the TR2000i is just under $1,700, which is mid-range for a home gym treadmill. However, it offers so many conveniences: electronic folding for easy storage, Bluetooth speakers, step counter, and eight compression shocks to absorb impact and make things easy on your joints.
Compared to other treadmills in this price range, the TR2000i lacks app connectivity features and has a motor at just 2.5 HP, whereas other motors are in the 3.0+ range. However, most walkers and new runners should be find with a weaker motor. The running deck is just 56 inches long, which may be tough for very tall users.
Best Budget Treadmill: Horizon T202
Good for: Walkers and joggers looking for the most bang for their buck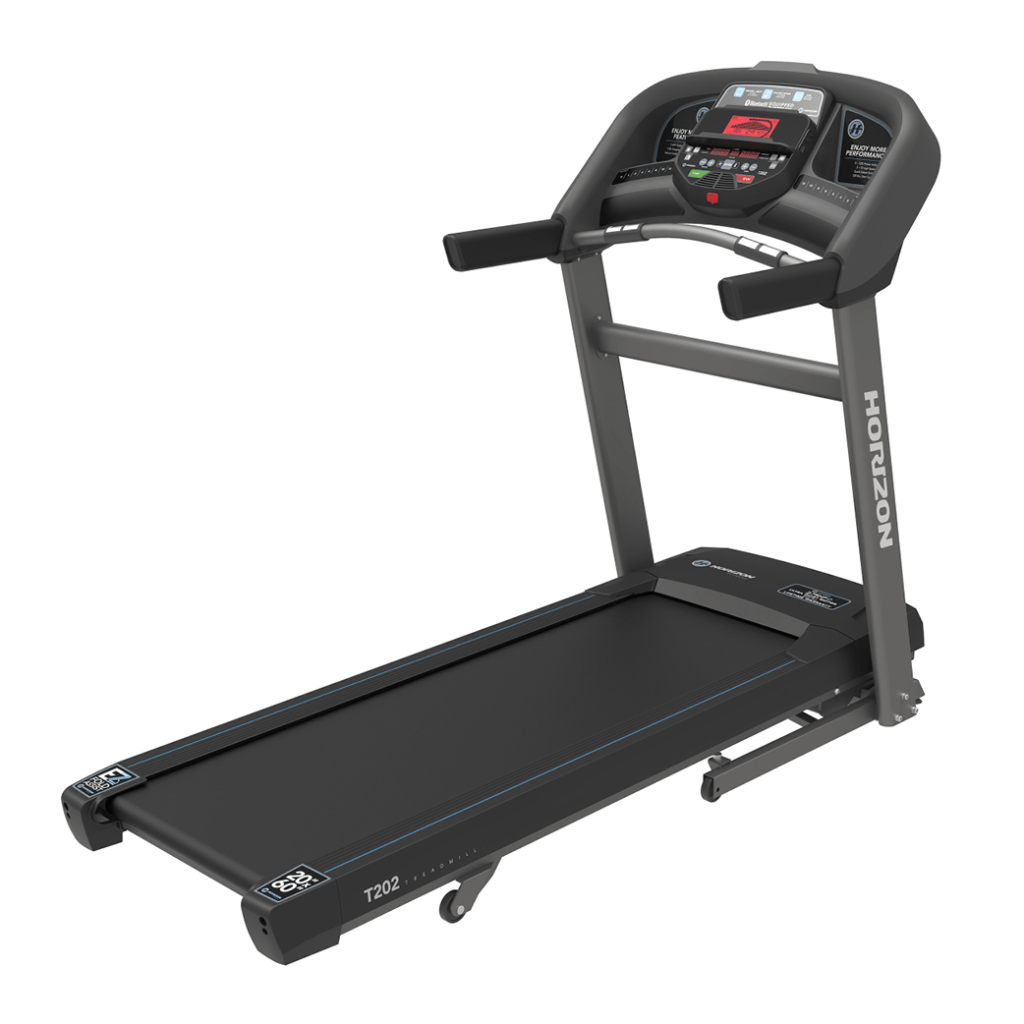 What We Love
12 programmed workouts to choose from
Cushioned deck for shock absorption
Bluetooth connectivity for smart devices
Hydraulic folding for easy storage
Lifetime frame and motor warranty
Free shipping and financing available
What You Should Know
Thinner belt may require more maintenance
Extremely basic monitor
No decline training available
Water bottle holder isn't very deep
The Horizon T202 is our pick for the best value treadmill on the market. Priced below $1,000, this machine offers a lot for just a little. One of the most impressive features is the lifetime warranty on both the frame and motor. Horizon also offers a 30-day money-back guarantee so you can try it out to make sure it's a good fit.
We found that the 60-inch extended deck with three-zone cushioning provides a great surface for walkers and joggers. Additionally, the T202 can reach up to 12 mph.
Even cooler, there are a lot of extras on this treadmill that you don't find on others in the same price range: Bluetooth connectivity, tablet holder, hydraulic folding, heart rate monitoring and 12 built-in workouts.
One downside we found is that the belt on the T202 is thinner than those found on higher-end models. This could mean maintenance down the road, especially for high-volume runners.
Best Under $1,000: Sole F63
Good for: Runners looking for a smooth, affordable treadmill with extras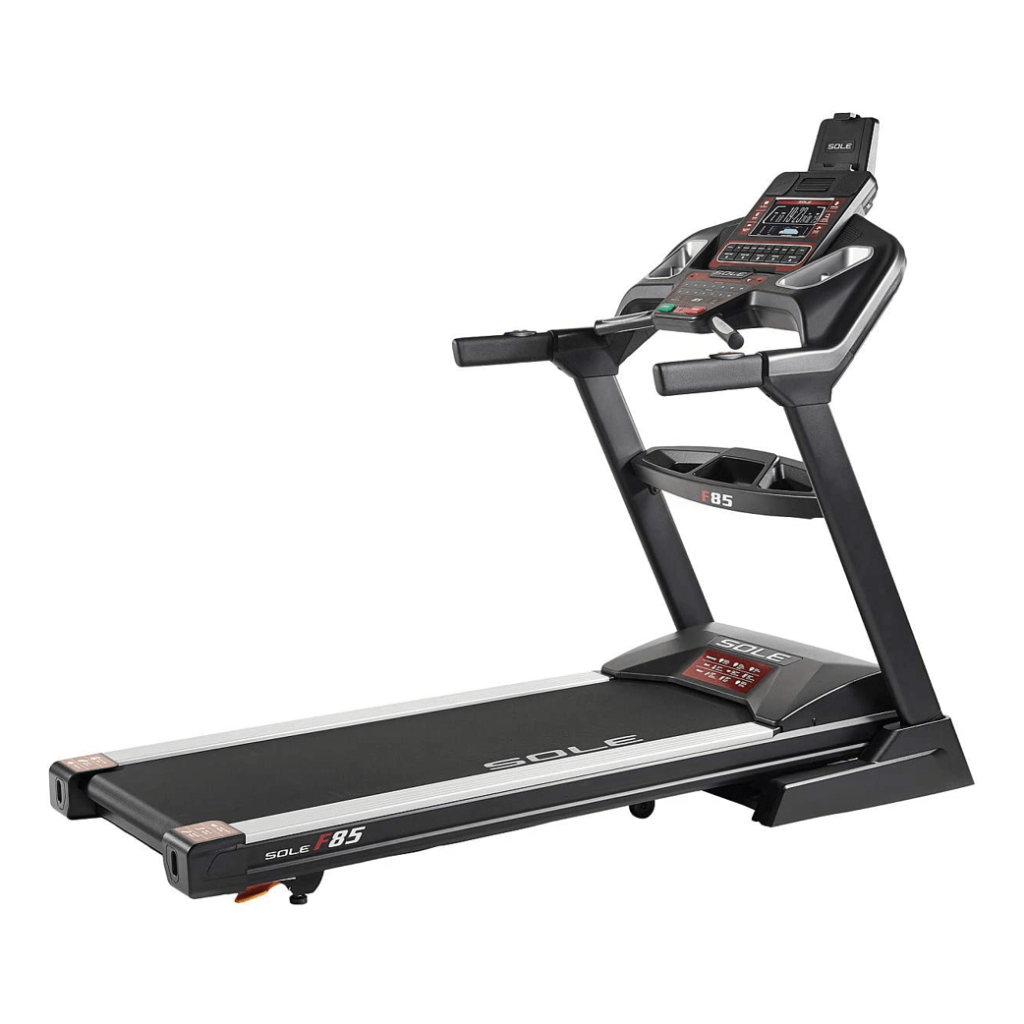 What We Love
Incredibly smooth, vibration-free run
Easy folding and storage
Highly tech compatible
15 levels of incline and speed up to 12 mph
Cushioned running deck
Priced at just $999
What You Should Know
Few preset program options
No decline training
Upgraded but still basic console
Lifetime frame and motor warranty
30-day money back guarantee
The Sole F63 takes the cake for the best under $1,000. Priced at $999, this affordable – and foldable! – machine packs all the extras you would expect from a much more expensive model. Additionally, its 15 incline setting levels, cushioned deck and heavy-duty frame makes it ideal for walkers, joggers and runners.
In reviewing the F63, we found the run to be incredibly smooth. This is due in part to flywheels that cut down on the vibration you may find in other machines.
Bonus: You can use the integrated tablet holder to run your own workouts, which is good because the machine only has six preset options.
Sole offers competitive warranties on their products, including a lifetime warranty on the frame and motor for the F63.
Additionally, the 30-day trial period offers a full refund – an actually full refund where you don't have to pay shipping, restocking or any other hidden fees.
Best Folding Treadmill: Echelon Stride
Good for: Walkers and joggers who need to easily store a treadmill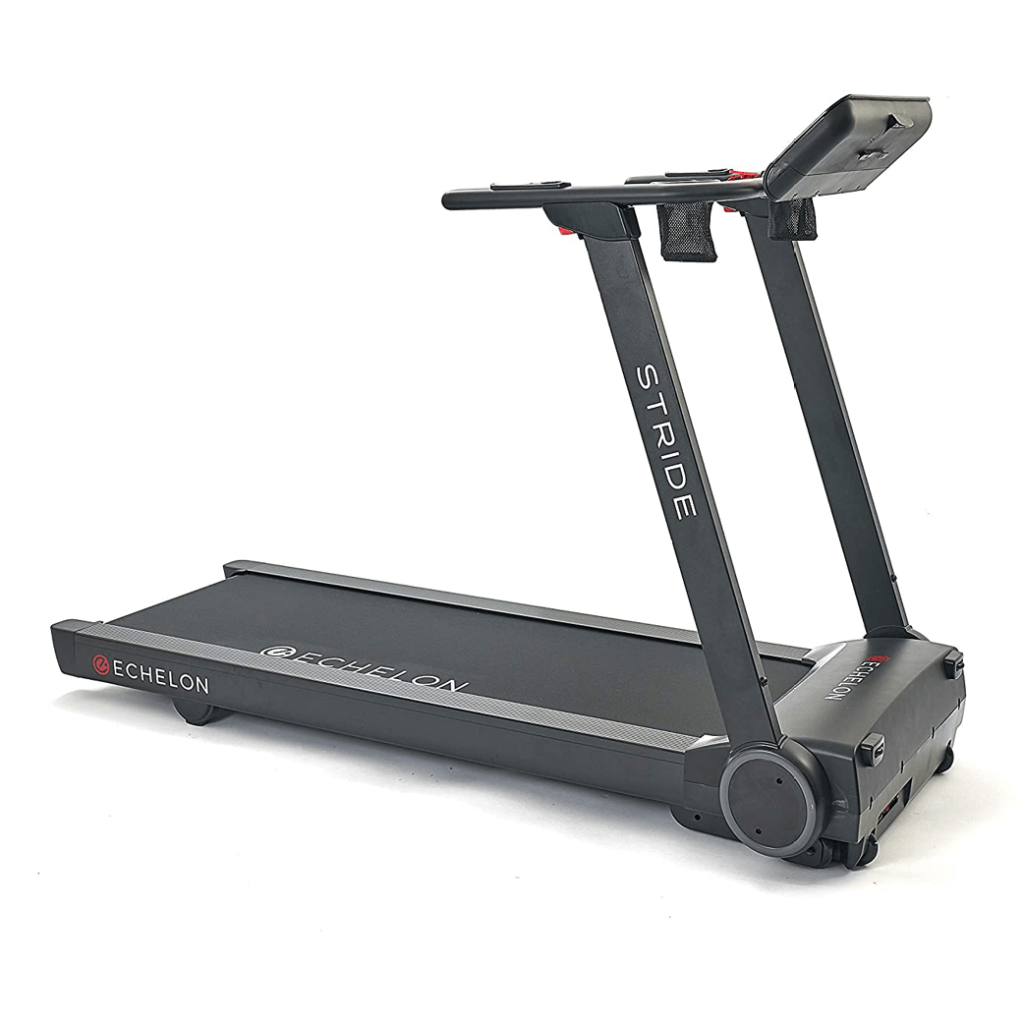 What We Love
Easy to fold and move
App and Bluetooth connectivity
Option for studio classes and workouts
Weight capacity of 300 pounds
Financing available
Smart device connection
What You Should Know
Motor is just 1.75 CPH
Shorter, 55-inch running deck
Not suited for high-mileage runners
No decline abilities
If convenience is king in your world, the Echelon Stride is for you. This running machine was designed with space and portability among top priorities. All you have to do is lock the handlebars and console in place, and the treadmill will fold itself. Once folded, the Stride measures just 10 inches thick. The built-in wheels make this light, 156-pound treadmill easy to move and store.
We especially love that this space-saving treadmill still comes with a lot of perks, such as the ability to connect to your smart device. Also, you have the option to connect to the Echelon community through live and on-demand fitness classes if you choose the $39/month subscription.
What you do find on these smaller treadmills is a shorter deck. The Stride's belt measures 55 inches, which could be problematic for taller users. Also, the motor is just 1.75 CPH compared to the 2.75 and 3+ CPH we find on models that are meant for more active runners.
Best Compact Treadmill: LifePro Pacer
Good for: People with small spaces to use and store exercise equipment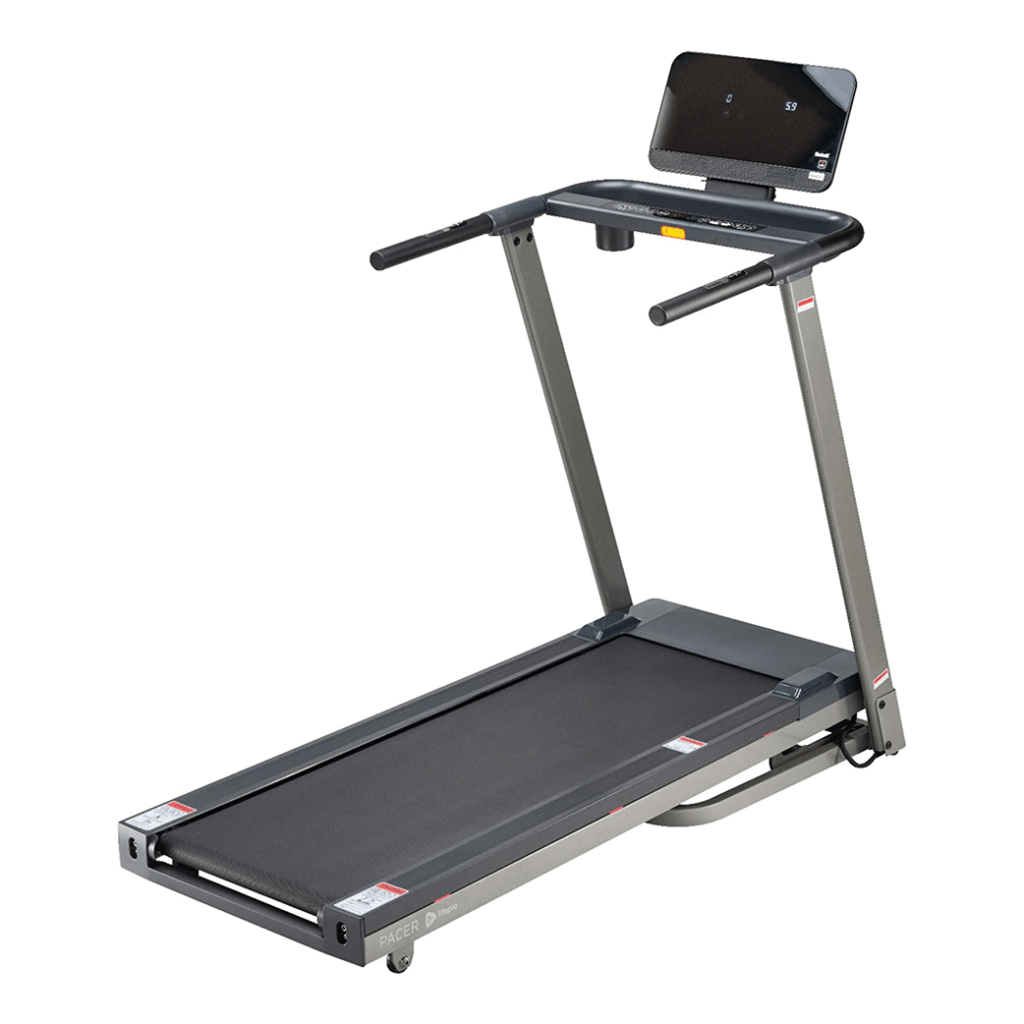 What We Love
Hydraulic folding
Small footprint: 59.4 x 27.2 x 53.1 inches
Lightweight at just 115 pounds
40+ preprogrammed workouts
Affordable at under $1,000
Heart rate monitoring with included belt
What You Should Know
Speed goes up to 9.9 mph
Max user weight is 220lbs
Motor power of just 1.75HP
Most returns incur shipping, restocking fees
Treadmills are large pieces of exercise equipment. If you need a smaller option, check out the LifePro Pacer. Its footprint is less than 3 feet wide and 5 feet long, which is definitely on the small side compared to other machines. Additionally, it has a hydraulic folding system that reduces the treadmill to essentially half as big.
For $749, this reasonably priced treadmill offers ample training programs with 40+ options, which is more than many machines have built-in. It also features Bluetooth connectivity and built-in speakers.
With small machines typically comes a few downsides: the deck on the Pacer is short at just 49.2 inches, which could pose a problem for taller users. Additionally, though it weighs a light 115 pounds and is easy to move, it only has the capacity to hold 220-pound runners. This treadmill also has a less powerful motor at 1.75 HP – though this is typically only an issue for avid runners looking for big speed. The Pacer does come with a lifetime warranty.
Use code FITHOUSE to receive 10% off LifePro products!
Best for Walkers: Horizon T101
Good for: People who want an affordable, treadmill for walking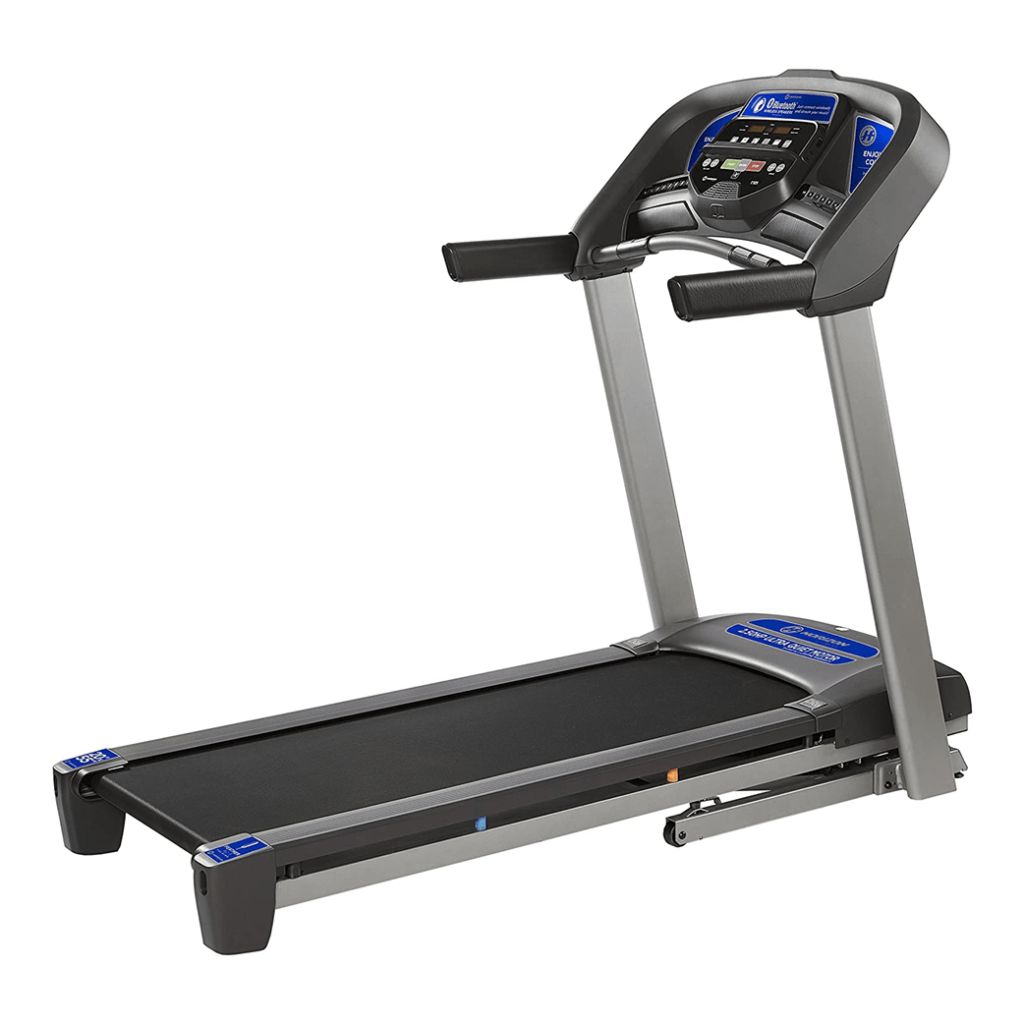 What We Love
Quiet motor
Affordable price
Bluetooth speakers
USB rapid charge port
Cushioned deck for joint support
One-step hydraulic folding
What You Should Know
Low-powered motor
Short deck not ideal for tall runners
No livestream classes
No decline capability
Speed caps at 10 mph
The Horizon T101 is known for its simplicity and reliability. It's a great fit for walkers who don't need the extra frills of high-end treadmills. At $699, the T101 covers all the basics while still having the comforts you would want while exercising.
The T101 has a 2.5 horsepower motor, which is quiet and perfect for walkers. More avid runners would likely benefit from a treadmill with a stronger motor.
Additionally, the running surface is 55 inches, which is a standard size and suits walkers well. Runners with a longer stride would probably need a longer deck.
Some of the perks of the T101 include Bluetooth speakers to listen to your music, a rapid-charge USB port for your device, a cushioned deck to minimize impact on your joints, and a built-in device holder so you can watch shows or partake in exercise classes.
Oh, did we mention that this treadmill folds? A hydraulic system means there is just one step between exercise and storage.
Best for Runners: Nautilus T618
Good for: People looking to unleash their running potential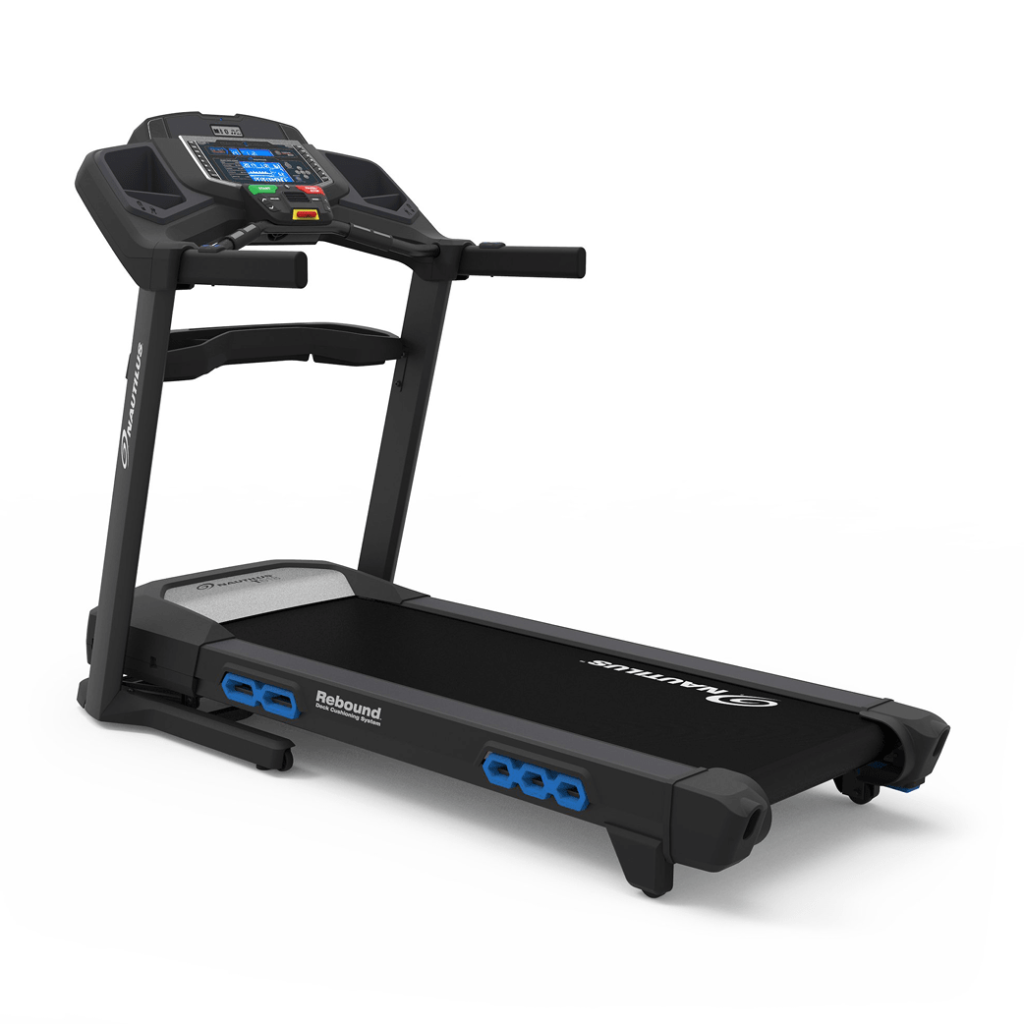 What We Love
15-degree incline and max speed at 12 mph
Powerful motor at 3.5 HP
26 pre-programmed workouts
Heart rate monitoring strap included
Can hold up to 350lbs
Ample storage
What You Should Know
Priced at just under $1,400
Less interactive console than similar models
Does not fold
15 years frame warranty
In-home assembly is an additional charge
The Nautilus T618 was literally designed for runners. Its deck features the trademarked Rebound Cushioning System which minimizes joint impact while at the same time propelling kick-off.
With a running surface 60-inches long, even taller people can open their stride and let loose on this machine. The belt is a three-ply, 2.5mm track that is built to last, which is ideal for anyone running more than just a few times a week.
A few things we love about the T618 include its 26 pre-programmed workouts ideal for heart rate and interval training. You also have free access to the Explore the World app, which takes you through 19 different locations and even connects you to run "with" people in real time.
Metrics tracking and Bluetooth capabilities mean you can transfer your data to other fitness apps that you may use.
The price point on the T618 is about mid-range at just under $1,400. Nautilus does offer financing as well as options for in-home assembly for an additional charge.
Best for Guided Workouts: NordicTrack Commercial 1750
Good for: Active people looking for interactive treadmill programming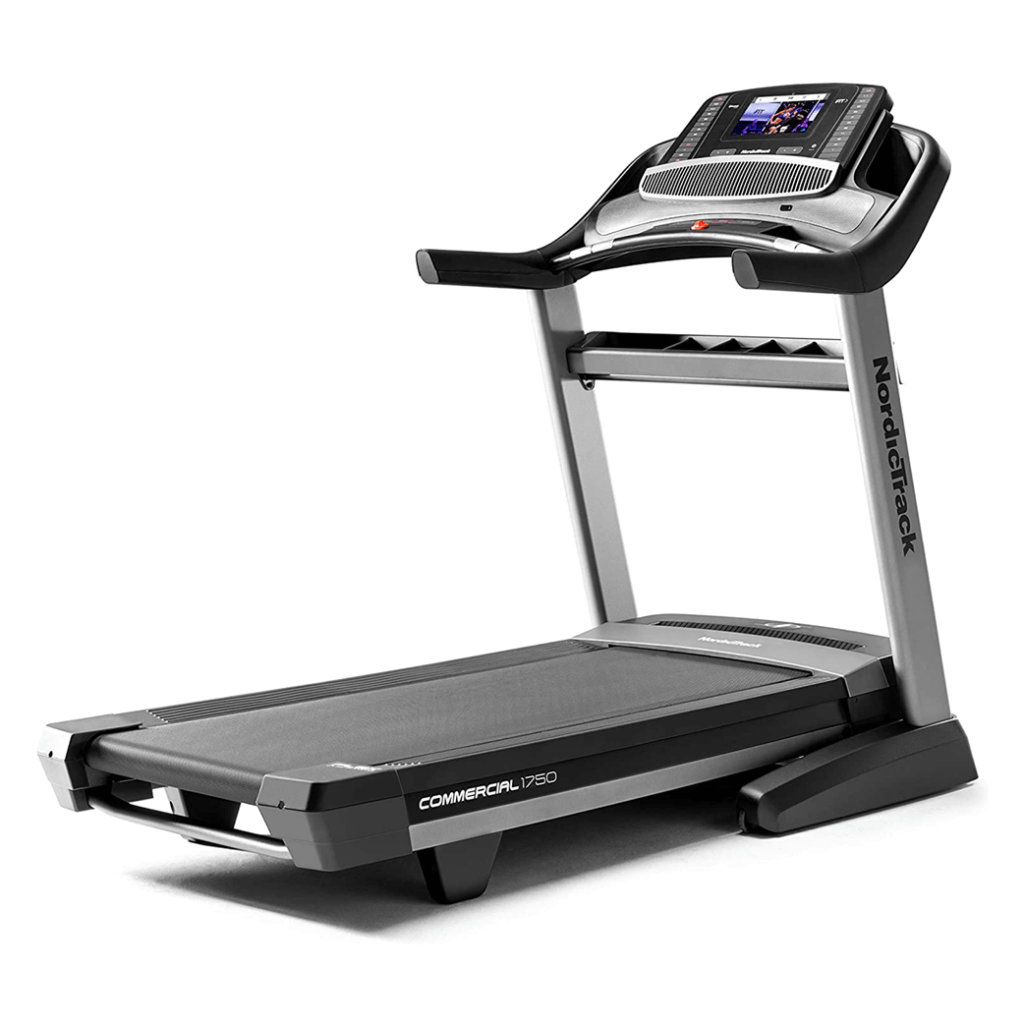 What We Love
1-year iFit family membership included
Hands-free incline adjustment
Foldable for space-saving
Incline up to 15 percent
Decline training available
Speeds up to 12 mph
What You Should Know
Heavy machine is not easy to move
10-inch HD touchscreen
iFit family membership cost is $39/month
Priced at just under $1,800
10 years frame, two years parts warranty
The NordicTrack Commercial 1750 not only boasts interactive training, but it does so with a price tag that is almost half of the luxury options that do the same. It is an easy pick for our best guided workout treadmill.
Upon purchasing, you receive a full year of a family membership to iFit, which has hundreds of trainers who lead thousands of on-demand and even personalized workouts.
The Commercial 1750 sounds like it belongs in a gym, but it is designed for your home. It quietly inclines and declines through either your adjustments or hands-free through your trainer's adjustments. Bluetooth connectivity means your trainer can talk to you through your wireless headphones.
NordicTrack is known for making some of the best quality treadmills on the market. The warranty is about average for products of this caliber, at a 10-year frame and two-year parts warranty on the Commercial 1750.
Read our full NordicTrack Commercial 1750 treadmill review.
Best Luxury Treadmill: Matrix T75 with XUR Console
Good for: The "money is no object" crowd who want it all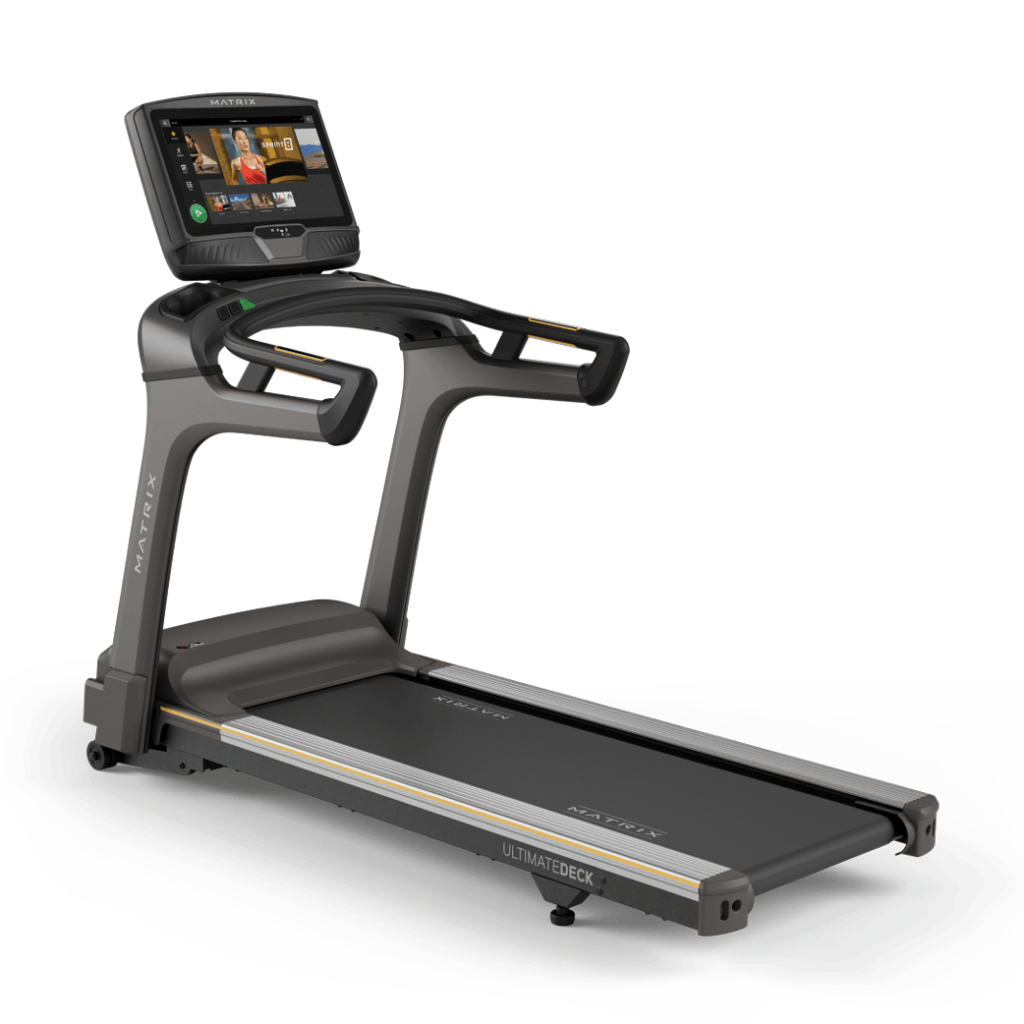 What We Love
One-year iFit family membership
Bluetooth, USB and HDMI
22-inch touchscreen
Wireless heart rate tracking, strap included
Lifetime frame and motor warranty
Spacious running deck
What You Should Know
Top-of-the-line pricing at just under $6,000
Large, does not fold
No decline training
Not easy to move at 300 pounds
If you want the treadmill that has just about everything, then you want the Matrix T75 with XUR Console. This upgraded machine features a 22-inch HD touchscreen display, virtual running, Bluetooth, HDMI port, WiFi, USB port and speakers. Matrix also throws in a Bluetooth-enabled heart rate monitoring strap with your purchase.
Oh, and you can also use it to run!
Matrix easily syncs up with iFit, which has more than 16,000 workouts, HIIT programs and studio classes. For purchasing the T75, you get one year of iFit included. Outside iFit, the T75 has 13 of its own preset workouts.
For all its bells and whistles, the T75 is a big machine and can bear up to 400 pounds, which is one of the highest weight capacities on the market.
This treadmill weighs 300 pounds and does not fold. Making space will be a must, as it is not easy to move. Additionally, the T75 does not have decline training.
How to Find the Right Treadmill for Your Home
On the path to a purchase? Here is a quick rundown of what you should consider when picking a treadmill.
The Type of Cardio Workout You're Looking For
Are you a walker, runner, or both? How do you plan on using your treadmill? Runners typically require a stronger motor of 3.0 CPH or higher, as well as a longer belt to move at higher speeds with a longer stride. If you want to run, you may prefer a motorized treadmill that can reach top speeds of 12 mph or higher. There are also manual treadmills that don't have a motor – your pace determines the pace.
Walkers can benefit from a treadmill with a lower horsepower motor of 2.5 CHP, which is also a cost savings. Both walkers and runners may prefer a treadmill with incline and decline capacity to add variety to workouts.
Space Considerations
Many home treadmills today run about 3 feet wide and around 6 to 7 feet long. If you are tight on space, there are folding treadmills that can be neatly stored in corners and even under the bed. Some also come equipped with wheels to make moving the machine easier.
The Ergonomics
You should feel good while using your treadmill (well, as good as a cardio workout can feel!). In other words, look for items that can improve your comfort level. Belt cushioning and other shock absorption tactics are especially important for people who may be susceptible to joint pain. Also keep in mind that each treadmill is designed to accommodate users up to a certain weight.
Tech Compatibility
Most treadmills on the market today track the basics: distance, time and speed. Going a step beyond that, there are machines that feature pre-programmed workouts to help you reach your goals. The top-of-the-line treadmills have connectivity to interactive programs such as iFit as well as live classes and virtual coaching.
Convenience
Sure, you want a place to put your water bottle, but have you thought about what else might be convenient on your run or walk? Many treadmills today have USB ports to charge your phone, stations for smart devices and Bluetooth speakers. These extras will have an effect on price but may also improve your experience.
Price and Policies
Ah, the bottom line. Your buying decision may ultimately come down to how much you're willing to invest in your health. These large pieces of fitness equipment range in cost between a few hundred dollars to the expensive treadmills that clock in at more than $3,000. Manufacturers often run specials, so be sure to check their website as well as e-tailers like Amazon.
Whatever end of the spectrum you're on, be sure to look at the manufacturer warranty and return policy. A solid warranty should provide lifetime coverage on the frame and multi-year coverage for parts, electronics and labor. Many companies also offer 30-day trial periods with full or mostly-full refunds available.
The Final Rundown
While we would love to say that you can't put a price tag on your health, the truth is that a treadmill is a large machine worth hundreds, if not thousands, of dollars. Spend your money wisely by finding the right treadmill based on your specific needs. Your goals, tech demands, space requirements and wallet should help you narrow your search.
---
Kate Meier is senior editor at The Fit House, which means she personally tests and reviews equipment featured on our pages. She has more than 20 years of experience in the health and fitness world, ranging from college sports to big box gyms to boutique fitness studios. Outside her work at our House, Kate is co-owner of a gym in North Carolina and spends much of her time coaching and working out. She also loves dogs and being outside.