Newly updated this year, the NordicTrack Commercial 14.9 has many of the features of the best ellipticals but is priced competitively at just under $1,800. It is equipped with interactive training programs, a phenomenal HD touchscreen and many of the comfortable features that make working out a little more enjoyable.
NordicTrack has two commercial-grade ellipticals, the 14.9 and her sister, the 9.9. Both offer a total-body workout and extensive programming through the iFit app. This NordicTrack Commercial 14.9 elliptical review details where this machine shines and what you should know before buying it.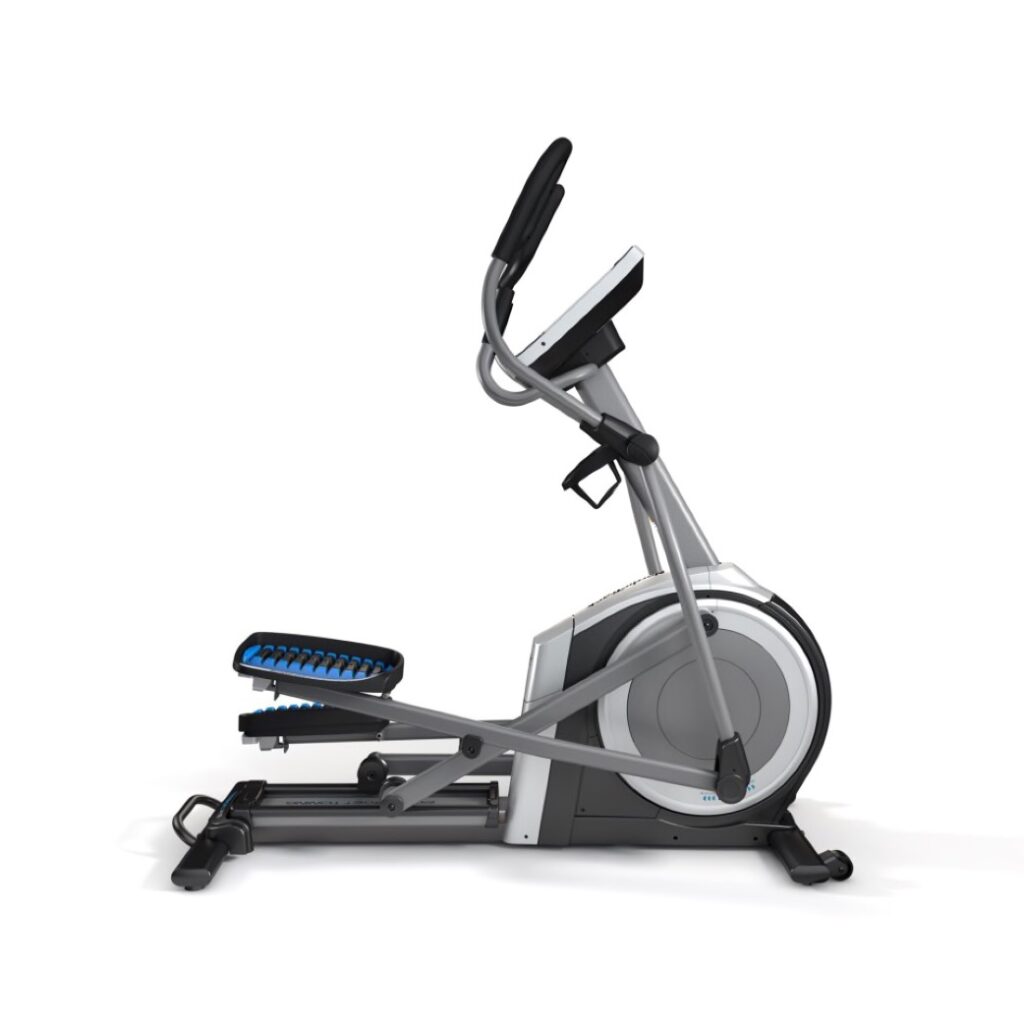 The Fit House Score: 4.3
View full NordicTrack Commercial 14.9 rating
| | |
| --- | --- |
| What We Love | What You Should Know |
| Free year of iFit membership included | Front-drive elliptical priced just under $1,800 |
| 26 levels of resistance that adjust digitally | iFit requires a subscription after a year |
| Ergonomics are on point | Minimal storage and large footprint |
We have affiliate relationships through which we may be paid a commission through our links at no cost to you, the reader. Read more here.
Who Should Buy This Elliptical?
The NordicTrack Commercial 14.9 is great for:
People looking for an interactive workout
Those needing one-on-one training
Working out with a lot of conveniences
We don't recommend this elliptical for:
Small spaces
People on a budget
People wanting a simple, basic elliptical
Our Favorite Things
Lots of options for built-in and interactive programming
Conveniences and comforts included
Lots of tech benefits
Workout Programming
The NordicTrack Commercial 14.9 gives you two different options for pre-programmed workouts:
Built-in programs: The elliptical comes with 35 different options. According to NordicTrack, a personal trainer designed each workout based on either calorie burn, incline training, heart rate or speed. We tested the heart rate program and found it would adjust the machine based on what the heart rate monitor read.
iFit training: Aside from the built-in workouts, you can also opt in to iFit programming, which we loved. You get a free year of family membership with your purchase of the NordicTrack Commercial 14.9. iFit gives you countless options for personalized training plans, displayed right there on the 14-inch, high-def touchscreen console. The machine automatically adjusts with the cues from the iFit coach. Thanks to Google Maps integration, you can travel the world as you exercise.
Once your free year of iFit is over, you can choose to either just use the built-in workouts on the machine or purchase a subscription. An individual membership is $180 per year. If you opt for a family membership, you can choose between paying $39 a month or $396 for the whole year. A family membership can hold profiles for as many as five people.
Conveniences and Comforts
There were a few things we really liked about working out on the NordicTrack Commercial 14.9: an AutoBreeze fan you manually control as you exercise, multiple sets of handlebars, trademarked One Touch controls for adjusting incline, built in heart rate monitoring through either grip sensors or a Bluetooth-enabled chest strap, and pedals that are cushioned and can be adjusted on three settings.
Tech Benefits
For its price, this elliptical comes with significant tech benefits. The 14-inch smart HD touchscreen is an upgrade new to the 2021 machines. It streams exercise programs and displays pertinent workout stats. The machine is Bluetooth enabled so you can connect your own music through an iPod or smart device, which will play through a pair of 2-inch digitally amplified speakers. You're also able to connect to heart rate monitors using a Bluetooth connection. However, unlike many other machines in this price range, there is no USB port.
The Ergonomics
High quality fitness equipment can be adjusted to accommodate users, and the Commercial 14.9 does just that.
Pedals
The pedals on the elliptical are oversized and cushioned. And when we say cushioned, we mean it. It's a blue and gray padding that genuinely makes foot placement comfortable. They are large enough to fit just about any shoe size.
One thing that stands out about the pedals is that there are three settings to adjust the angle of the pedal. This is to help you prevent strain on your joints by accommodating your specific running gait.
Handlebars
Two sets of handlebars on the machine mean you can move between a total body workout that exercises the majority of your muscle groups, or you can focus on just the lower body by holding onto the fixed handles. The grips themselves use NordicTrack's trademarked Soft Touch, and they are comfortable to hold onto. The handles also feature CardioGrip, which is how the elliptical measures heart rate.
Stride Length
One of the things we appreciate about this machine is the adjustable stride length. Industry standard is either 18-inch or 20-inch stride. With the Commercial 14.9, you get both. You can adjust the stride to match your height. Generally speaking, people shorter than 5-foot-3 will benefit from an 18-inch stride, and people taller than 5-foot-7 might feel better with a 20-inch stride.
Footprint, Portability and Durability
This is definitely not a small machine. It is 67 inches long, 29 inches wide and 69 inches tall. It does not fold up for storage, so plan on keeping it somewhere that you have plenty of room.
This elliptical also weighs 210 pounds. There are wheels on the front and a handle on the back to help you move it. Several of us tried and were able to move it around the room fairly easily. You would not want to have to move this up and down stairs, however.
We were impressed to see that the Commercial 14.9 elliptical can support up to 350 pounds. This is on the higher end for weight capacity.
Workout Experience
Overall, working out on the NordicTrack Commercial 14.9 was a good experience.
A Little Shaky
The Commercial 14.9 has a 32-pound flywheel. A heavy flywheel can generate a significant amount of power without creating the jerks and shakes you might feel on an elliptical with a lighter unit.
When we first started exercising, we found the machine to be wobbly. There are floor stabilizers on the elliptical that we made adjustments to, and that helped. However, we wouldn't call this a totally smooth experience. As we increased the resistance, we noticed the shaking was minimized.
Levels of Resistance and Incline
Heavier flywheels often mean more levels of resistance. We were excited to see 26 resistance levels on this machine, as that is one of the highest numbers you'll see on an elliptical.
Another great aspect (and one that made the workout more intense) is that the pedals also operate on up to 20 percent incline. Not many ellipticals on the market offer incline training as well, so we were excited to see that on this machine.
Display
The 14.9 has an impressive 14-inch HD smart touchscreen, double the size of the 7-inch screen that is on the Commercial 9.9. While using iFit, a strip along the top displays workout stats like time, distance, calories burned and heart rate. If you touch each number, it will rotate to a different stat.
Ease of Operation
The workouts are easy to navigate, whether you use the built-in programs or iFit. The resistance and incline adjust automatically with both, though you can always use the one-touch buttons to manually change the settings if you find something feels too hard or too easy.
Using iFit
For us, setting up iFit was simple. We had already created an account when we ordered the machine. When you create your account, you enter your personal information as well as some of your health goals, like losing weight or building muscle.
After we assembled the elliptical, we simply plugged it in, turned it on and logged into our iFit account. Right away, when we could access interactive classes and coach-led workouts that were geared toward our interests. You can also explore hundreds of on-demand workouts and pick a different one every day.
Another beneficial aspect of iFit is the community. As you exercise, a leaderboard pops up on the right side of the screen. You can see how you stack up against people in real time or against people who have done that particular workout before.
The app tracks all your workouts and progress. As you get fitter, the workouts get more challenging.
Noise Level
We would rate this machine as middle-of-the-road when it comes to noise production. It certainly isn't whisper-quiet, but the trademarked SMR (silent magnetic resistance) does help keep the noise down.
A Look at the Specs
| | |
| --- | --- |
| Footprint | 67" L x 29" W x 69" H |
| Weight | 210lbs |
| Weight capacity | 350lbs |
| Ceiling height | User + 15" |
| Resistance levels | 26 digital resistance levels |
| Drive | Front-drive |
| Preset workouts | 35 |
| Water bottle holder | Yes |
| Pedals | Oversized, adjustable and cushioned |
| Display | 14-in HD smart touchscreen display |
| Incline | Up to 20 percent |
| Built-in wheels | Yes, front-mounted |
Buying and Assembly
We ordered the NordicTrack Commercial 14.9 directly from the manufacturer. You can finance the elliptical at 0 percent APR for 36 months. We paid $99 for threshold delivery, and then we had to move the box to the room where we set it up. You can also opt for free shipping for a curbside delivery.
Assembly
Putting this elliptical together is a two-person job. It took us quite a few hours to get everything done, partly because we needed to have our own tools on hand. NordicTrack supplies an Allen wrench, but we found that having a socket wrench was also crucial to keeping everything tightened.
You will also have to thread wiring, so be sure to clearly read the instructions as you go. Double check all your steps and the pieces you are using to prevent from using the wrong screws on the wrong steps.
Customer Service
We had some questions, so we reached out to the NordicTrack agent regarding the on-board workouts. We wanted to make sure that we could access them without an iFit membership. The agent we spoke to walked us through the steps and assured us that all NordicTrack machines come with between 20 and 50 onboard programs.
Warranty
NordicTrack offers a 10-year warranty on the frame, two years on parts and one year on labor. The frame warranty is a little lacking compared to many other machines in the industry that have lifetime guarantees.
Return Policy
You have 30 days to return the elliptical to NordicTrack if you decide you no longer want it. No matter the condition of the machine, you will have to pay $250 to ship it back as well as a 10 percent restocking fee. If there is any damages, you may face additional costs. Also, if the company determines you are eligible for a refund, they will not refund you the original shipping or assembly fees.
Customer Reviews
The manufacturer did not have any NordicTrack Commercial 14.9 elliptical reviews, so we turned to Amazon. Some of the biggest concerns surrounded issues with shipping, which could be out of the manufacturer's control.
Other people had trouble accessing their free membership with iFit. Our recommendation is to set up your iFit account when NordicTrack sends you the email so you can troubleshoot before the elliptical even gets to your hours.
Final Verdict
To sum up, here are the main things you should know about the NordicTrack Commercial 14.9:
The iFit membership and 14-inch touchscreen is what makes the machine stand out.
There are great conveniences, like a fan and cushioned pedals.
The warranty isn't quite what we would want from this manufacturer.
The machine is priced appropriately for what it gives you, but keep in mind that the value really comes with the iFit membership, which you will have to pay for once your free year expires.
The Fit House Scoring
Our NordicTrack Commercial 14.9 elliptical review resulted in an overall rating of 4.4/5.
| | |
| --- | --- |
| Footprint and Portability | 4 |
| Delivery and Setup | 3 |
| Durability | 5 |
| Customizations | 5 |
| Adjustability and Ergonomics | 5 |
| Tech Capabilities | 5 |
| Conveniences | 5 |
| Dynamic Programming | 5 |
| Customer Reviews | 3.2 |
| Value | 4 |
| Warranty, Financing and Returns | 4.5 |
| Customer Service | 3 |
Compare NordicTrack Commercial 14.9 vs. Nordictrack Commercial 9.9
There are several key differences between these two sister ellipticals, namely in the size of the screen, the number of resistance levels and the number of built-in workouts.
The Basics
| | | |
| --- | --- | --- |
| | Commercial 9.9 | Commercial 14.9 |
| Price | $1,299 | $1,999 |
| Size | 68.25" L x 28.75" W x 68.5" H | 67" L x 29" W x 69" H |
| Weight | 244lbs | 210lbs |
| Resistance levels | 22 digital levels | 26 digital levels |
| Incline level | 20 percent | 20 percent |
| User capacity | 350lbs | 350lbs |
| Ceiling height | User height + 15" | User height + 15" |
| Flywheel | 25lbs | 32lbs |
Comfort and Convenience
| | | |
| --- | --- | --- |
| | Commercial 9.9 | Commercial 14.9 |
| Handlebars | Fixed and moving | Fixed and moving |
| Cooling fan | Yes, AutoBreeze | Yes, AutoBreeze |
| Adjustable stride | Yes – 17.5" to 18.7" | Yes – 17.5" to 18.7" |
| Tablet holder | No | No |
| Bottle holder | Yes | Yes |
| Transport wheels | Front-mounted wheels | Front-mounted wheels |
| Pedals | Large, adjustable and cushioned | Large, adjustable and cushioned |
Tech
| | | |
| --- | --- | --- |
| | Commercial 9.9 | Commercial 14.9 |
| Display | 7-inch Smart HD Touchscreen | 14-inch Smart HD Touchscreen |
| App compatible | iFit personal training | iFit personal training |
| Workout programs | 50 | 35 |
| Bluetooth | Yes | Yes |
| Heart rate monitoring | Yes, on grip sensors | Yes, on grip sensors |
| Streaming | No | No |
| WiFi | Required | Required |
| USB port | No | No |
| BlueTooth speakers | Yes, two 2-inch speakers | Yes, two 2-inch speakers |
Policies
| | | |
| --- | --- | --- |
| | Commercial 9.9 | Commercial 14.9 |
| Financing | 0% APR for 36 months | 0% APR for 36 months |
| Frame Warranty | 10 years | 10 years |
| Parts Warranty | 2 years | 2 years |
| Labor Warranty | 1 year | 1 year |
NordicTrack Commercial 14.9 Elliptical FAQs
Some of the most commonly asked questions about this elliptical are:
How much does a NordicTrack elliptical weigh?
The NordicTrack Commercial 14.9 elliptical weighs 210 pounds. It's not-so-little sister, the 9.9, weighs even more at 244 pounds.
How do I maintain my NordicTrack elliptical?
Dust can be one of a fitness machine's worst enemies. Using a soft cloth, wipe down your elliptical at least once a week. You can also use a blanket to cover it while it isn't in use. Lastly, NordicTrack offers service and maintenance plans you can purchase for an additional cost depending on the price of your machine.
Does the NordicTrack Commercial 14.9 come assembled?
No, it does not. However, it is a pretty easy and straightforward process. You can also pay a qualified technician to put the elliptical together for you.
Do ellipticals help lose belly fat?
Elliptical trainers are efficient at burning calories and fat. There is no way to burn just the fat on the stomach; as your body loses overall fat, the stomach fat will go away. HIIT training and other high intensity total body workouts are known for their ability to burn fat.