You could spend hours spinning your wheels looking at all the studio cycle bikes on the market. Our Sunny Health and Fitness Synergy Magnetic Exercise Bike review gives you the total picture of what to expect if you have your eye on this piece of equipment.
At The Fit House, our mission is to help you find the best exercise bike to meet your fitness goals. The Synergy Magnetic is a simple, durable bike great for people on a budget.
Read through what we love and what you should know about the Sunny Health and Fitness Synergy Magnetic Exercise Bike.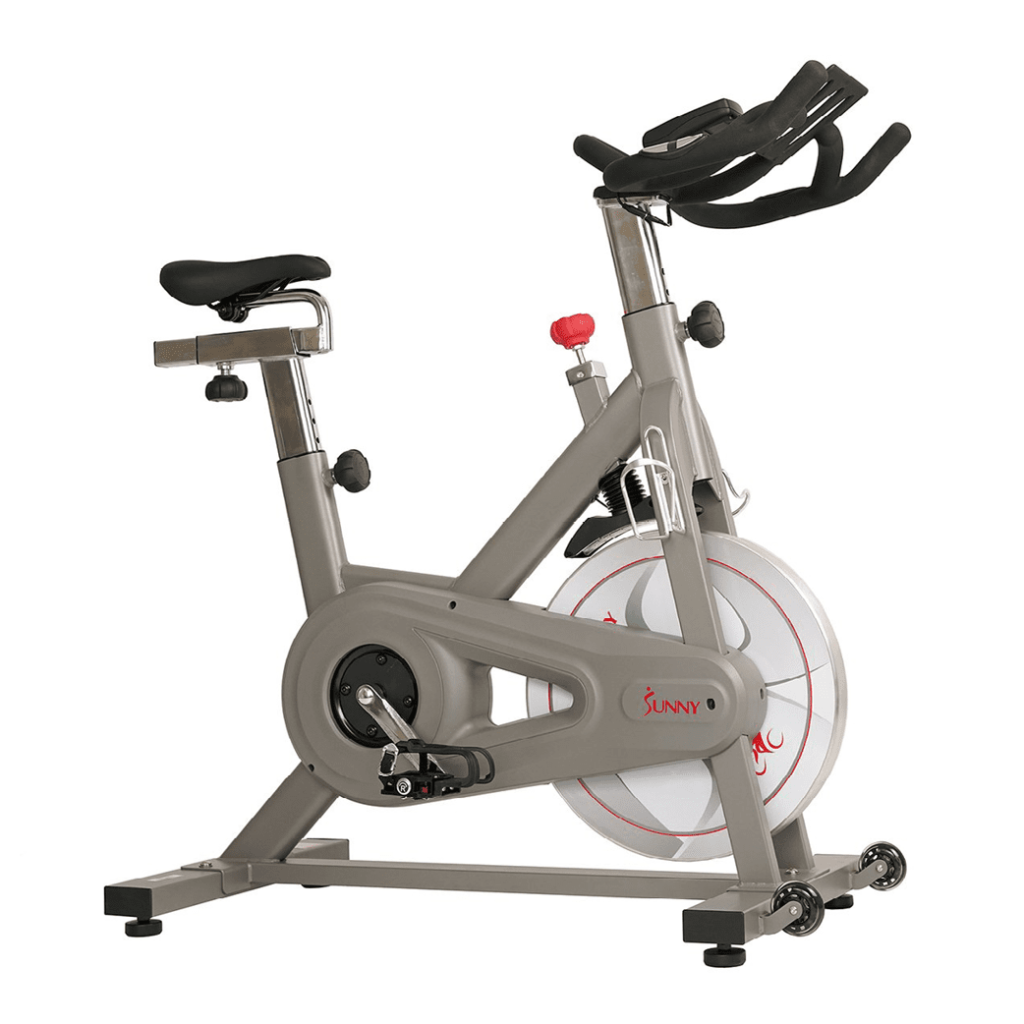 The Fit House Score: 4/5
View our full Synergy Health and Fitness Magnetic Exercise Bike rating
| | |
| --- | --- |
| What We Love | What You Should Know |
| Good quality bike under $500 | No built-in workouts |
| More than 100 micro levels of resistance | Small LCD screen |
| Small and portable | Very short warranty |
We have affiliate relationships through which we may be paid a commission through our links at no cost to you, the reader. Read more here.
Our Favorite Things
Extremely affordable
Magnetic resistance
Small footprint and easily portable
Extremely Affordable
If you don't care about sacrificing the bells and whistles for a great price, then this could be the right bike for you. The Synergy Magnetic is less than $500, which puts it in the "very affordable" range for indoor cycling bikes. Sunny Health and Fitness also offers free shipping as well as financing options.
Magnetic Resistance
Having cardio equipment at home is great, but it can be loud. Many home exercise bikes use friction-based resistance, such as a brake grabbing onto a wheel to make it harder to move. Spin bikes like this one outfitted with magnetic resistance tend to be some of the quietest machines you can find. In our testing, the Synergy Magnetic was almost silent.
Small Footprint and Easily Portable
We love it when manufacturers make equipment that can be used in small spaces. Our experts gave this bike a top rating when it comes to footprint and portability. The Synergy Magnetic indoor cycle is 49 inches long, just 22 inches wide and stands about 50.5 inches tall.
To boot, this bike is just 88 pounds and has transport wheels on the front so you can easily move it around when you need to. It does not need to be located near an electrical outlet because the console uses two AAA batteries, which come included with the machine.
Durability
The Synergy Magnetic received top marks from us when it comes to durability for a few reasons.
First, at just 88 pounds, this stationary bike can accommodate a user weight of up to 275 pounds. It would seem that a lightweight bike would not be so heavy-duty, but it is also incredibly sturdy as you use it. With floor levelers in the front and back, you can easily adjust the bike to stay on an even keel if you feel any wobble.
This bike also uses a belt drive mechanism, as opposed to the old-school chain drive system. While chains may make the ride feel more realistic, a belt drive exercise bike lasts much longer. The same goes for the heavy flywheel, clocking in at 30 pounds. Heavy flywheels make for a smoother ride and keep exercise equipment in good shape.
The Ergonomics
One of the first things we do when testing a bike is to adjust it to our liking. The Synergy Magnetic has some good moving parts to help you get into position:
Seat
The seat itself is cushioned – sort of. It's like most bikes in spin classes that have minimal cushioning so it's not quite like sitting on hard plastic, but it might also leave your bum a little sore.
As a four-way adjustable seat, you can move it up and down as well as backward and forward. If you don't like it, you could easily take it off and swap it out for a different seat. The Synergy Magnetic is built to accommodate riders with an inseam between 27 inches and 37.5 inches.
Pedals
The pedals on the Synergy Magnetic are textured, which keep your feet from slipping. They have toe cages that will fit even large shoe sizes. And just like with the seat, if you prefer a different kind of pedaling, you could switch them out for SPD clip-ins.
Handlebars
The adjustable handlebars can move up and down with ease. They have slight padding on them as well as grip sensors to measure your heart rate. The handlebars offer multi-grip positions, depending on if you want to be seated more upright or standing while pedaling.
Conveniences
There are a few nice conveniences on the Synergy Magnetic:
A device holder for your tablet or smartphone
Transportation wheels for moving the bike
Dumbbell holders that could store two small weights for an upper body workout
A wire water bottle holder
Technology
Technology is an area where the Synergy Magnetic falls short.
Like, really short.
However, at this price point, it isn't shocking that there isn't much in the way of tech.
The performance monitor is about 4 inches wide and a inch tall, showing only the basics: speed, calories, time, distance, odometer, RPM and pulse. The bike measures your heart rate through pulse sensors located on the handlebars.
The tablet holder is incredibly convenient, because you can download your own exercise apps and easily follow along with workouts. You can also use the holder for your smartphone or other device to listen to your favorite playlist.
Workout Experience
Overall, we enjoyed the Synergy Magnetic. It's a simple bike, because it has no preset workouts. You either ride at your own discretion, or you need to have your own device and app to guide you. Sunny Health and Fitness has a workout video library on their website you can use. There also are a number of free indoor cycling apps you could use, such as the very popular Zwift.
The Ride
This bike rides extremely smoothly and will definitely give you a good cardio workout. The Synergy Magnetic uses manually adjusted resistance with a crank knob, so you just reach down and turn it clockwise to make it harder, counterclockwise to ease up.
Thanks to the magnetic resistance, the ride is whisper-quiet. A heavy flywheel and floor levelers also make for an enjoyable, smooth indoor ride.
One thing we didn't love is that the screen is so small. It tells you what you need to know, but you have to really look to see what the measurement is (i.e. time, distance, etc.).
The Specs
| | |
| --- | --- |
| Footprint | 49 x 22 x 50.5 in |
| Weight | 88 lbs |
| Weight capacity | 275 lbs |
| Resistance levels | 100 microlevels manually adjusted |
| Seat | Cushioned, adjustable |
| Heart rate | Pulse sensors in handlebars |
| Pedals | Toe cages |
| Display | 4x1in LCD screen |
Buying Experience
Purchasing, Shipping and Assembly
The Magnetic Indoor Cycling Bike is priced at under $500, and financing is available starting at $42/month. The company used for financing, affirm, offers 3-, 6- and 12-month options with about 15 percent interest, depending on your credit score.
The bike was delivered in less than 10 days from when we ordered it. Sunny Health and Fitness offers free shipping on orders more than $99, so we didn't have to pay anything.
As far as assembly goes, it was a breeze. It only took about 25 minutes because most of the bike comes already put together. For example, the seat was already attached to the main unit, whereas assembly on many other bikes requires you to do this part. All we needed to attach were the handlebars, console and front and back stabilizers. For the console, you do have to connect the wires, but it's extremely simple.
There is a video on the Sunny Health and Fitness website that shows you how to assemble the bike.
Warranty
The frame on this bike comes with a three-year warranty, which is below industry standard as most have 10 years to a lifetime warranty. There is also just an 180-day warranty on parts and components.
Money Back Guarantee and Returns
Sunny Health and Fitness offers a 30-day, money back guarantee on this bike – but only if it is unused and unopened. The company also requires that you send the bike back in its original packaging, or else your refund will be voided. Returns are subject to a restocking fee. Sunny Health and Fitness will pay shipping costs if the company was responsible for an issue, such as a product defect.
Customer Reviews
For the most part, people understand that they get what they pay for with this exercise bike under $500. Generally, they are pleased with its functionality and durability. Most complaints seem related to parts that may have arrived damaged or defective.
Final Verdict
All in, we gave the Sunny Health and Fitness Synergy Magnetic a 4 out of 5 stars. It did well with its compact footprint and ease of portability. We also took note of:
You can easily adjust the bike to fit your comfort
It has a simple console and no built-in workouts
It's an extremely durable bike
The Fit House Score
Overall score: 4/5
| | |
| --- | --- |
| Footprint and Portability | 5 |
| Delivery and Setup | 5 |
| Durability | 5 |
| Customizations | 4 |
| Adjustability and Ergonomics | 5 |
| Tech Capabilities | 3 |
| Conveniences | 4 |
| Dynamic Programming | 0 |
| Customer Reviews | 4.6 |
| Value | 4.5 |
| Warranty, Financing and Returns | 4 |
| Customer Service | 3.5 |
Compare the Sunny Health and Fitness Synergy Magnetic vs. the Sunny Health and Fitness Synergy Pro Magnetic Indoor Cycling Bike vs. the Schwinn IC4
Sunny Health & Fitness has two similar indoor cycling bikes. Here, we compare the two against the Schwinn IC4, another indoor cycling bike.
The Basics
| | | | |
| --- | --- | --- | --- |
| | Synergy Magnetic | Synergy Pro Magnetic | Schwinn IC4 |
| Price | $454.71 | $674.99 | $899 |
| Size | 49 x 22 x 50.5 in | 49 x 22 x 46.5 in | 48.7 x 21.2 x 51.8 in |
| Weight | 88 lbs | 111.3 lb | 106 lbs |
| Flywheel | 30 lbs | 40 lbs | 40 lbs |
| User capacity | 275 lbs | 300 lbs | 330 lbs |
| Folding | No | No | No |
| Resistance levels | Manually adjusted | Manually adjusted | Manual and digital |
| Power needs | Two AAA batteries | Two AAA batteries | Wall adapter |
Comfort
| | | | |
| --- | --- | --- | --- |
| | Synergy Magnetic | Synergy Pro Magnetic | Schwinn IC4 |
| Cushioned seat | ✔ | ✔ | ✔ |
| Adjustable seat | ✔ | ✔ | ✔ |
| Adjustable handles | ✔ | ✔ | ✔ |
| Pedals | Caged | Caged and clip | Caged and clip |
| Media holder | ✔ | ✔ | ✔ |
| Water bottle holder | ✔ | ✔ | ✔ |
| Dumbbell holder | ✔ | ✔ | ✔ |
| Noise-free workout | ✔ | ✔ | ✔ |
| Handsfree workout | | | ✔ |
Tech
| | | | |
| --- | --- | --- | --- |
| | Synergy Magnetic | Synergy Pro Magnetic | Schwinn IC4 |
| Display | 4 x 1 in LCD screen | 4 x 8 in LCD screen | Full-color, backlit LCD |
| Built-in workouts | N/A | N/A | Syncs with Peloton, Zwift and Explore the World apps |
| BlueTooth | N/A | N/A | ✔ |
| Heart rate monitoring | Pulse grip sensors on handlebars | Pulse grip sensors on handlebars | Bluetooth armband included |
| USB port | | | ✔ |
Sunny Health & Fitness Synergy Magnetic FAQs
Some of the most commonly asked questions about this bike are:
Does the Synergy Magnetic provide feedback during the ride?
Yes! Though it has a very simple display, it does give you information on factors such as how far you have ridden, how fast you're going, how long you have been exercising and how many calories you have burned. It also gives you feedback on your pulse.
What is the best home exercise bike?
The best bike for each person depends largely on factors such as budget, space and fitness goals. Some questions to ask yourself include:
Do you need extremely low-impact exercise, like a recumbent bike would offer?
Do you want something simple, or something with advanced technology like the Peloton or NordicTrack Commercial S22i?
What is your budget?
Do you have a lot of space or need a folding exercise bike?
What are the benefits of the belt drive mechanism?
A belt drive indoor cycling bike is much more durable than those that use a chain mechanism. It is also much quieter and will require less maintenance.