A look at the top exercise bands and watches today
If you're searching for the best fitness tracker for your specific goals, you found the right place. Our team at The Fit House has personally tried and tested all types of bands, watches and even rings to see how they compare.
Fitness trackers are great for measuring the basics, like the number of steps you take in a day and the amount of calories you burn. But they can do a lot more than that, if you want them to. Our experts dove into the leading products on the market to give you the ups, downs and other necessary details to help you make your decision.
A Look at Our 9 Favorite Trackers
We have affiliate relationships through which we may be paid a commission through our links at no cost to you, the reader. Read more here.

The Fit House Favorite: Fitbit Charge 4
Good for: People looking for a mid-range band with advanced features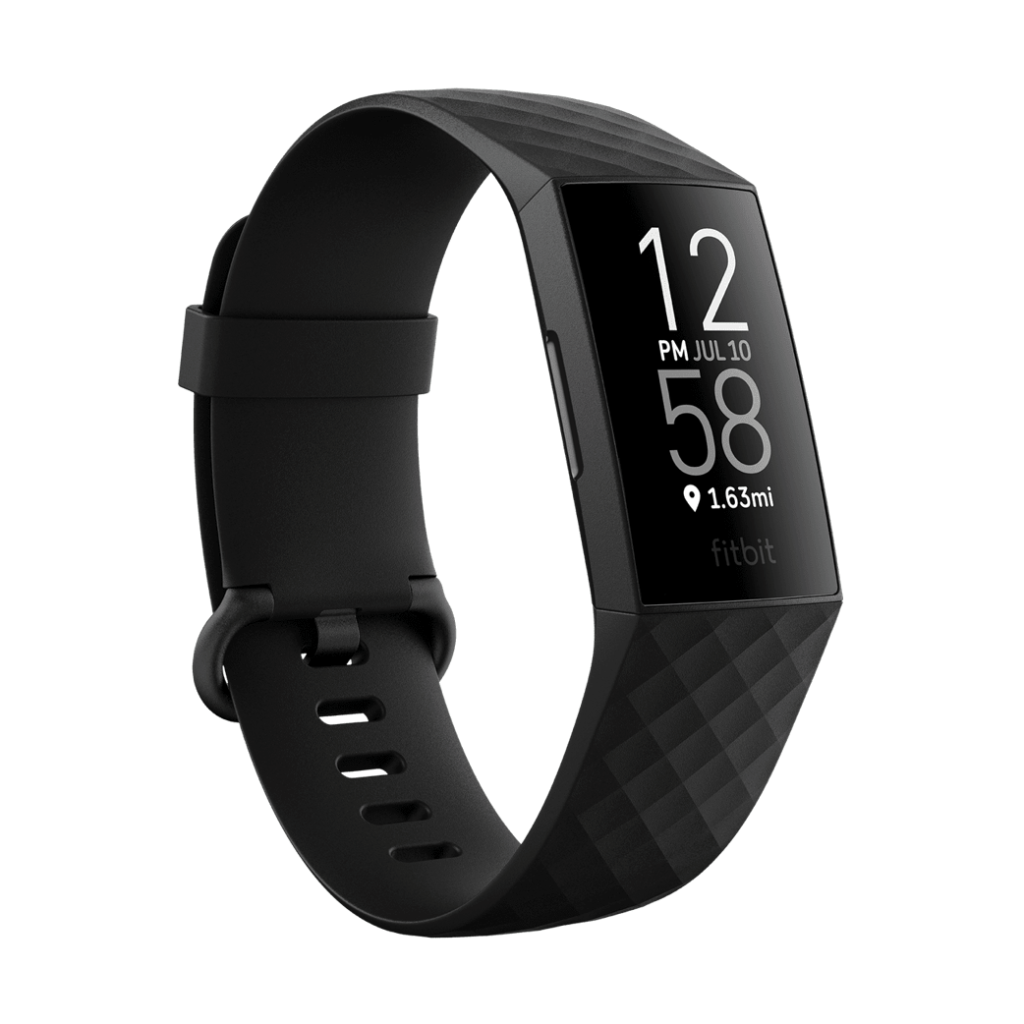 What We Love
Battery life up to 7 days
Built-in GPS
Heart rate monitoring
Sleep and swim tracking available
Compatible with Spotify and Fitbit Pay
Water resistant up to 50 meters
What You Should Know
Four color options to choose from
Small face with limited display capabilities
App is not super simple to use
Priced at under $150
Takes hours to charge to full battery life
We wore the Fitbit Charge 4 for several days to fully test its capabilities. At just under $150, it's a great activity tracker that has a lot to offer. Right away, we were happy to get some of the more advanced features on the Charge 4: monitor heart rate, track sleep, it is water-resistant to 50 meters, and the built-in GPS provides accuracy on runs and other activities. The Charge 4 uses "active zone minutes," which factors your workout intensity level based on your age and resting heart rate.
The band itself is highly adjustable and comes in four different colors, and other band styles are available as well. The touchscreen is small, displaying only the basics. While we wish the interface were bigger, a nice feature is the ability to customize what the screen shows based on your preferences or what you're doing that day.
Fitbit advertises that the Charge 4 can last up to a week without charging. In our testing, we found the battery did last a long time. However, it also took longer than other trackers to reach a full battery charge. We also found the companion app to be very involved and difficult to navigate without spending some time with it.
Read our full Fitbit Charge 4 review.
Best for Runners: Garmin Forerunner 245
Good for: Runners looking for an advanced smart watch with GPS and more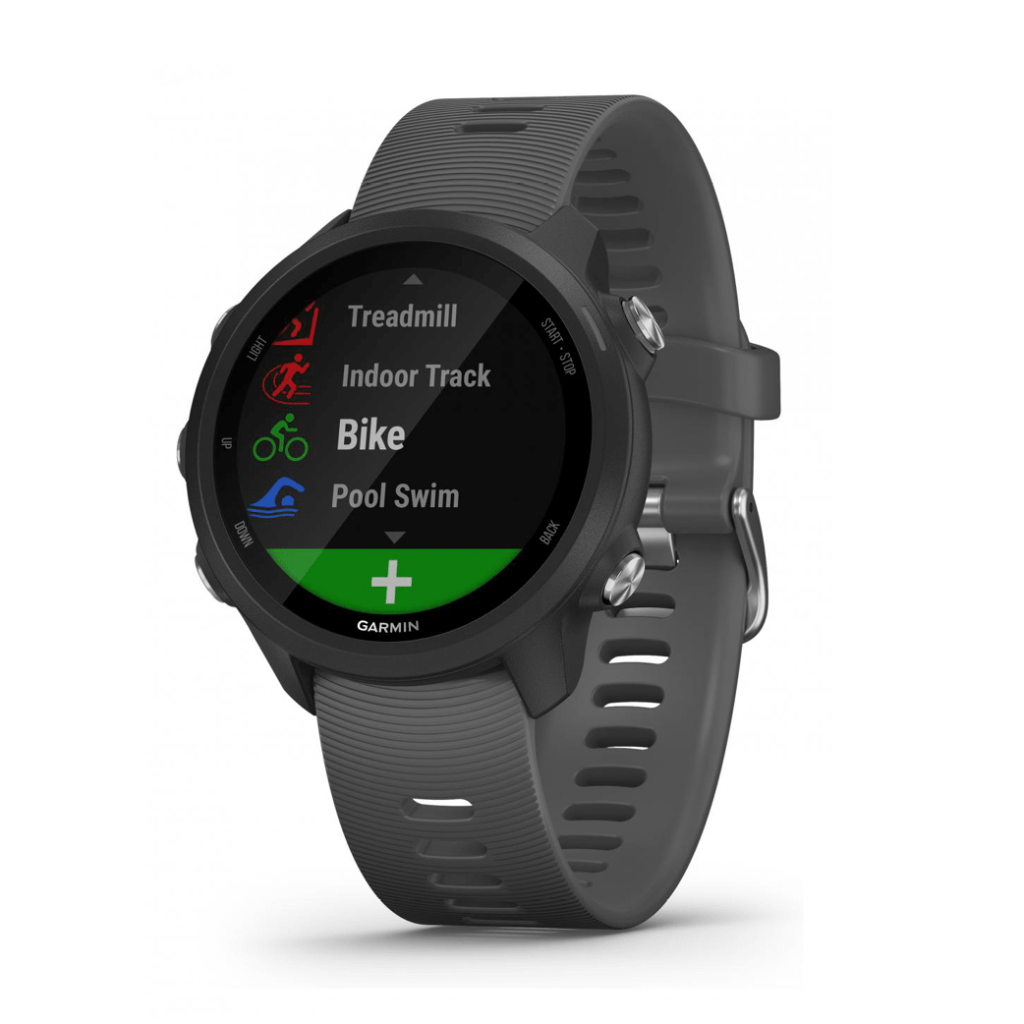 What We Love
GPS-enabled
Battery life up to 7 days
Supports other activities like biking
Built-in heart rate sensor
Tracks VO2 max
Women's wellness tracking
What You Should Know
Priced just under $300
GPS drains battery quickly
Watch face is not a touchscreen
Limited as a sleep tracker
Intended for runners
Garmin is a name synonymous with running, so it's no surprise how much the runners on our team loved the Forerunner 245. It's a smartwatch that is optimized for the sport: heart rate tracking, VO2 max metrics, and GPS-enabled. The app includes measurements for your training load, suggested recovery time and can even tell you if you are peaking or if you are overtraining.
Our experience with the Forerunner 245 running watch lived up to the hype. When you aren't using the GPS, the battery can last up to a week. However, odds are you'll enable GPS often, which drains the battery quickly. This fitness watch also syncs with music apps like Spotify and Pandora.
If you aren't a runner, this watch may not be for you. It does have apps that support other daily activities, such as cycling and swimming. Additionally, it has basic sleep tracking functions, but not as advanced as other bands like the Fitbit series offer.
Best for Beginners: Fitbit Inspire 2
Good for: People new to fitness tracking who need an easy-to-use device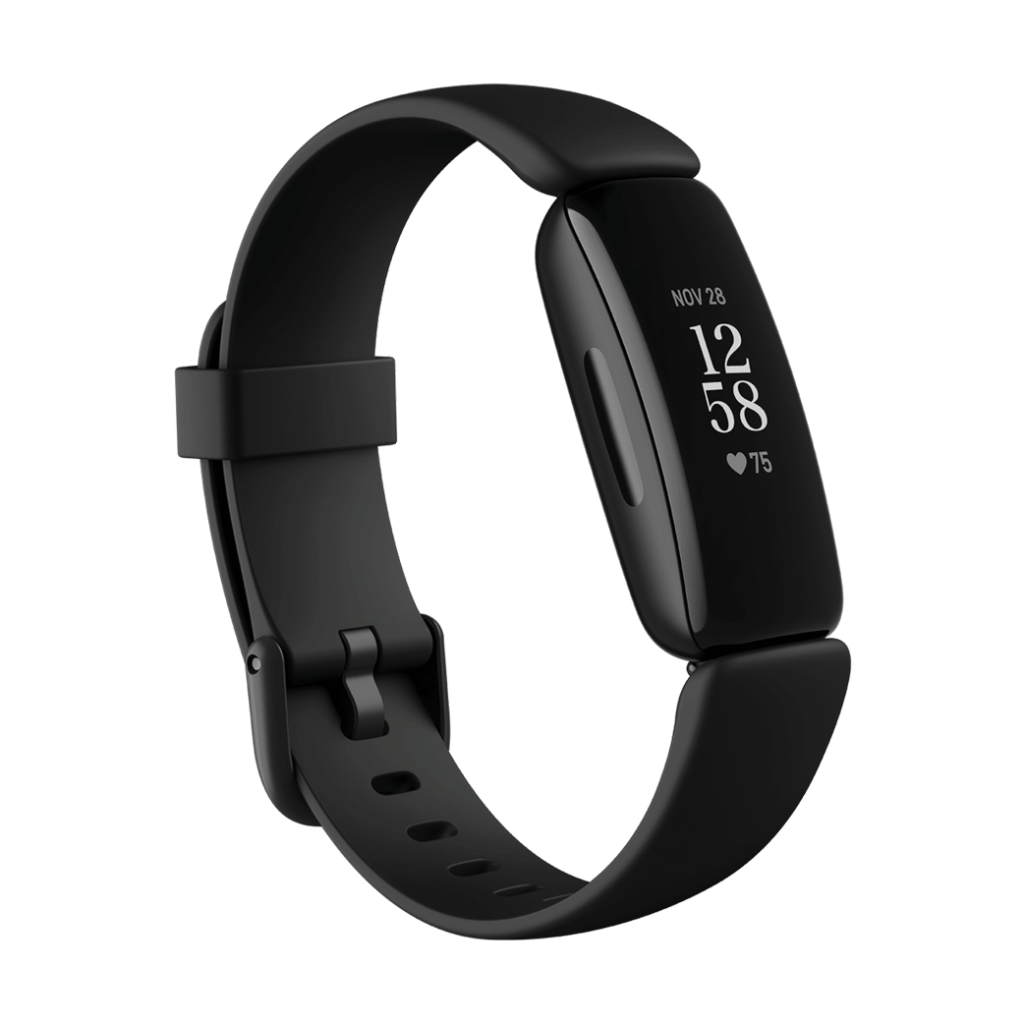 What We Love
Very easy to use
Pairs easily with smartphones for alerts
Battery life up to 10 days
Continuous heart rate monitoring
Sleep tracking
Water resistant to 50 meters
What You Should Know
Less than $100
Small screen
Can be worn on the wrist or with a clip
No built-in GPS available
No altimeter to track hills or stairs
"Simplicity" perfectly encapsulates the Fitbit Inspire 2, which is the best tracker for beginners. Its sleek design, light-up touchscreen and easy-to-navigate app make it perfect for anyone new to using these devices. In addition to the fitness features of the Inspire 2, we were able to seamlessly connect to smartphone notifications.
Fitbit offers a few cool perks, like Active Zone Minutes, which help you target optimal workout ranges. If you upgrade to Fitbit Premium – which you get free for your first year upon your purchase of the Inspire 2 – you get additional sleep tracking and customization benefits.
The difference between the Inspire 2 and the Inspire HR used to be that the 2 didn't track your heart rate. Not anymore! The Inspire 2 (and companion app) now offer continuous heart rate monitoring as well as food logging, women's health monitoring and real-time exercise feedback. This device does not have built-in GPS, but it can connect to your phone's GPS.
Best With Heart Rate Monitor: Garmin vivosmart 4
Good for: Multi-sport people who want advanced tracking options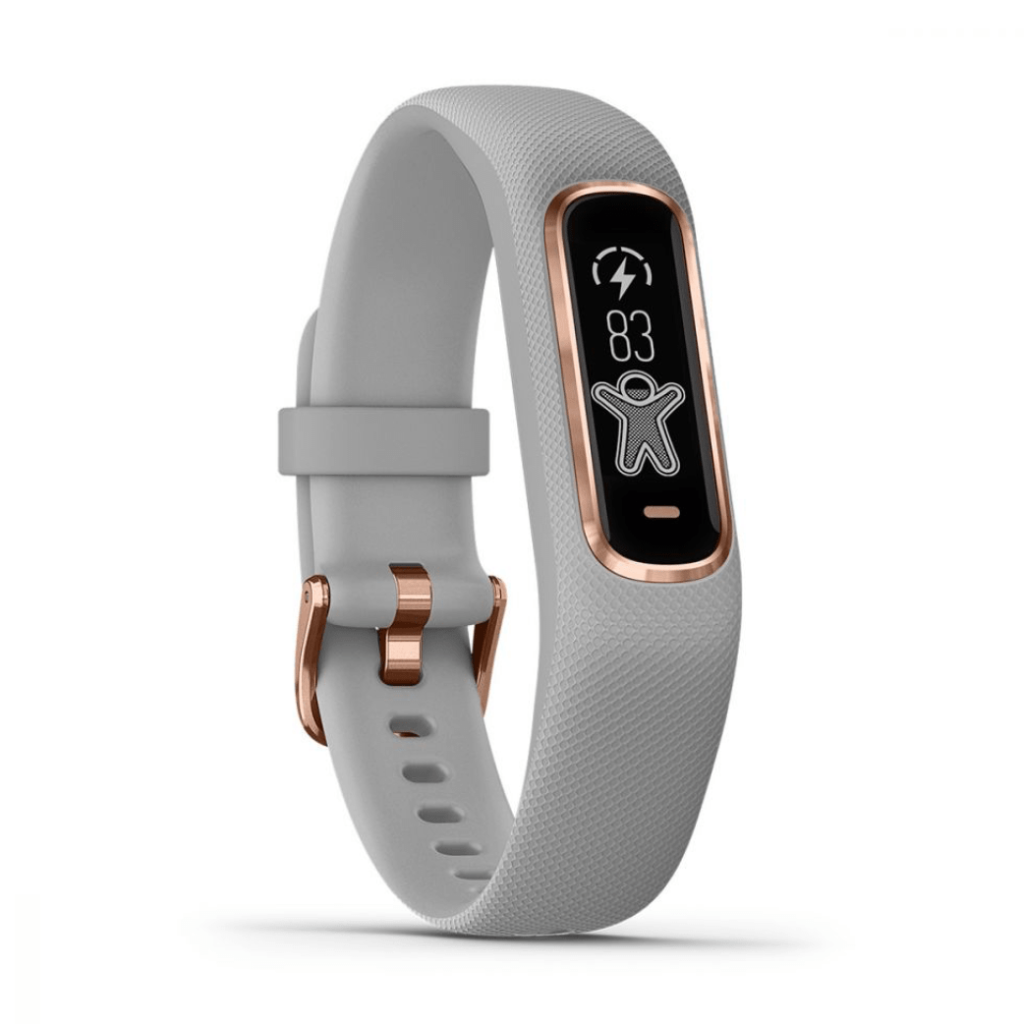 What We Love
Highly accurate heart rate monitoring
Multi-sport fitness tracking
Sleek and stylish design
Advanced sleep and stress tracking
Pairs with Android and iOS
7-day battery life
What You Should Know
Priced at just under $130
Has a very basic interface
Watch face is small and narrow
Comes in multiple colors
Uses a proprietary charger
Garmin's vivosmart 4 has a sleek design and highly accurate wrist-based heart rate monitoring. We found it did a great job tracking numerous cardio and other sports: running, swimming, yoga, strength training and even more off-the-beaten-path sports like hang gliding and BMX.
This watch is right up there with the Fitbit bands when it comes to tracking features. It does the basics, like step count, calories burned and sleep tracking. It also monitors your stress levels, has a barometric altimeter and tracks your blood oxygen saturation with its Pulse Ox2 sensor. We were able to pair it with Android and iOS to get alerts for emails and texts.
At just under $130, this fitness tracker tests high for value. It's an attractive band that comes in multiple colors. The touchscreen is very basic, so logging into the app for easy data tracking is a must. Also, the charger is not a universal one; Garmin has a proprietary charger, so make sure you don't lose it!
Best Fitness Tracker Watch: Apple Smart Watch Series 6
Good for: People who want it all: cellular capabilities, fitness tracking and sleep monitoring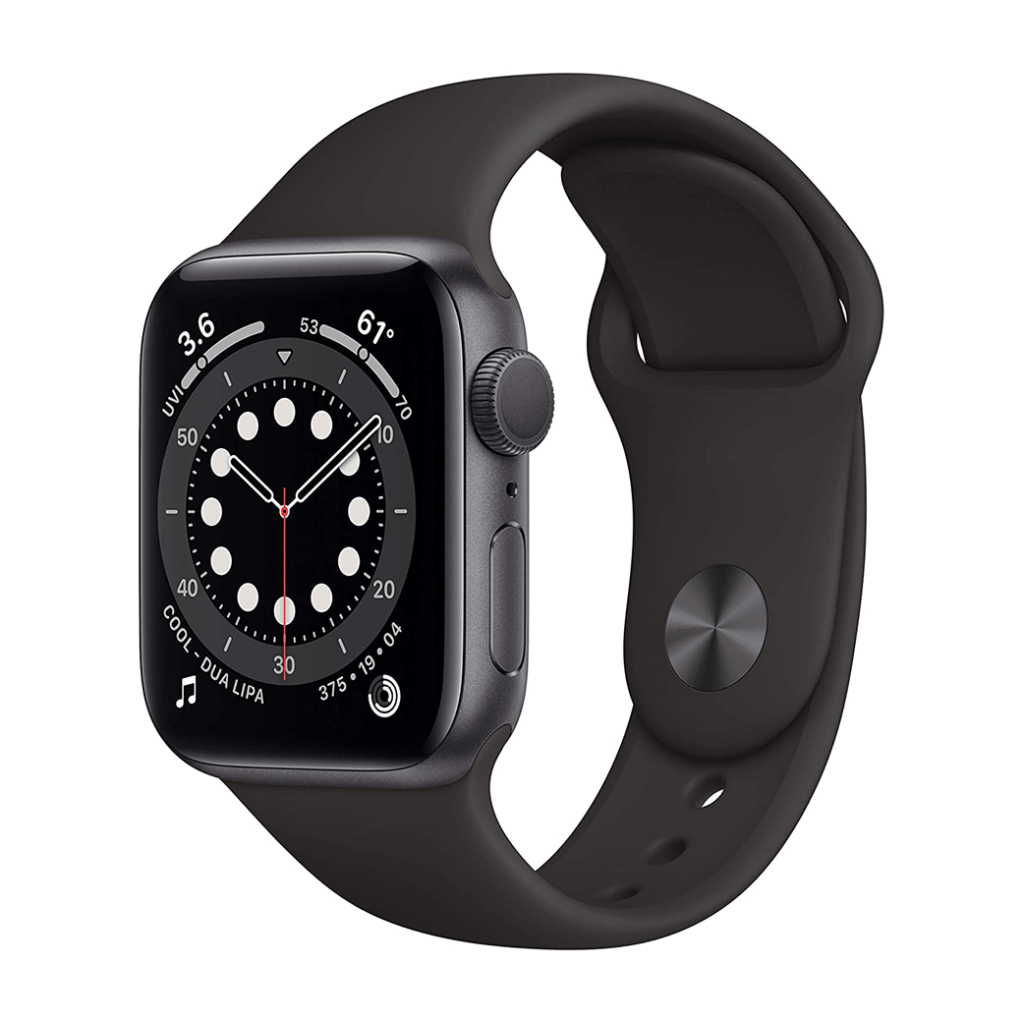 What We Love
GPS and cellular enabled
Countless preset workouts with Fitness+
Measures blood oxygen levels
Connects to Apple Music
Life-saving ECG app
Many styles and colors to choose from
What You Should Know
Doesn't work with Android devices
Expensive; starts at just under $400
Cellular-enabled watch is an additional cost
Music and Fitness+ require subscriptions
Battery life of 18 hours
Already known for making some of the best smartwatches, Apple has now given us an exceptional fitness tracker plus watch with the Apple Smart Watch Series 6. It very easily connects with iPhones and other iOS devices. You don't need to bring your phone with you, however, because you can text, make calls and respond to emails right from your wrist.
The Series 6 is fully stocked: GPS and cellular modes, an ECG app to monitor your heartbeat, tracking for your blood oxygen levels and sleep tracking. It is water resistant to 50 meters, so you can wear it in the pool or shower. Additionally, it comes with the things you didn't know you needed, like a handwashing app to make sure you scrub those paws for at least 20 seconds.
The price tag may be the biggest sticker shock. The GPS-only model of the Series 6 comes in at just under $400, and the cellular-enabled watch is an additional $100. The device connects to Apple Music, but that is an additional subscription, as is Apple Fitness+. For all its features, the watch will have to be charged regularly, as it lasts just about 18 hours.
Best Budget Fitness Tracker: Xiaomi Mi Band 4
Good for: People on a budget who want the bare bones basics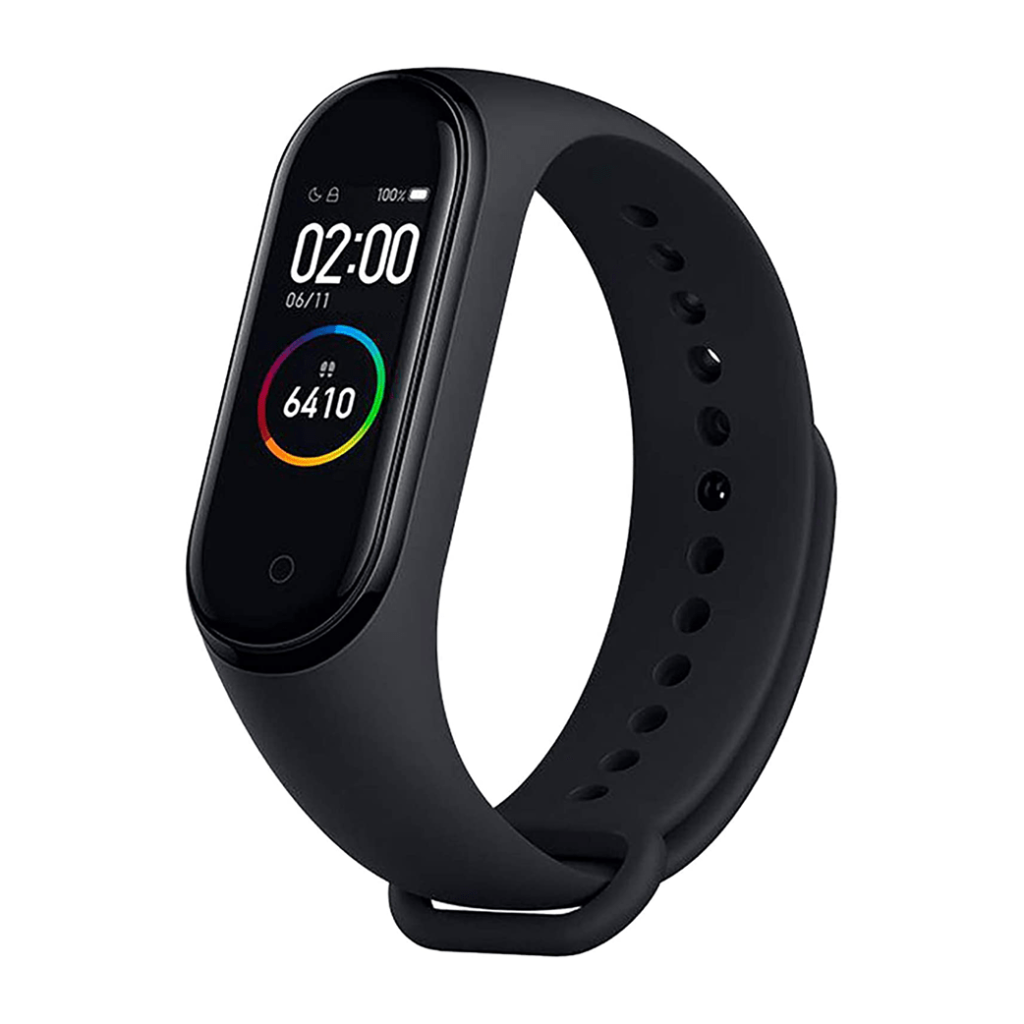 What We Love
Simple and easy to use
Six workout modes
Sleep and heart rate tracking
Water resistance at 5ATM
Compatible with iOS and Android
Text, email and call alerts
What You Should Know
Costs around $40
No GPS
Heart rate monitoring not always accurate
Very basic interface
For the most basic of fitness goals, the Xiaomi Mi Band 4 makes good sense. It is the best budget tracker we found, costing around $40 on Amazon. The simple display shows the calories you burn, steps you take, how long you sleep and distance you travel. The uncomplicated nature of what the band does is part of why the battery lasts as long as 20 days on a single charge.
Xiaomi advertises that the Mi Band 4 offers continuous heart rate monitoring. In our testing, we found it to be hit or miss. The resting heart rate is usually accurate, but putting the band through a high intensity interval workout led to a lot of variation. Also, without GPS, the distance measurement may not be exact. However, you can pair your phone or smart device to the Mi Band to use GPS.
The Mi Band does have six different workout modes, including treadmill running, outdoor running, pool swimming and walking. It is compatible with both Android and iOS devices and sends you alerts for texts, calls and emails.
Best for Women: Fitbit Versa 3 SmartWatch
Good for: Women looking to track health data, including menstrual cycles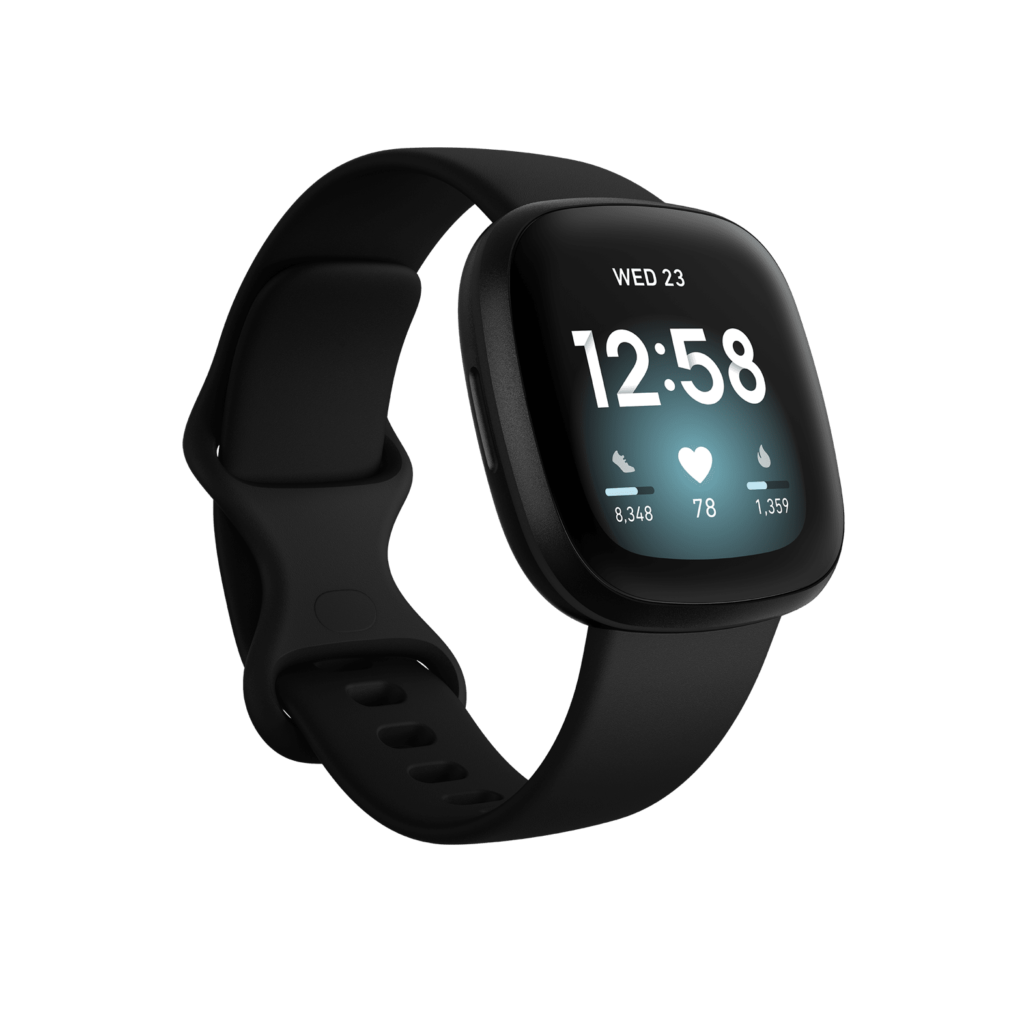 What We Love
Menstrual cycle tracking
Guided breathing app
Personalized watch face
Syncs with Spotify and other apps
Can read and respond to texts and emails
Tracks sleep
What You Should Know
Priced at just under $180
Three colors on Fitbit, other styles available
Has built-in GPS
Up to six days' battery life
Works with iOS or Android
Women have specific health and wellness factors that should be factored into exercise. We love the Fitbit Versa 3 because it takes into account the menstrual cycle.
The Versa 3 syncs with the Fitbit app so you can track your period, log symptoms and find patterns in your cycle. This information is incredibly useful to determine how your cycle affects your everyday activities.
There are a lot of other perks to love about the Versa 3: It has Amazon Alexa built-in, tracks your sleep, syncs with apps like Spotify and Strava, and it has more than 15 workout options.
As a smartwatch, it can connect to your smartphone to read and respond to texts and emails. We particularly like Fitbit's guided breathing app to sneak a few moments of calm into our day.
The Versa 3 is under $200. It comes with built-in GPS. The battery lasts up to six days on a full charge, but if you use features like GPS, the battery drains quickly.
Best Multisport Tracker: Coros Apex
Good for: Athletes who enjoy blending outdoor activities with indoor exercise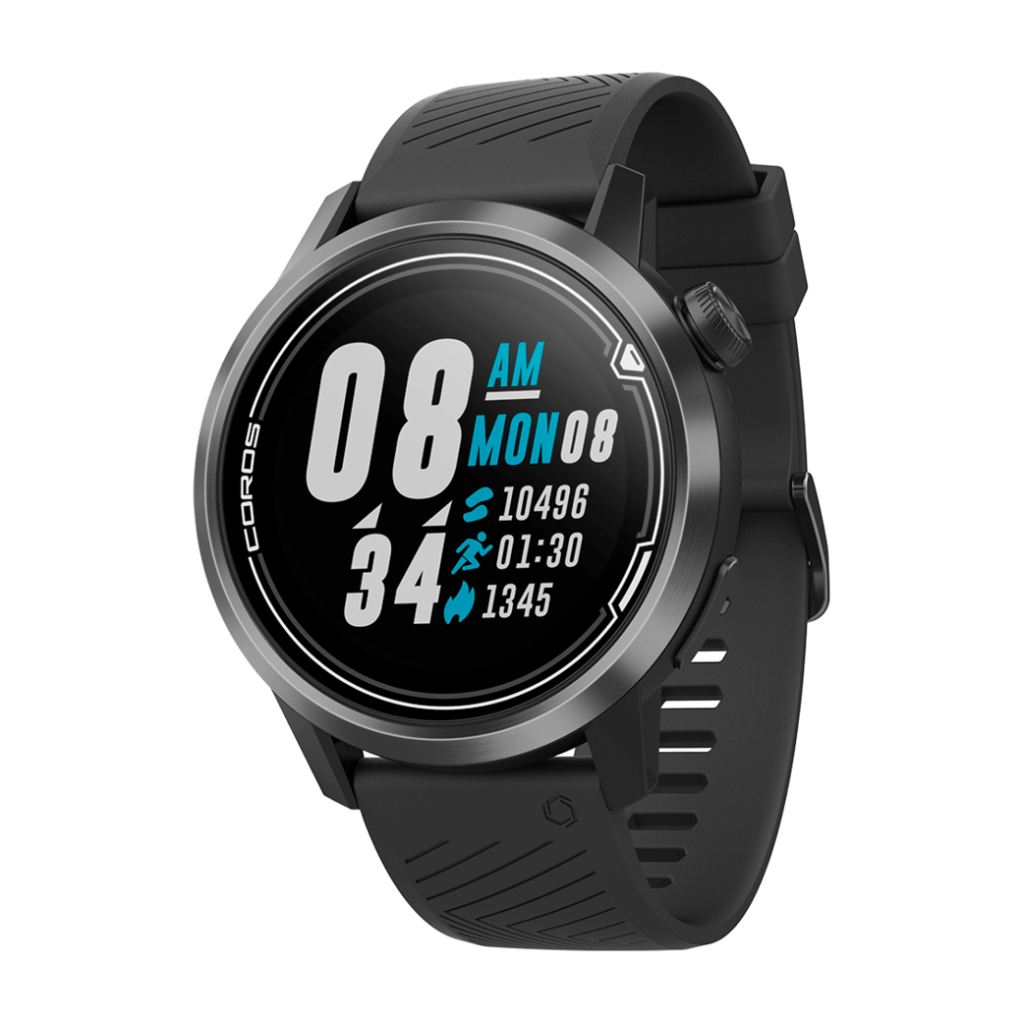 What We Love
Water-resistant to 100m
Tracks both pool and open water swims
Lasts up to 100 hours while using GPS
Offers effort-based training data
More than 200 pre-loaded exercises
Includes barometric altimeter and compass
What You Should Know
Starts at just under $300
Choose between 46mm and 42mm screen
Large device for small wrists
Weighs less than 2 oz
Not a touchscreen
While many exercise trackers claim to be able to effectively measure activity in more than one sport, the Coros Apex is actually designed to do so. This is the best multisport tracker because it is equipped for pool and open water swimming, has an altimeter to measure climbs, is loaded with more than 200 exercises, and has a compass.
The price on the Apex may initially seem steep at just under $300, but that price point actually makes it one of the more affordable GPS-enabled trackers. It's easy to see why: It is an excellent companion for indoor and outdoor fitness. It has built-in breadcrumb trails and can perform for up to 100 hours while using GPS.
We did find that the screen is a little more difficult to see in some indoor situations and you aren't able to change the display brightness. Also, with options for a face between 42 and 46mm, this is a larger device that may feel a little bulky on smaller wrists. It is lightweight, at just under 2 oz.
Best Sleep Tracker: Whoop Strap 3.0
Good for: Athletes and seriously active people looking for sleep and recovery feedback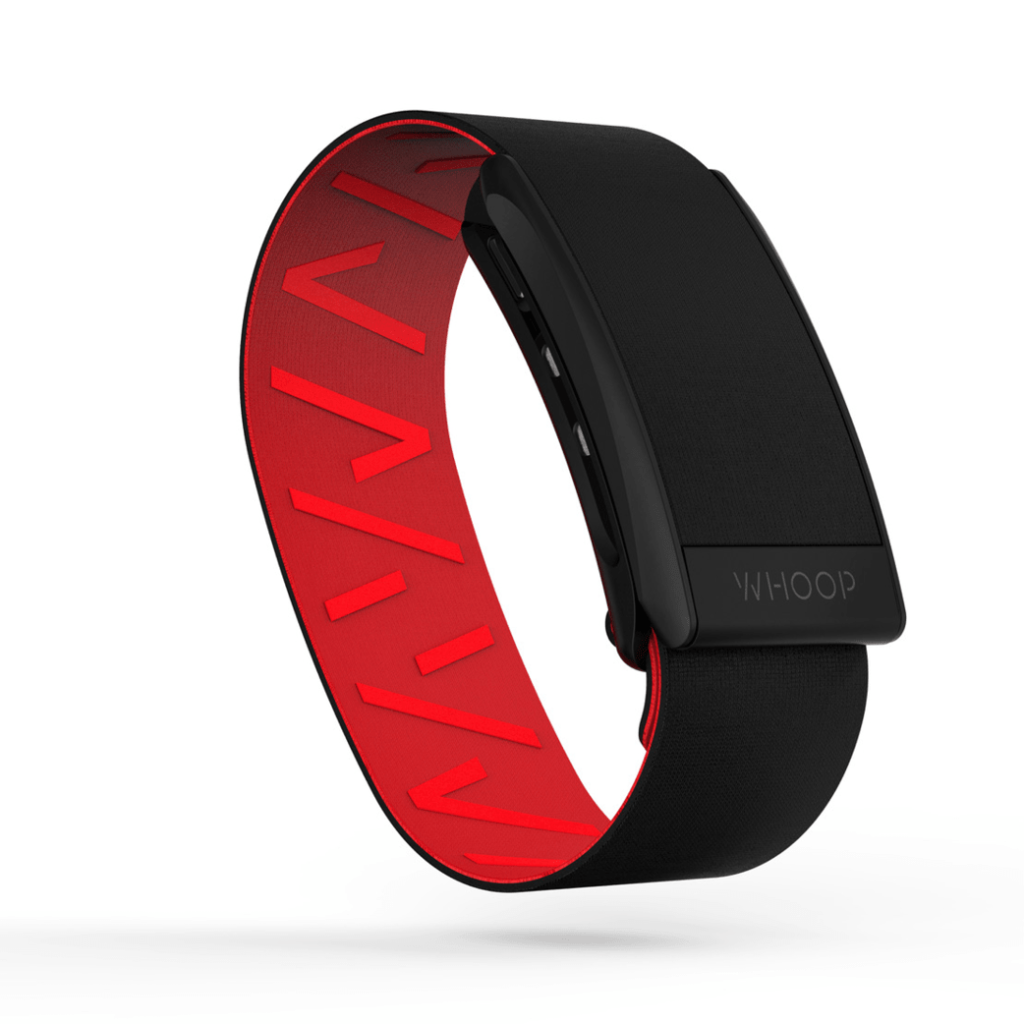 What We Love
Analyzes sleep to make recommendations
Tracks recovery and workout strain
Companion app is easy to use
Integrates with apps like Strava
Personalized coaching
Basic, comfortable band
What You Should Know
No display or interface
Band is free with a monthly subscription
Five-day battery life
Does not track daily step count
Best for athletes, serious fitness enthusiasts
If you're serious about your recovery, then the Whoop Strap 3.0 is a great find. It is the best sleep tracker because of how in-depth the technology gets so you can maximize your rest. To assess your sleep quality, the Whoop analyzes your heart rate variation as well as the strain your workout put on you and how well you are recovering (or not recovering).
It determines how much you slept and how much time you spent in each sleep stage. A "sleep coach" even tells you how many hours of sleep you need each night.
While other bands will ping you to get up and move, the Whoop will actually tell you when it's time to take a break because your body needs it. If your heart rate variation or recovery is declining, Whoop will signal that it's time for a rest day.
The Whoop price is actually a monthly subscription of $30, and you are required to make an initial six-month commitment. The band comes free when you sign up. There is no face on the band; to get your data, you have to log into the app (which is easy to do on your smartphone).
Find a Fitness Tracker Right for You
Clearly, there is no shortage when it comes to the number of fitness trackers available. Here's how to prioritize what you need out of your device.
Band vs. Smart Watch vs. Jewelry
There is no one way to wear a fitness tracker. In fact, there is an entire line of fitness tracking styles for you to choose from:
Band: These are the most common option and are worn on your wrist. They may be just a simple band, or they may have an interactive display. One advantage to a band is that it usually has more battery life than a watch does. The price range on most bands starts at just $20 and can go to more than $200. Some people feel that basic fitness bands are unstylish, but a number of brands have come out with more appealing designs.
Smart watch: Companies like Apple and Garmin have developed smart watches that can do all sorts of things, including tracking your fitness activity. Generally speaking, smart watches do more than the basic fitness trackers, including having Bluetooth capabilities and GPS as well as large, bright displays. The added features also mean added expense, as price ranges on smart watches start around $200 and can exceed $500.
Jewelry: Apparently, we can make just about anything track your fitness. Rings, necklaces and even small belt clips can do the basics of counting steps and, sometimes, much more. These are advantageous for people who want to look nice but still have data relating to their fitness. Think of it like style plus function. However, consider that wearing jewelry to bed to monitor things like sleep may not be super comfortable.
App Compatibility
If you get a fitness tracker, you're also getting the app the device uses to give you the information you want. Do your research. Fitbit is known for having a great, easy-to-navigate app. If you're looking at another tracker, find out what app it uses and look at customer reviews.
Are you tracking more than your fitness? If you track your food, for example, with an app like My Fitness Pal, you may be able to sync your fitness tracker data. A quick search on compatibility should let you know if this is possible for the apps you use.
Tracking Activity
Clearly, you are buying a fitness tracker to monitor your activity, so you need to match the device to what you want to do. The step counting comes standard on just about any product out there, that's a given. However, if you run, lift weights, swim and participate in other activities, you may want a tracker that can differentiate among them.
Here are a few specifics to take into consideration:
Multisport: One key word to look for on the device is "multisport," which lets you know your tracker can discern the different activities you do. This gives you a more accurate picture of calories burned, for example.
Heart rate: Not all trackers measure heart rate. While that may not seem incredibly important at first, keep in mind that heart rate gives you a more accurate view of your activity, including workouts and sleep.
GPS: Getting the most accurate data on walks, runs or other outdoor activities usually requires GPS. Some trackers have built-in GPS, others link to your smartphone.
Battery Life
How long can you wear your tracker without charging it? How long does it take to charge? Considering that many people wear their bands around the clock, it's important to know the answer to these questions. Heavily loaded devices may need to charge every day. Some bands can go up to five days without charging, while others – the kind that use a battery – will run for months.
Price
What's your budget? There are extremely basic trackers on the market for around $20, and high-tech gadgets that will cost you more than $500. If the bottom line for you is money, start your search by setting a price range and go from there. Obviously, the more affordable options will sacrifice advanced features, and the tricked out trackers will eat into your wallet.
Water Resistance
If you're a swimmer, then clearly you need a waterproof fitness tracker. But if you do things like go outside, wash your hands, do the dishes, well, you may be exposing your device to water. Of course, this feature typically ups the price a little, but it may be worth it knowing that if your tracker gets wet, even accidently, it will still work.
Bear in mind that water resistance comes in levels. If you're a swimmer or diver, for example, you need to find a fitness tracker that is resistant to certain depth. A basic rating on trackers meant for water folks would be 5ATM/50M, which means the band is resistant to pressure equivalent to 50 meters underwater. This is generally okay for most swimmers, but people involved in more intense water sports may need a higher rating.
Sleep Tracking
Sleep is one of the biggest contributors to how we feel and how we exercise. More and more fitness trackers are measuring sleep: how much shuteye you get, how long you spend in REM, how many times you wake, the list goes on.
Though many devices do it, some do it better than others. Some require you to tell the tracker when you go to bed, others will sense it through your heart rate and movement patterns. If this is an important issue, be sure to look for a tracker known for its sleep measuring capabilities.
Display
There are three ways trackers tell you information: On a watch-like face, on a very simple LED display, or only via an app. All trackers sync data to an app. However, if you want more instant information, going with an LED display or a watch may be the way to go.
Summing Up
One of the best ways to hold yourself accountable to your health goals is to keep an eye on your progress. A wearable fitness tracker is an exceptional, affordable tool to do just that. We hope our guide helped you find the device that's right for you.
---
Kate Meier is senior editor at The Fit House, which means she personally tests and reviews equipment featured on our pages. She has more than 20 years of experience in the health and fitness world, ranging from college sports to big box gyms to boutique fitness studios. Outside her work at our House, Kate is co-owner of a gym in North Carolina and spends much of her time coaching and working out. She also loves dogs and being outside.